The Versatile Dish Ina Garten Swears By For Any Dinner Occasion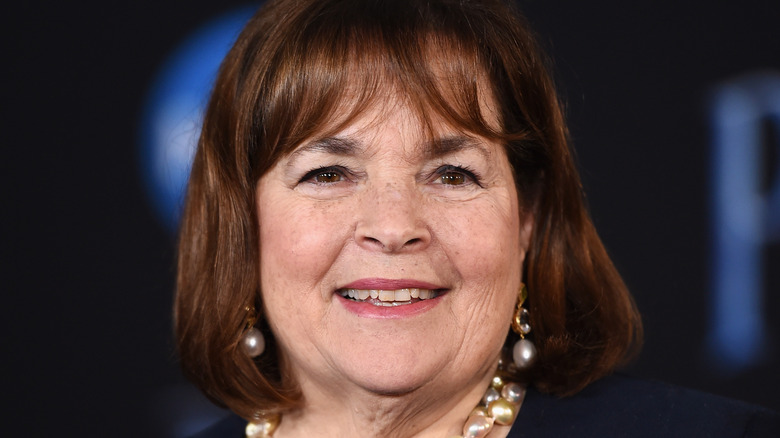 Amanda Edwards/Getty Images
Considering she's been writing cookbooks since 1999, Ina Garten could probably eat something new every single day. But the truth is the celebrity chef is more of a creature of habit than you might expect — in fact, Garten usually sticks to the same dishes ... or at least when she's at home. The celebrity chef once revealed to Bon Appétit that she always has oatmeal for breakfast and that there are four ingredients she always keeps in her freezer: vanilla ice cream, vodka, soup, and stock.
Considering roasting in the oven is her favorite way to prepare vegetables, it isn't much of a surprise that Garten's "go-to side dish," as she wrote on her website, would be orzo salad with roasted vegetables. Garten originally shared the recipe back in 2001 in her cookbook "Barefoot Contessa Parties!," but shared on the Barefoot Contessa website that she's kept it in rotation all these years later.
How Ina Garten makes her orzo salad
To make her orzo salad, Garten tosses eggplant, red onion, red and yellow bell peppers, and garlic with olive oil, salt, and pepper, then roasts them in the oven. After about 40 minutes, she combines the roasted vegetables with the cooked orzo. To dress it, she actually uses a combination of the leftover drippings from the pan, olive oil, freshly squeezed lemon juice, salt, and pepper, and mixes it together while the orzo is still hot.
Though roasted vegetables are the highlight of this dish, it isn't complete without some fresh, uncooked elements. When the other ingredients are cooled, Garten adds in scallions, fresh basil, and feta cheese. "Use really good feta — it makes all the difference," Garten advises while demonstrating how to make the recipe on an episode of "Barefoot Contessa." As a finishing touch, she adds toasted pine nuts for a bit of crunch before serving.
Why Ina Garten loves making this orzo salad
There's no denying how flavorful this orzo salad is, but its versatility is one of the main reasons Ina Garten has been making it for so many years. On her website, she describes it as an "all-in-one side," because it's pasta, a salad, and contains vegetables. You can also feel free to swap out any of the roasted veggies for ones you prefer (or happen to have on hand) or omit any you're not a fan of.
When Garten first shared her recipe on her Food Network show it was for an anniversary dinner, but orzo salads of course don't have to be reserved for special occasions. Realistically they go well with any meal that includes grilled meat and seafood, and Garten's is no different. Garten recommends pairing it with a rack of lamb, though she said she also likes to serve it with steak and chicken during the summer. But let's be honest, even if you just eat it all by itself, this orzo salad is bound to be delicious.