Pizzerias In Spain Give Even Italy A Run For Its Money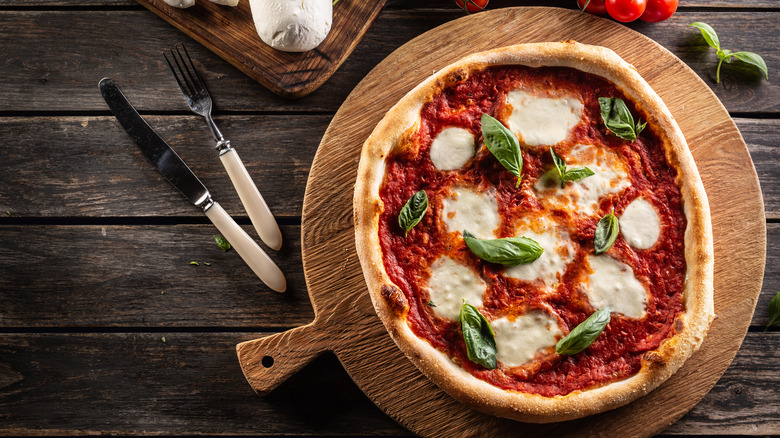 Marian Weyo/Shutterstock
There's no question that the best pizza comes straight from Italy (where the culinary wonder originated). Though there are various styles within Italy, including wood-fired Neapolitan, and Sicilian (which domestic square pies like Detroit's are based off), there's not really any use debating what country makes the best pizza.
However, when it comes to other European countries vying for the title of most renowned pizza in their regions, Spain is starting to turn heads. Known for its own exceptional local food, including tapas, tortilla española, and of course, paella, the country is rich with traditional cuisine. Recently, though, 50 Top Pizza released its rankings for the best European pizza pies outside of Italy, and a few notable Spanish pizzas rose to the top.
With three of the top 10 pizza restaurants residing in Spain on the list, including No. 1, Sartoria Panatieri, and No. 10, La Balmesina, in Barcelona, along with No. 6, Fratelli Figurato, in Madrid, the results were clear: Spanish pizza shops know how to churn out a quality, delicious pie. Though the best pizza in the world hails from Italy, there's good reason to try out the pizza while traveling in Spain.
An Italian classic, featuring Spanish ingredients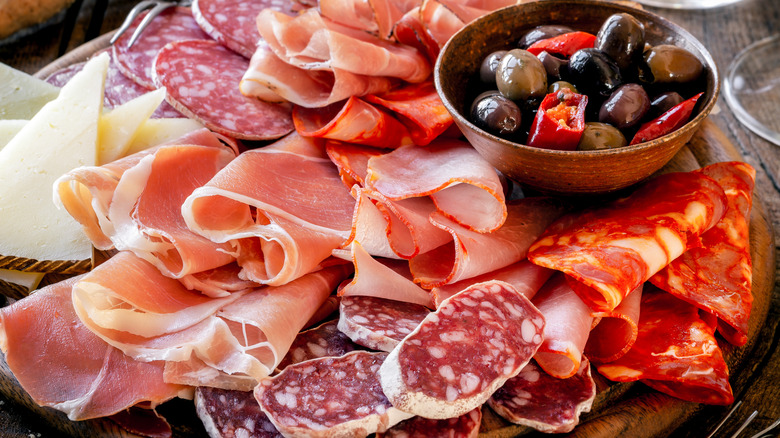 kuvona/Shutterstock
One reason pizzerias in Spain are really succeeding at the pizza game has to do with a fine balance of staying true to Italian pizza-making methods, while offering innovative toppings, including those local and popular in the region. And many pizza shops in Spain are baking their pizza the Italian way, in wood-fired ovens — along with their own signature flair. For instance, Sartoria Panatieri gives their dough a long time to leaven, and La Balmesina does the same with their sourdough crust that's also undergone fermentation.
Whether you wander into an upscale restaurant or neighborhood hole-in-the-wall shop, on pizza menus across the country, like those at Sartoria Panatieri and La Balmesina, you're likely to find toppings like Spanish chorizo, tomato, mozzarella, and herbs. Not to mention, the Iberico ham andmanchego cheese beloved by Spaniards. Plus, a healthy drizzle of Spanish olive oil, of course.
It's not hard to see why Sartoria Panatieri earned its No. 1 pizza spot in Europe designation, with toppings ranging from creamy burrata to pies sauced with roasted carrot cream. While there's certainly something to be said about pizzas that offer modern twists on the classic pie, Fratelli Figurato, which is owned by a pair of Neopolitan brothers, leans into its owners' Italian heritage to bring pizza to Spain. And, don't forget the tiramisu, which luckily can be found on various pizza shop menus too. 
How to get your fill of pizza in Spain (and at home)
nito/Shutterstock
To fully experience the expertise of pizza-makers across Spain, including those in Barcelona and Madrid who made the Top 50 list, be sure to make a reservation when visiting. Or if you'd rather walk along the streets of the country's various cities, you'll be sure to stumble upon a shop or two that's doing pizza right. 
Of course, Spain is no stranger to cheese, meat, and bread (you know, if you've ever tried tapas). However, there's a traditional food that can be found across Catalonia (the autonomous region in which Barcelona is the capital), called Coca, and it looks strikingly similar to a flatbread pizza, without the cheese. Found in Spanish bakeries, it's typically topped with simple ingredients like tomatoes, roasted vegetables, sausage, and anchovies.
And if you're not able to make it to Spain (yet), in the meantime, you can make your own Spanish-inspired pizza at home. Let your homemade pizza dough slowly rise, then roll it out and top with sauce, pungent sheep's milk manchego cheese, and Iberico ham. Bake your pizza in the oven at high heat on a pizza stone, then enjoy the Italian staple, with all the tastes and ingredients of Spain.