Guy Fieri's Number One Tip For Building A Not-Boring Party Menu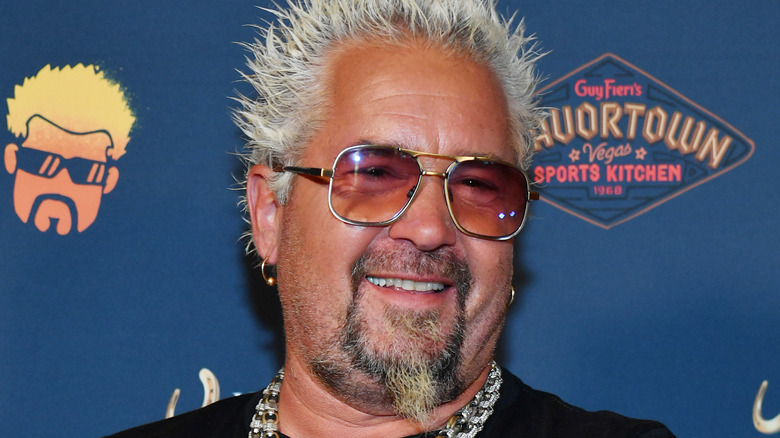 Denise Truscello/Getty Images
We don't usually see Guy Fieri cooking for a party on TV. Most of the time, Fieri is visiting restaurants on "Diners, Drive-Ins, and Dives," or judging another episode of "Guy's Grocery Games" or "Guy's Ranch Kitchen." But the celebrity chef can cook for a crowd; he's hosted fundraising dinners and cooked meals for major events like the Special Olympics.He knows how to feed a large gathering.
When it comes to putting together a menu for his own parties, Fieri's focus isn't just on the taste and the quantity of the food. As he shared with Parade, he also believes it's important to turn meals into an experience. To accomplish this, Fieri always includes an interactive serving aspect at his parties. His go-to is a build-your-own station. 
"Have a little deli station where [guests] can make sandwiches and so forth. A little nacho station is also great," Fieri added. "I'm a big chicken wing guy. Not everybody likes them as spicy as I like them, so have some baked or fried chicken wings and then three or four different sauces." 
These do-it-yourself setups mean more variety for guests — so everybody gets exactly what they want — and they're easier to prepare for the host too!
The more variety, the better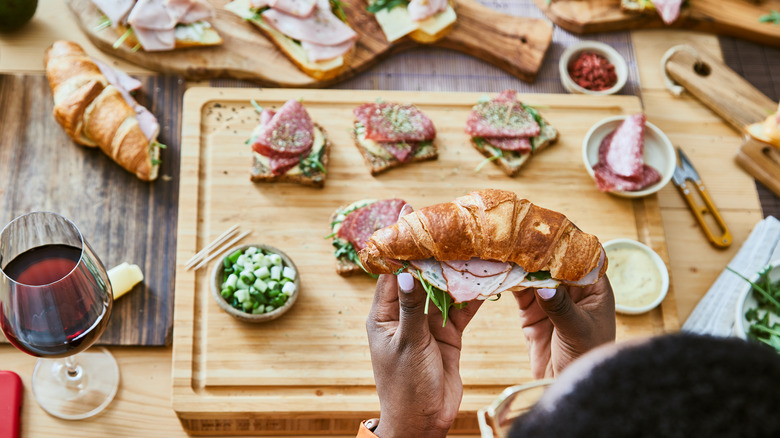 Marko Jan/Getty Images
Not only is a DIY food station a fun activity for guests, but it also ensures a more satisfying meal because everyone can customize their dish exactly how they like, Fieri explained to Food & Wine. One of Fieri's go-to party foods is sandwiches because people can mix and match different types of bread, meat, cheese, and condiments in so many different ways. 
Fieri suggests including as much variety as possible. Without variety, you're just laying out a platter of deconstructed sandwiches, which is not quite as impressive as having a customizable array of sandwich options. So offer a spread of sandwich toppings, and make sure to do the same with your bread selection, including options like pretzel buns and King's Hawaiian rolls. Fieri recommends slider buns or mini rolls for the bread so people don't fill up on just one big sandwich. Instead, they can make multiple sliders or leave room for tasty sides. "I don't want to eat one big whole anything. I just want many little bites of stuff," he told Bon Appétit of his approach.
It's easier on the host too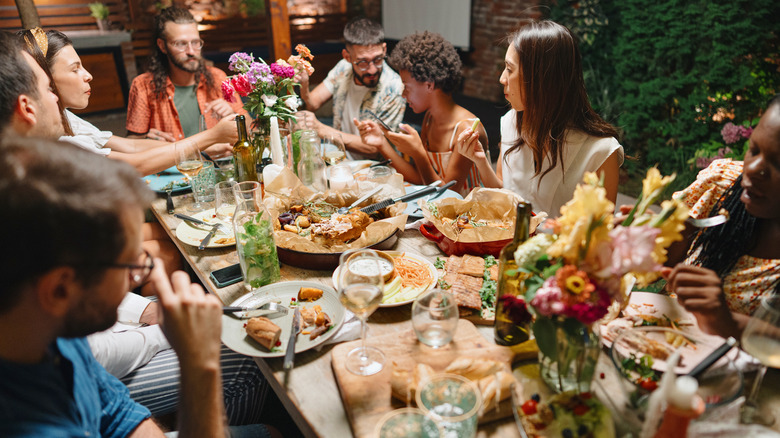 Anchiy/Getty Images
Preparing the food can be the most stressful part of hosting a party, which is another reason why Guy Fieri suggests having a build-your-own food station. Take a party and game day standby like burgers, for example; Fieri isn't actually a fan of this standard party offering. He tells E! that you either have to be stuck in the kitchen cooking them nonstop (so your guests can get a fresh, hot burger cooked to their liking) or settle for serving them cold.
But DIY stations of food that can be served cold (like sandwiches) or all prepared the same (like wings) reduce the amount of time you spend in the kitchen. "You're not the short order to cook. Let them get involved," Fieri told Food & Wine, adding that in his experience people actually enjoy picking out their own ingredients. Essentially it's a win-win situation for both the guests and the host.
In addition to having a customizable food spread, Fieri suggests supplementing it with simple dishes or sides that can be prepared well in advance or can at least sit out for an extended period. Fieri's menu changes from party to party, but he tends to cook based on whatever is in season and told Bon Appétit that pasta is always a staple. The key, he says, is to use high-quality ingredients and keep the serving size small. Combined with the interactive option, you'll actually enjoy your party as much as your guests without having to constantly replenish the food.