The Overlooked Region You Should Be Visiting For Unique Pizza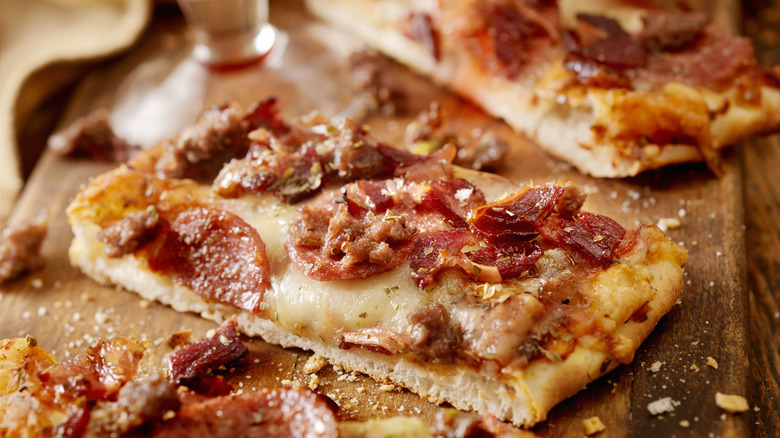 Lauripatterson/Getty Images
Depending on who you ask, the best pizza is strongly tied to regional preferences. Think thin-crust slices enjoyed on a walk through the streets of New York City versus Chicago deep dish pies you have to eat with utensils. Then, there's Detroit-style pizza baked in steel pans, and the list goes on. It's true — some people will start a fight about their state's claim to fame for the best pizza around; however, why not try them all?
There's one region spanning two Midwest states that all pizza lovers should visit, but it's not surprising if you haven't heard of it or its standout pizza. That region is the Quad Cities, which consists of adjacent cities bordering the Mississippi River across the edges of Illinois and Iowa. To be precise, that's the cities of Rock Island, Moline, and East Moline in Illinois, along with two cities in Iowa: Davenport and Bettendorf.
You may have traversed this midwestern community on a road trip or, if you live in the greater Chicago area, unaware of the amazing rectangular slices of pizza that await inside its pizza joints. The draw of Quad Cities' pizza is three-fold: the flavor, with its sweet crust and spicy, thin layer of tomato sauce; local ingredients (and Midwest toppings); and the pizza's signature cut (which is accomplished with scissors). While it's possible to overlook this lesser-known region, you can't miss its pizza; it's well worth the drive (or flight)!
What makes a Quad Cities pie?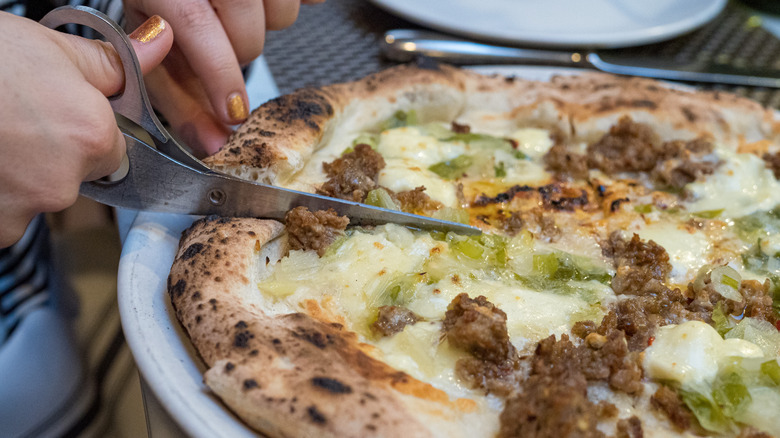 David Tran Photo/Shutterstock
There are several factors that make a Quad Cities pie unique. First, Quad City pizza makers add a bit of sweetness to their dough. Pizzerias in the region add viscous molasses or grain-derived malt syrup to the dough (depending on the shop, sometimes both), which adds a slight caramelized, nutty note and helps with the browning and rise of the dough as it cooks under quick, high heat. These syrups also help with moisture retention, creating a crisp yet pliable crust.
When you taste this regional pizza delight, you also won't be able to ignore the impact of its local ingredients. The Midwest delivers on quality cheese, after all, and they don't skimp on it. A generous portion of cheese is piled high on top of a thin layer of smooth tomato sauce with a bit of an added kick from cayenne or red pepper flakes (which compliments the sweetness from the crust nicely). Lastly, an array of classic midwestern toppings are added to finish everything off.
While the Midwest is no stranger to square pizza slices, when you've found a Quad Cities pizza, you'll know. The pie is often baked in a classic round shape, but pizza shops in the region pretty much exclusively cut the pie with scissors, with one long cut down the middle vertically, then a series of horizontal cuts to create thin rectangular slices.
Signature toppings are part of the magic too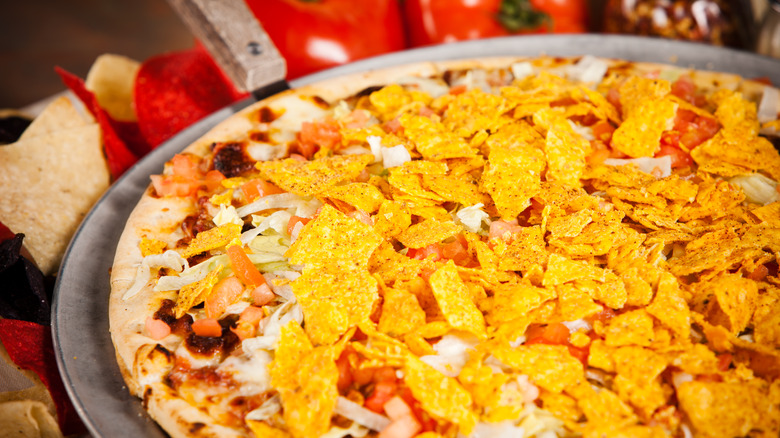 Jbryson/Getty Images
A visit to the Quad Cities is needed to truly experience the magic of the pizza of the region. In addition to its signature dough, assembly, and slicing methods, toppings offered are plentiful — and quintessentially midwestern. While you can (and absolutely should) go with a classic sausage pie for your order, made with lean ground meat piled high, the locals also love mash-ups of their favorite cuisines.
Specifically, we're talking about taco pizza like the kind served at Harris Pizza, which comes topped with ingredients like seasoned meat, lettuce, tomato, and cheddar cheese, and gets sprinkled with tortilla chips after it is removed from the oven. Other hometown favorites you'll find depending on the shop, are chicken bacon ranch pizzas or pies that take the classic BLT sandwich to a cheesy new level. If you live in or visit the Quad Cities you should consider trying this unique pizza style for yourself, and if you can't make the trip, see if your city features a shop with Quad City-style pie — though it's always best enjoyed local and fresh.