The Common Kitchen Appliance That Takes Cocktails To A Whole Other Level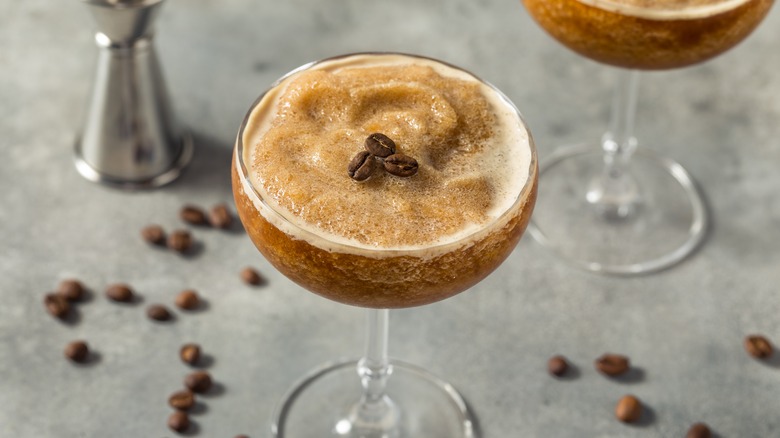 Brent Hofacker/Shutterstock
Making cocktails at home can be a surefire way to spice up any dinner party, or a summer evening well-spent on the patio, but have you ever felt like you don't know where to start (or are in a bit of a rut) when it comes to mixing up fun, spirited beverages?
Luckily, you don't need any extra specialty kitchen equipment to level up your cocktail game. If you have a standard blender, you're well on your way to making inventive mixed drinks and even sprucing up tried-and-true favorites that can get a little old — we're looking at you, gin and tonic. Yes, you can use the common kitchen appliance to do more than make your morning smoothie.
Just whip out your juices, bitters, and any liquors, then blend cocktails using ice or frozen fruit — even those that are not typically blended. While margaritas and piña coladas are great, you can take other classic mixed drinks to a whole new level. Easily use your blender to transform your standard old-fashioned, or negroni made with gin, vermouth, and Campari, into a frozen, blended, and spiked treat. 
Use your blender to mix up inventive drinks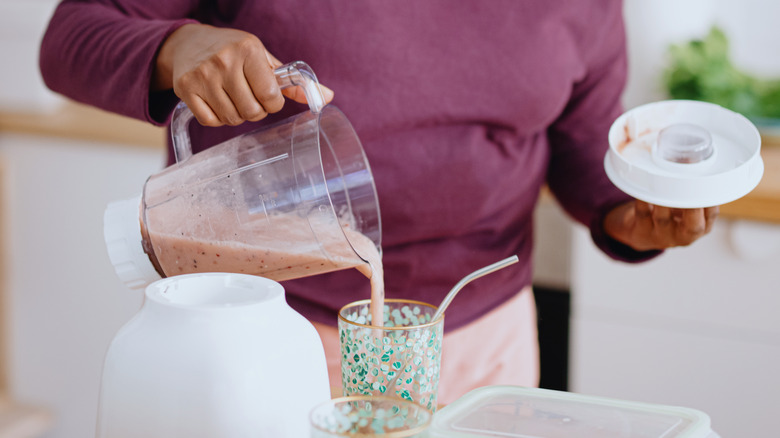 Anchiy/Getty Images
Depending on your cocktail (and your mood), you can get creative with all the blended possibilities. Add ice – crushed is best — or frozen fruit to your recipe, and blend the whole thing up gradually. First, use the mix function on your blender to combine your liquor of choice along with any juices or bitters. Then add ice, and blend it all together using the purée setting. Play around with your blender's speeds to get your desired consistency — smooth, creamy, and chilly is what you're going for here. Add more water or ice to get your desired silky consistency, as you would when making a smoothie.
If frozen cocktails aren't your jam (or the heat of the summer season is long gone), you can use your blender as a handy substitute to make well-shaken mixed drinks that have an added textural element of froth. To make foamy drinks like those that traditionally contain egg white, such as a tangy amaretto sour, add all your ingredients (including liquor, citrus, simple syrup, egg whites, and a small amount of ice) and blend well to incorporate air. Mix in your blender until frothed and chilled, then filter the drink through a mesh sieve, and serve it over a large, cold ice cube, garnished with a citrus peel.
More creative cocktail inspiration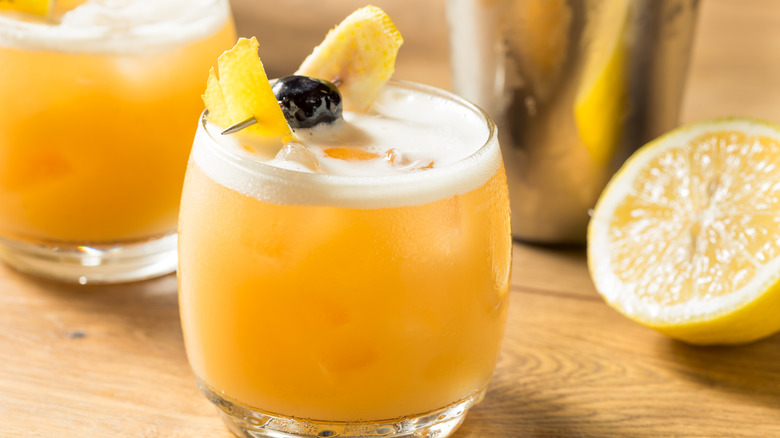 Brent Hofacker/Shutterstock
By using your blender to purée cocktails until frozen and creamy, or as a shearing mechanism reminiscent of the bartender shaking up a beverage at your favorite speakeasy, your drinks will start to take on a new, exciting life. Use this opportunity to get creative with liquors and other ingredients, too. When making a frozen Irish coffee or espresso martini, consider subbing tequila with mezcal for a smoky twist then top your drink with a dusting of cocoa powder for an extra chocolatey bitterness.
To craft an icy celebratory Aperol spritz or any other bubbly aperitifs, add all your other cocktail ingredients to the blender first and mix well before adding in fizzy drinks like prosecco, tonic water, or any other sparkling beverage. By adding in a splash of prosecco last, and giving the whole mix just a stir, you'll ensure the shear of the blender blades doesn't mess with its effervescence.
Mixing up your cocktail in the blender is also a great avenue to experiment with low-ABV drinks that are easy on the spirits, as well as non-alcoholic mocktails. To do so, choose your favorite juices, sodas, bitters, and low-proof or no-proof liquors and blend them up with ice or fruit. Whatever your cocktail style, it's sure to take on some much-needed flair in the whirl of the blender.