The Granola Tip Guy Fieri Learned From His Mom Is So True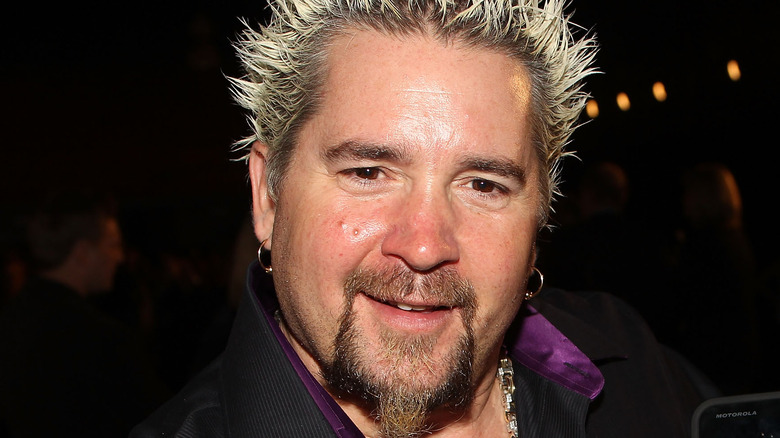 Gary Miller/Getty Images
Unlike many celebrity chefs, Guy Fieri doesn't credit his love for food to his mom's cooking. Though his parents were good cooks, Fieri had a very different palate from the rest of his family. "My parents were all into macrobiotic cooking and natural cooking, and my sister was a vegetarian. I wasn't down with that," he told Food Network. It was only when he studied abroad in France that Fieri began to see food in a different light. "I wrote home to my parents, saying 'I had steak and potatoes yesterday, and it was like I'd never had them in my life,'" Fieri told Delish.
Fieri and his mom may have not seen eye to eye about food, but he still cherishes a seemingly small tip she gave him about cooking granola. Referring to her as his "favorite granola chef," Fieri shared with Today that his mom taught him that you should always stir your granola. This was crucial advice, as his family's kitchen had an old gas and wood-fired stove that cooked food unevenly, however, it also helped Fieri learn another great cooking principle. "It was a really great lesson in keeping an eye on what you're doing," he told Today.
Why granola has to be stirred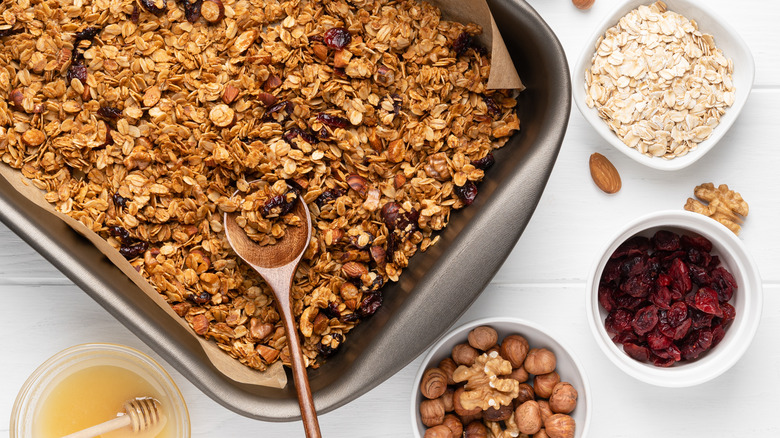 Alena_Kos/Shutterstock
Even if you don't have a finicky stove like the one Guy Fieri had in his childhood home, it's still important to stir granola. If you don't, it could easily burn on one side. Stirring also ensures all of your oats get coated with oil, which allows them to brown evenly and ultimately crisp up. If you don't develop a crunchy texture, all you've got is toasted oats, not granola.
For recipes that call for baking granola in the oven instead of cooking it on the stove, stirring is still essential. Since your oven will cook your oats more evenly, you won't have to be as watchful, but you'll still need to take it out and stir it every so often. For optimal crunch, you can also whisk in some egg whites before putting it in the oven. This will allow the granola to crisp up further in addition to the consistent stirring.
How Guy Fieri makes granola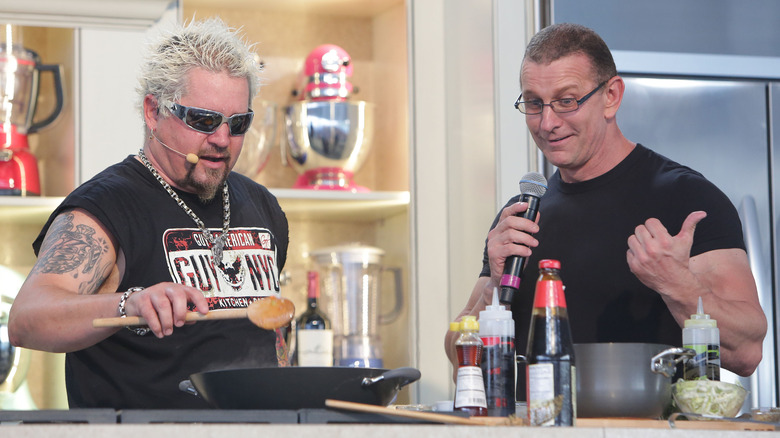 Alexander Tamargo/Getty Images
Though Guy Fieri's mom taught him how to make granola on the stove, the celebrity chef makes his own version of the recipe in the oven instead. In the Food Network Special "Guy's Family Feast," Fieri shared that his granola is made with a combination of oats, almonds, golden raisins, and dried cranberries. He flavors this mixture with rosemary, cinnamon, and nutmeg, before bringing it all together with molasses, maple syrup, and canola oil. Once combined, he bakes it in a 350-degree oven, stirring it every seven minutes for a total of 20 minutes.
In the Food Network Special, Guy Fieri prepares granola for a family party, but it isn't a food he reserves only for special occasions. Fieri told Insider that even though he's not a big fan of breakfast, he has a soft spot for granola, and his favorite way to serve his homemade granola is with some yogurt and fresh berries. Apparently, a taste of his childhood is the perfect start to his day.