For The Dirtiest Cocktails, Reach For Your Trusted Ice Cube Tray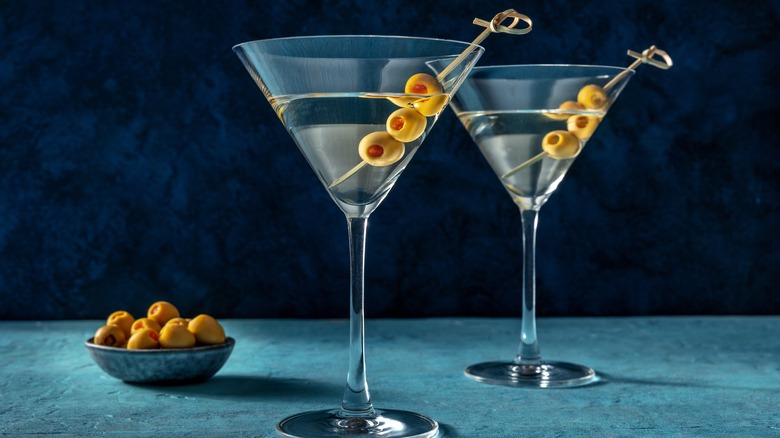 Plateresca/Shutterstock
The martini is a drink that is incredibly customizable and folks have been creating inventive new interpretations of this flexible drink in its nearly 200-year history. Dirty martinis, gin martinis, espresso martinis, James Bond's Vesper, and the original sweet martini have all had their moment in the sun, and the cocktail is enjoying another surge in popularity. 
So the question is not whether you should try a martini; the question is what type of martini you prefer, and how will you customize yours? To answer that question and further explore all the possibilities this liquor-forward cocktail offers, many martini drinkers are honing in on smaller details of this drink and adapting their martinis to emphasize elements that are often overlooked. 
One such element that has gotten more attention recently is the "dirty" of dirty martinis. More brine, more bite, more innovation. People want their drinks served with an edge, and to get it, cocktail makers are looking to another underutilized detail in the cocktail — the ice cube. Realizing that the classic ice cube could do more for their martinis, instead of using water for ice cubes, some dirty martini fans are freezing brine to use as ice in their cocktails. This way, as the ice melts the briny flavor deepens rather than dilutes. According to today's trends, only the dirtiest cocktails suffice.
Olive ice cubes combine two cocktail trends
On top of leaning into the popularity of dirty, briny cocktails, these briny ice cubes are also part of another drink trend — designer ice. Chefs have been innovating around the ice in cocktails, playing with how it can contribute to the visuals and flavor of a cocktail. Craft ice makers are gaining popularity (and going viral), freezing flowers, toys, fruits, herbs, and even vegetables into ice, choosing ingredients to complement the drinks they'll chill. For dirty martini lovers, freezing olive slices set in brine to use as ice in their dirty martinis is a perfect way to up the visuals of your drink and add an extra kick of brine, deepening its flavor. 
Leslie Kirchhoff, founder of the luxury ice business Disco Cubes, has created a stunning version of olive ice, which has inspired a legion of TikTok users to make their own. She told Punch, "I also loved the idea that the drink would get dirtier as the cube melts."
So, if anybody sees your olive and brine ice and tells you that you are too obsessed with the brackish flavors of a dirty cocktail, you can point them to Kirchoff and the many drink makers and chefs who are innovating around dirty cocktails. In New York City alone, Swan Room in lower Manhattan serves an heirloom martini made with clarified tomato, and Clover Club boasts the Shuck N' Jive, a martini tribute to the sea with oyster shell-infused vodka and seaweed tincture. If you want to add extra flavor to your dirty martini, you will be in good company.
Another home-hack for dirty cocktails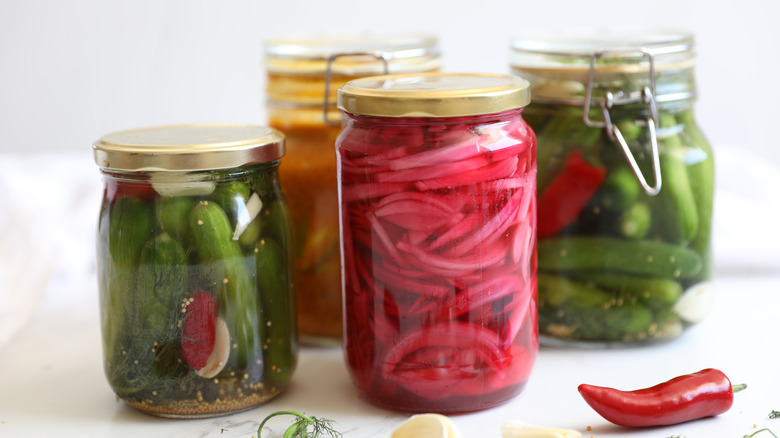 rontav/Shutterstock
If you don't have the tools and expertise to make tomato water or infuse your vodka with oyster shells, there are still plenty of ways for you to make fancy and tasty dirty cocktails at home.
A great option is to step up your brine game — make it yourself! A simple mix of water, salt, and lactic acid can make a solid homemade brine. If you'd like to get the added bonus of a crunchy piece of veg to top your cocktail, use the brine from a home pickle. You can master home pickling with just a few pieces of advice, so pickle an onion, pear, tomato, okra — whatever you've got around — and repurpose the brine in your cocktail and garnish with your pickled fruit or veggie. And if a home pickle is too much effort or time for you, no judgment. You can also buy your brine sans olives. This will save you the trouble of sifting olive from brine, and potentially step up your brine quality in the process.
With so many martini adaptations floating around, there is a mix for everyone. Whether it's a fancy brine, extra brine, or fancy ice, your perfect (dirty) martini exists.