Maine And Connecticut-Style Lobster Rolls Have More Differences Than You'd Think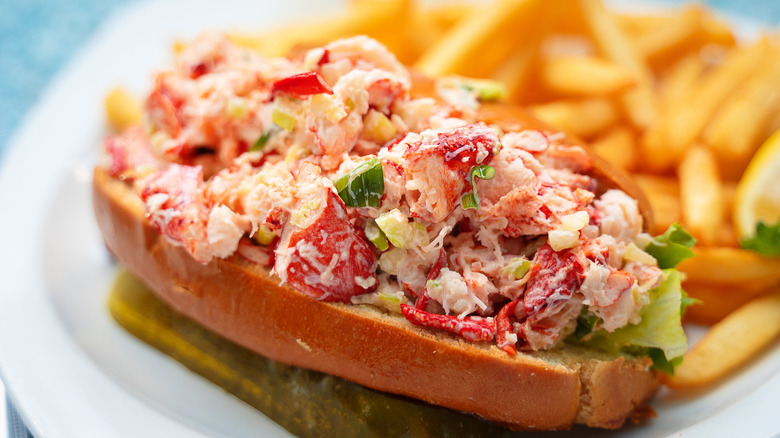 Thepalmer/Getty Images
When people think about the fierce food battles of the Northeast, we wouldn't be surprised if the first thing that comes to mind is the fight between Manhattan and New England-style clam chowder. But there's another Northeastern seafood specialty that's inspired a delicious rivalry of its own: the lobster roll. It turns out that what people call a lobster roll in Maine looks a bit different than a lobster roll in Connecticut. From the temperature served to the ingredients in the lobster filling, several key aspects of this summer dish are different in Maine versus Connecticut.
Mainers might hate to hear this, but it turns out that the lobster roll as we know it today was first popularized in Connecticut, thanks to Perry's restaurant in Milford, Connecticut, which created a hot grilled lobster sandwich in the 1920s. In Maine, meanwhile, it wasn't until the '70s that Red Eats' lobster rolls started getting famous. What the two styles have in common is the bread: both are usually served in a toasted, buttered split-topped bun with flat sides, a New England specialty. So which one is served hot, and which is cold?
Which lobster roll is served hot and which is cold?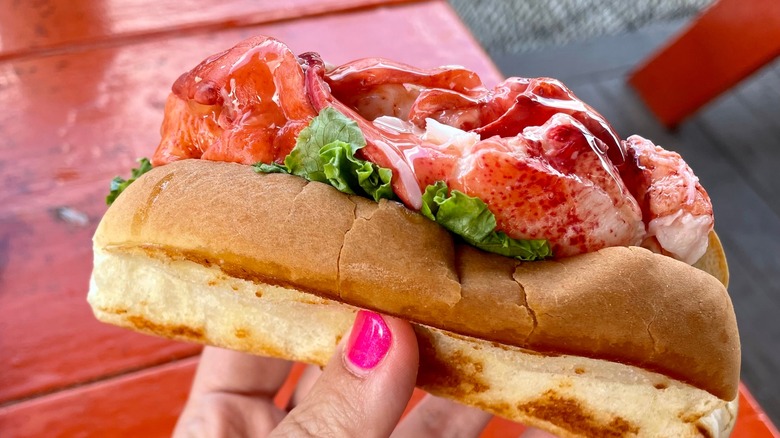 Jaclyn Vernace/Shutterstock
Which style of lobster roll is served warm, and which is served cold? It's easy to remember. Maine, a notoriously chilly state with a long winter, prefers serving their lobster rolls cold. Down south in Connecticut, on the other hand, restaurants serve their lobster rolls warm. In Boston, hovering between the two states, you can find both styles pretty readily.
But is one style superior to the other? It turns out, maybe. According to food scientist and writer J. Kenji López-Alt, maybe. "If you want to inject a little bit of science in it, certainly when things are hotter you can taste their flavors better," he shared with Boston.com. 
However, there is a con to the warm Connecticut-style lobster roll — all of the hot lobster juice and melted butter can seep into the roll, making it soggy. On the other hand, some people complain that a cold Maine lobster roll isn't as flavorful. Chef Carl Cooley of Mooncusser told TimeOut, "To me, cold lobster doesn't have a much flavor, so you're mostly getting the mayonnaise taste."  
You'll find adamant supporters and naysayers on both sides of the cold vs. hot debate, so we're going to call this a draw. You'll have to decide for yourself if you prefer your lobster cool and refreshing or deliciously warm. Perhaps the rest of the ingredients that make up the lobster filling can help you decide.
Butter versus mayonnaise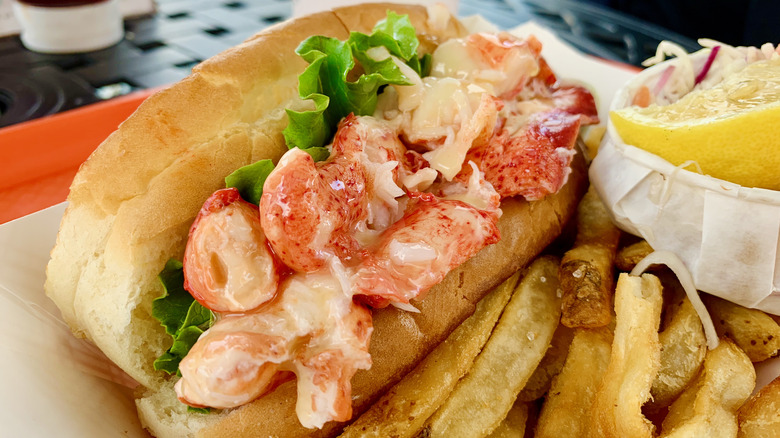 Ant Dm/Getty Images
Maine and Connecticut lobster rolls are served at different temperatures, which leads to a key difference in their ingredients, too. Warm Connecticut lobster rolls start with warm lobster meat that's dressed with melted butter and served on a toasted buttered split-top hot dog bun. Sometimes, herbs like chives are added, and some add lemon juice on top, but it's kept pretty simple.
Maine lobster rolls, on the other hand, see cooked chilled lobster meat tossed with cold mayonnaise. The only traditional addition you might see is diced bits of crunchy celery. The chilled Maine lobster roll mayo filling is served in a butter-toasted split-top hot dog bun, just like its Connecticut cousin.
Both Maine and Connecticut-style lobster rolls are occasionally served with lettuce in the roll. Placing a leaf of lettuce in the bun and then loading that with the lobster filling can help prevent the bun from getting soggy.
There are modern versions of the lobster roll that take a little more liberty in diverting from tradition — using infused butter or homemade aioli, adding pickles or herbs, or even switching up the bread — but the thing to remember in experimentation is that Maine, Connecticut, or modern, the whole point of a lobster roll is uplifting and highlighting the sweet, succulent lobster meat itself, so it's important not to get carried away with the extras. Sometimes — whether you're a fan of the Connecticut or Maine style — simplest is best.