Cowboy Caviar Is The Solution To Boring Meal Prep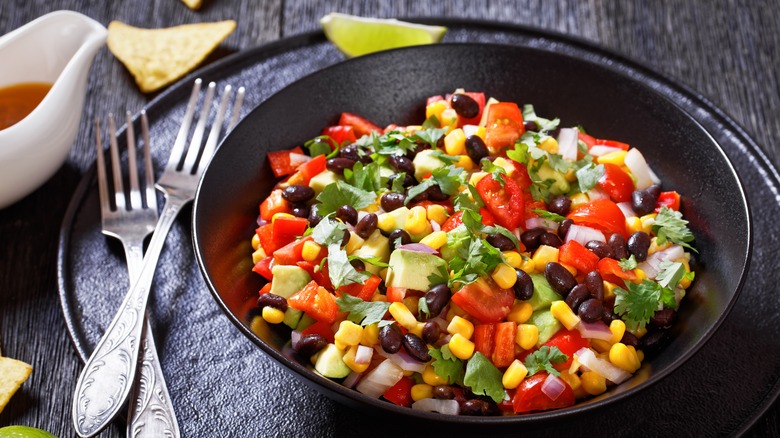 from my point of view/Shutterstock
Every January, people make their healthy eating resolutions, and often, meal-prepping easy lunches and dinners seems like the best way to make those resolutions stick. But, as Google Trends will tell you, the January spike of interest in meal prep falls off pretty rapidly for the rest of the year, reviving briefly in mid-summer before people apparently give up on meal prep entirely when the fall holidays and their associated foods (also known as "the good stuff") roll around.
So what can those who want to keep their meal prep game strong all year do to make sure they don't get bored from eating the same recipes over and over again? Some recommend trying out cowboy caviar. Cowboy caviar, also known as Texas caviar, has fancy roots that live up to the caviar name. The dish was invented in the 1940s by Helen Corbitt, the culinary director at Dallas' Neiman Marcus, though these days it's much homier fare, often seen at potlucks and barbecues. Typical recipes call for corn, black beans, black-eyed peas, onions, and seasonings like garlic, herbs, and vinaigrette, but variations abound. If you're used to loading your meal prep containers with the same old brown rice or sturdy kale salad, mastering cowboy caviar, and learning how to put your own spins on the recipe, could be the key to adding more flavor, nutrition, color, and fun to your meal prep meals.
The benefits of cowboy caviar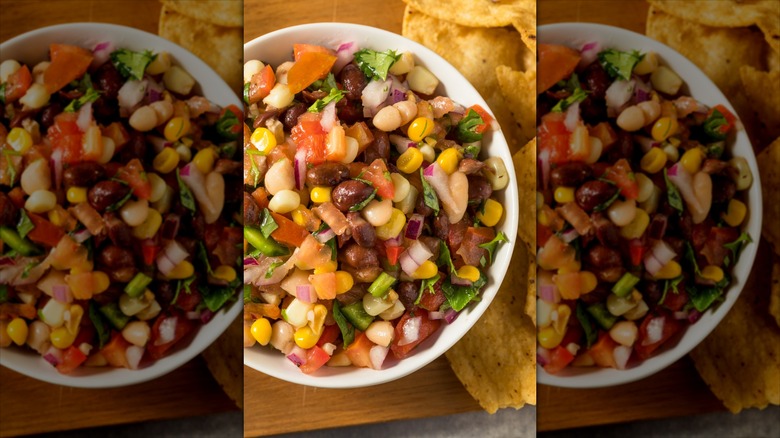 Brent Hofacker/Shutterstock
Cowboy caviar may have been invented in the 1940s (though many have pointed out its similarities to recipes like pico de gallo, hoppin' John, and ensalada de frijoles con nopales), but it's seen a recent surge in popularity, even going viral on TikTok in 2022. There are a few different things people love about the recipe. For one, unlike salads that are lettuce-based, cowboy caviar doesn't wilt or get soggy. It's also nutritious. The viral TikTok cowboy caviar recipe includes ingredients like black beans (though traditionalists may insist on black-eyed peas), bell peppers, tomatoes, avocado, corn, and olive oil, which are loaded with fiber, vitamins, protein, and heart-healthy fats. That means that one big batch of cowboy caviar can provide a nutritious base for a week's worth of lunches or dinners.
Cowboy caviar offers up a variety of colors, flavors, and textures in each bite, so even if you're having it multiple times a week, it still might be more interesting than an old standby like Caesar salad. But beyond being served as-is, people are finding ways to build upon the classic cowboy caviar so that it can be eaten in several different recipes throughout the week.
Different ways to use meal prep cowboy caviar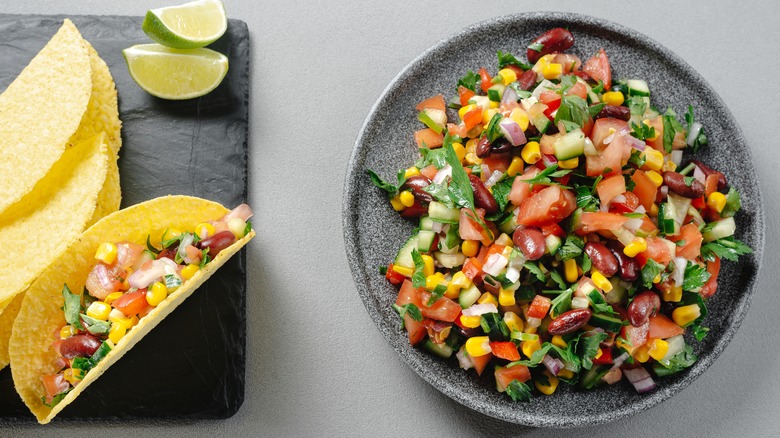 GulyaevStudio/Shutterstock
Cowboy caviar can be eaten as a salad or side dish, but where it really starts to shine in livening up meal prep meals is its versatility. A big batch of cowboy caviar can be used as a dip for tortilla chips, as a garnish for black bean soup and corn chowder, as a filling for wraps and tacos, as a relish on hot dogs and burgers, or as a salsa for grilled chicken, fish, or meat.
The recipe itself is also adaptable. Some use lime juice, others red wine vinegar, and still others say it's got to be bottled Italian dressing. You can play with the beans and veggies called for in the recipe; whole grains can be added, too, or you can go with the special mix-ins like fruit and cheese. We've seen people load it on top of chicken breasts to make a baked chicken casserole, and others stuff it next to grilled veggies and beef for meal prep fajita bowls. It's clear that with this much flavor and such versatility, cowboy caviar is one recipe that can keep your meal prep meals from tasting boring day after day.