At NYC's Quality Bistro, You Go For The Butter Service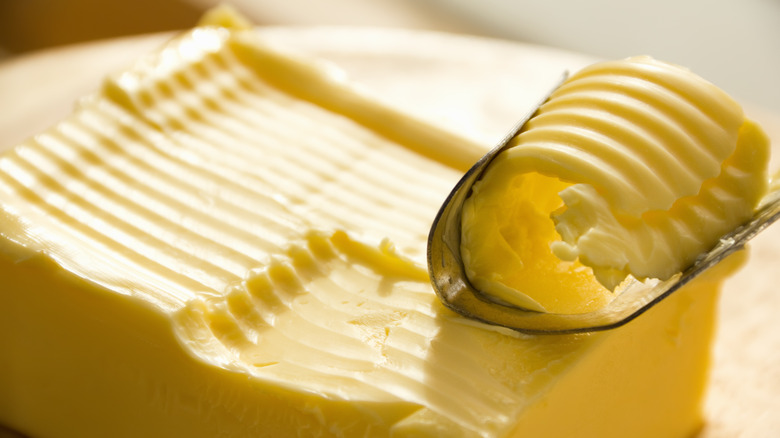 Lutavia/Getty Images
When butter boards took the world by storm in 2022 on TikTok, was anyone really that surprised? After all, charcuterie and cheese boards have been increasingly popular in recent years, and it seems like putting butter on a board was the next logical step in bread accompaniment. But homemade butter boards could get some inspiration from the tableside butter service at upscale French-inspired restaurant Quality Bistro in New York City, where they've turned bread and butter, so often an afterthought (many restaurants even give away bread and butter for free), into the star of the show.
Of course, being the star of the show means that the butter service at Quality Bistro comes with a price to match its status — this bread and butter plate, listed in the "Les Snacks" section of the restaurant's menu, sets customers back $38. In return, here's what they get. A waiter arrives at the table, pushing a cart loaded with a blue and white stoneware crock that's filled with a cone-shaped mound of butter from Battenkill Creamery in upstate New York, a platter of toasted bread, little hors d'oeuvres, and accompaniments. The restaurant adds yogurt cultures to the butter, which gives it a tangy flavor, and the bread is special, too — it's Filone bread from Jim Lahey's (who popularized no-knead artisan bread) Sullivan Street Bakery. But those are just the basics because once the butter cart arrives at the table, the waiter gets to work preparing it for the guests.
What comes with Quality Bistro's butter service
It's easy to see why Quality Bistro's butter service is a signature menu item at the restaurant. Once the waiter arrives at the table with the butter cart, they spring into action. A big wooden scoop of butter is smeared on a platter, where it's then topped with chopped shallots, fleur de sel (French sea salt), fresh black pepper, and piment d'espelette, an AOC-protected sweet and lightly spicy dried red pepper used in Basque and French cooking.
But the bread and butter are just part of the equation. Quality Bistro's tableside butter service also comes with thinly sliced jambon cuit to make jambon-beurre sandwiches (a Parisian staple), leeks vinaigrette, radishes, watercress, and cornichon, and a variety of spreads: a savory mushroom duxelles (like you would find inside beef Wellington); haché basquaise, a savory, sweet, and lightly spicy chopped meat spread made with chorizo, Parmesan, sherry vinegar, almonds, honey, dried fruit, and smoked red paprika; and an eggplant spread. The $38 price tag starts to make more sense when you see how much comes with tableside butter service at Quality Bistro, and they're not the only ones charging for upscale bread and butter — Michelin-starred Moss is an Icelandic restaurant where the views come second only to the butter, which is served blended with skyr and topped with sea salt and seaweed. But do customers who have eaten at the Quality Bistro think the dish is worth it?
What customers are saying about Quality Bistro's butter service
Even after watching the drool-inducing TikTok videos, you might be wondering if Quality Bistro's butter service is worth it. Most reviewers on Yelp say yes. Comments there include "It is worth every penny," and "I would come back just to eat this again," while others praised the "light and creamy" butter. "Don't even second guess," urged one reviewer, "just order it."  
Overall, the reviews of the butter board at Quality Bistro in New York are positive, with customers raving about how special it felt to be served from the butter cart, and saying that the generous portion of the tableside butter service means that, with drinks, it can almost suffice as a meal for two. One thing is for certain: Quality Bistro's spin on bread and butter and definitely worthy of conversation. It might not be free restaurant bread (it's a fine dining restaurant, after all), but you get what you pay for, making this one dish that butter lovers might want to try.