How You Could Be Getting More Out Of The Whole Foods Fishmonger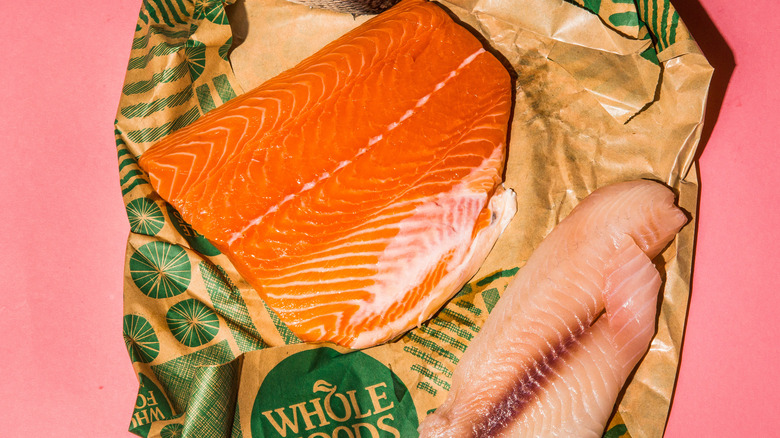 Bloomberg/Getty Images
When you shop for seafood at Whole Foods, you have two options. You can either grab something pre-packaged, or go up to the seafood counter and ask for what you want. While it's easy to assume the people behind the counter are just regular Whole Foods employees, the truth is they're trained to do much more than just weigh and bag seafood. In fact, Whole Foods staffs its seafood department with fishmongers.
Fishmongers are experts in butchering and preparing seafood. They know exactly what seafood is in season, the different types of fish, and the proper way to cook and clean each one. The fishmongers at Whole Foods are no different. If you need help picking out the best seafood, don't know how to cook it, or aren't sure how something will taste, all you have to do is go up to the counter and ask. They can even debone and filet your fish, peel your shrimp, and shuck your oysters for you.
Do you have to pay to use the fishmonger services at Whole Foods?
Cutting, fileting, deboning, peeling, and shucking are automatically included with any purchase from the seafood counter, so you'll pay the same price whether you take advantage of these services or not. Depending on how much you buy or how busy the store is, you may have to wait around for a little bit or come back after you've done the rest of your shopping, but according to Whole Foods Senior Seafood Buyer Kimberly Blanco, the fishmongers are trained to do this as quickly as possible.
If you don't see the type of seafood you like, the fishmongers will also go out of their way to order it for you. Whole Foods works directly with fisheries and farms and will gladly take special requests for seafood, provided that it aligns with the company's standards. For this service, it's best to reach out to your local Whole Foods' seafood department via phone so they can schedule a time for you to pick it up.
Some Whole Foods locations will cook your seafood, too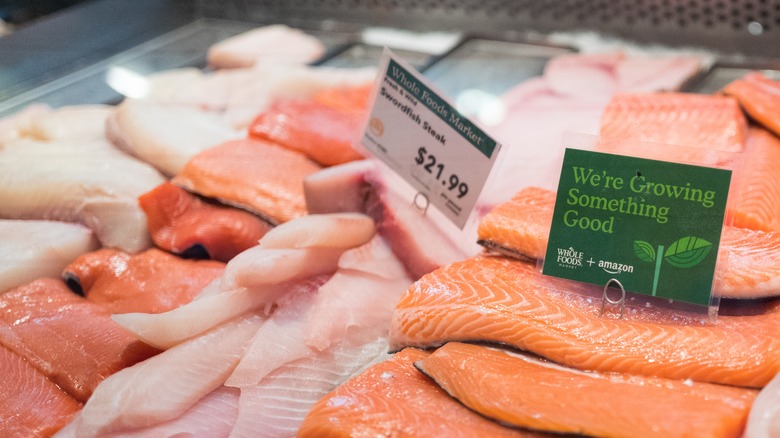 Smith Collection/gado/Getty Images
If you shop at a participating Whole Foods, the fishmonger services may also include cooking, steaming, and smoking. As Whole Foods customer Lucy Huynh documented in a viral TikTok, you will simply need to make the request at the counter when you ask for your seafood. According to the fishmonger in Huynh's video, you can also have it seasoned with spice blends such as tequila lime, Cajun, Old Bay, and habanero, and Whole Foods states that some stores will also marinate your seafood, stuff fish, and prepare ready-to-cook crab cakes and seafood burgers.
At the Whole Foods featured in Huynh's TikTok, the cooking services were free, however, it may cost extra depending where you shop. A handful of customers in the comments section of the viral video pointed out that you can also ask for a bag of seasoning. An easy way to tell what services the fishmonger at your Whole Foods offers is to check if any of the pre-packaged seafood includes products that have been cooked or marinated.