The Type Of Salt Ina Garten Uses In All Her Recipes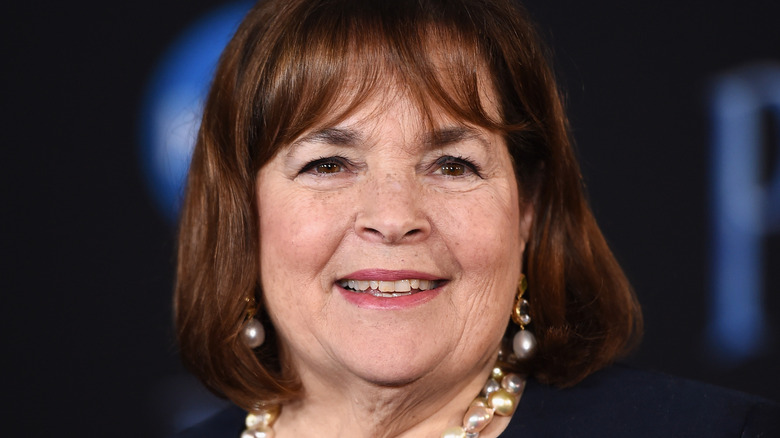 Amanda Edwards/Getty Images
If you watch "Barefoot Contessa," you know that Ina Garten will often stress using "good" ingredients, whether that be good olive oil, good mayonnaise, or most often, good salt. When it comes to the first two, you can pretty easily guess that she means extra virgin olive oil and full fat mayo, but what's considered "good" salt?
As the celebrity chef revealed in an interview with Oprah, she's usually referring to one of three types of salt: Diamond Crystal Kosher Salt, Fleur de Sel de Camargue, or Maldon Sea Salt Flakes. Garten reserves the Maldon Sea Salt Flakes and the Fleur de Sel de Camargue, a type of French sea salt, for finishing dishes like chicken pot pie and chocolate chip cookies. But for all other applications, she typically sticks to Diamond Crystal Kosher Salt. "All of my recipes are based on Diamond Crystal kosher salt (even using a different brand of kosher salt makes a difference!)" Garten once wrote on the Ask Ina section of her website.
What's so special about Diamond Crystal Kosher salt?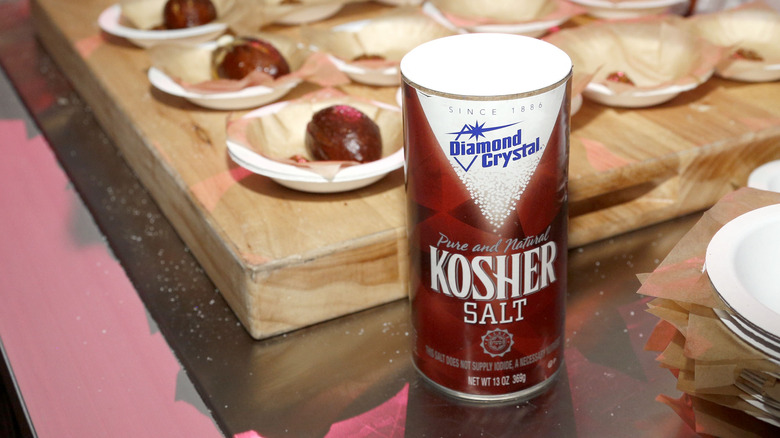 Lars Niki/Getty Images
Plenty of brands and types of salt exist — Garten, after all, uses three — but there's a reason she and many professional chefs prefer cooking with Diamond Crystal Kosher Salt. It all comes down to its level of saltiness. Diamond Crystal Kosher Salt isn't nearly as salty as other types of salt, or other brands of kosher salt. Because it isn't as concentrated, you have better control over the saltiness of your dish, making it easier to avoid oversalting.
If you've ever made one of Ina Garten's dishes and it turned out saltier than you expected, it's likely because you were using table salt instead. Table salt is about two times as salty as Diamond Crystal Kosher Salt, and since Garten's recipes are all developed with Diamond Crystal Kosher Salt, you'll need to adjust how much salt to add depending on what type you're using. For reference, 2 tablespoons of Diamond Crystal Kosher Salt are equivalent to 1 tablespoon of table salt, or 1 tablespoon plus 1 teaspoon of Morton Kosher Salt.
Why isn't Diamond Crystal Kosher Salt as salty?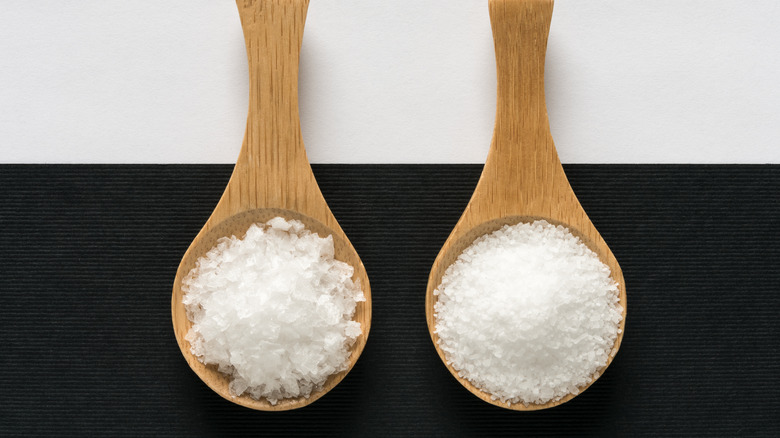 Michelle Lee Photography/Getty Images
Diamond Crystal Kosher Salt is still pure salt. The reason it isn't as salty is because of how it's made. Diamond Crystal Kosher Salt and regular kosher salt both start out as a liquid salt solution extracted from underground salt beds. When the liquid evaporates from the solution, salt is left behind, and when it's pressed and flattened, it becomes what most people know as kosher salt. Diamond Crystal Kosher Salt on the other hand does not involve evaporation and is instead made through a combination of heat and agitation. Over time, salt crystals form on the top of the solution and are then packaged and sold as Diamond Crystal Kosher Salt.
Diamond Crystal Kosher Salt may be less salty, but it still gives well-seasoned results. Due to the unique, hollowed-out structure of its crystals, Diamond Crystal Kosher Salt more effectively adheres to food and also dissolves faster. On top of that, it doesn't have a "metallic" taste like table salt often does, Garten pointed out on her website. Clearly, Diamond Crystal Kosher Salt is the way to go if you want to salt your food like a pro.