Your Parchment Paper Is Sabotaging Your Roasted Vegetables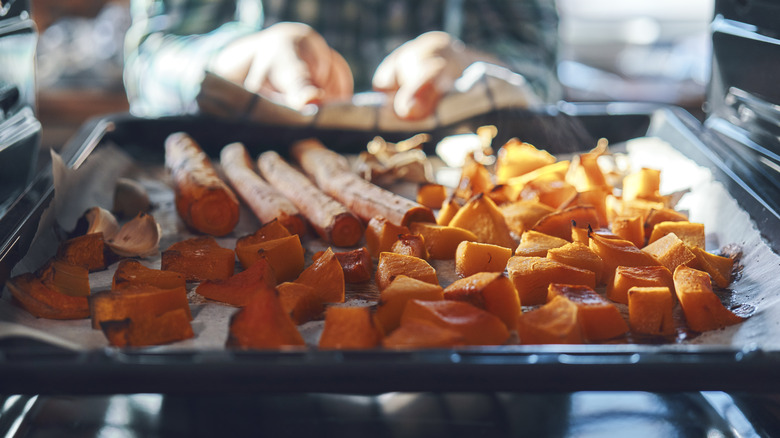 Gmvozd/Getty Images
Growing up, it seems like most vegetables we ate were boiled, steamed, or sautéed until tender but not browned. But in the late '90s and early '00s, something magical happened: roasted vegetables became popular, thanks in large part to the chefs and cooks sharing recipes on the Food Network, according to Slate.
The benefits of roasting include that it's a hands-off method of cooking vegetables, but also that, thanks to the high heat and dry air of the oven, the vegetables brown and caramelize as they cook. The heat also triggers the Maillard reaction, which converts the different compounds and proteins found in your food into new, complex, and tasty flavors. Basically, it makes vegetables taste better. 
But if you've been lining your baking sheets and pans with parchment paper before roasting to avoid veggies sticking or your pan getting dirty, you might not be getting the best results. There's one main reason why you shouldn't use parchment paper for roasting veggies, and it has to do with how parchment paper can interfere with the browning process that adds so much flavor to humble vegetables like potatoes, carrots, and Brussels sprouts.
Why isn't parchment paper ideal for roasted vegetables?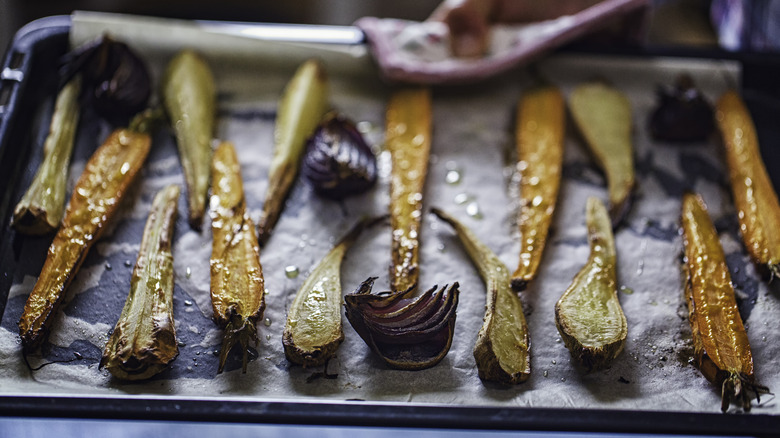 Gmvozd/Getty Images
When making roasted vegetables, there are two things most people are looking for: the vegetables should be cooked through so they're tender enough to eat, and the high heat of the pan and oven should cause the veggies to crisp up and caramelize, developing new, complex flavors. But parchment paper acts as a protective layer between the vegetables and pan, which can inhibit browning. This is because parchment paper doesn't let veggies come into direct contact with the hot pan, and it also retains moisture. This moisture releases steam, which inhibits caramelization, again meaning less flavor. Vegetables roasted on parchment paper will cook more uniformly than those on a bare pan, but there will also be less deeply browned and slightly charred bits, which are what give roasted vegetables so much flavor. Even cooking might be ideal for something like a batch of cookies, but not so much for a roasted vegetables recipe.
Another reason to skip the parchment paper? It's not really meant to be used at such high heat. Vegetables are also usually roasted at a temperature between 400–450 degrees Fahrenheit, while many brands of parchment paper aren't safe to use at temperatures above 425 degrees Fahrenheit. So that's a definite no on the parchment paper then.
Unlined pans are the way to go for roast veggies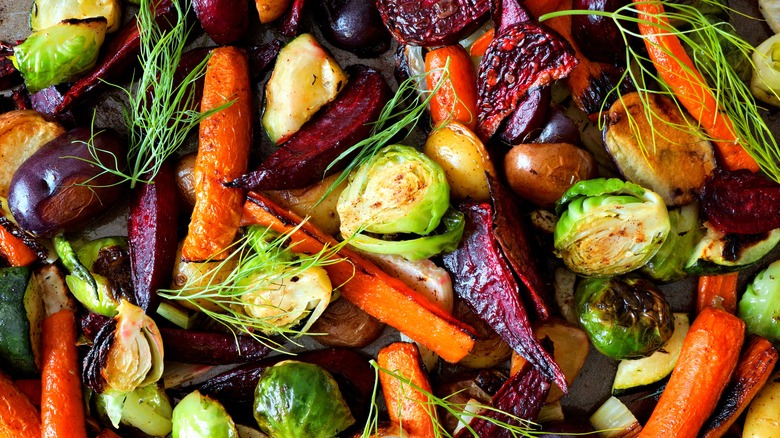 JeniFoto/Shutterstock
So if parchment paper is out, what's the best way to make roasted vegetables that don't stick to your pan, while still getting nicely caramelized? Your first thought might be aluminum foil, but Christopher Kimball's Milk Street found that parchment paper is actually better than foil at stopping veggies from sticking and it also inhibits browning and caramelization. Ultimately, the best route for roasting is an unlined pan. 
To make sure that your roasted veggies don't stick to a regular sheet pan, you should toss the veggies themselves with oil, rather than just the pan. That ensures that when you stir or flip the vegetables, they still won't stick. The key is to add enough to make the veggies have a slight sheen, without dripping with oil, which can lead to greasy results. 
If you're particularly concerned about things sticking to your pan or leaving a big mess without parchment, avoid marinades or rubs containing sugar, which burn easily. You might also consider picking and choosing your battles when it comes to parchment. For sugary items like carrots, sweet potatoes, and other winter squashes you might choose to roast them on parchment to prevent sticking; while veggies like broccoli, Brussels sprouts, cauliflower, and regular potatoes can be roasted on an unlined baking sheet. Just know that if you opt to use parchment to avoid a mess, you'll be giving up some beautiful brown coloring and added flavor as a trade-off.