The Flavorful Soup That Helped José Andrés Fall In Love With His Wife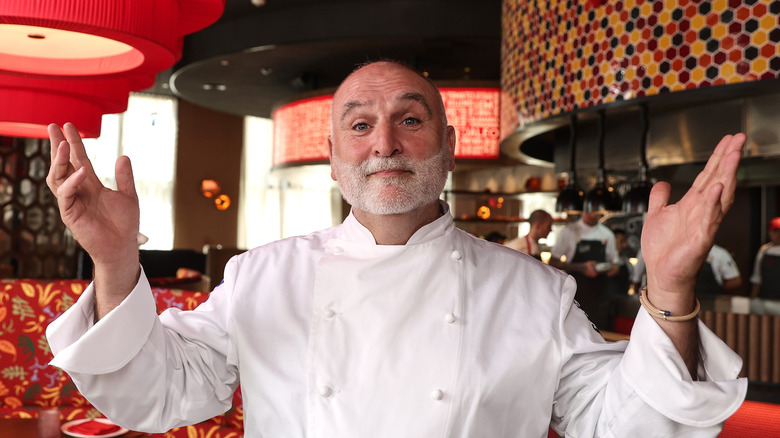 Francois Nel/Getty Images
There are several dishes that purport to be so delicious, that they'll get people to fall in love with you, from Ina Garten's engagement roast chicken to the viral marry me chicken recipe. But for José Andrés, the dish that made him fall for his wife Patricia doesn't involve meat at all; in fact, it's vegetarian. So what recipe could be so delicious it wins over the heart of a world-renowned chef? That would be gazpacho.
Andrés shared his wife's gazpacho recipe with Today, remarking, "My wife doesn't like to cook ... But one thing she cooks like the gods is gazpacho. This is her recipe. It's also one of the reasons I married her."
Andrés' wife Patricia, nicknamed Tichi, is from Andalucía in Spain, a region known for its prized sherry and cured hams. But Andrés also says, "Not many people know that Andalucía is the cold-soup capital of the world, thanks to gazpacho." Andalucía has a Mediterranean climate, with 300 days of sunshine a year and summers that get very hot — in 2023, a record-breaking heatwave saw temperatures soar to 104 degrees Fahrenheit in July. A cold bowl of gazpacho, then, is the perfect way to try to beat the heat while also replenishing your body with electrolytes and other nutrients. But more importantly, it's delicious. So what exactly goes into Tichi Andrés' gazpacho? 
What is gazpacho?
Anastasia Kamysheva/Shutterstock
At its most basic, modern gazpacho is a cold soup made from ripe tomatoes, vinegar, and olive oil, though according to the Los Angeles Times, the original version was made with nothing but bread, garlic, oil, and vinegar. These days, it's nearly always made with red tomatoes, and it often includes ingredients like garlic, bread, cucumbers, peppers, and sherry vinegar. In fact, there are almost as many ways to make gazpacho — smooth or chunky, with bread or without, served in a bowl topped with garnishes or sipped from a glass — as there are ways to make pizza. 
Patricia Andrés' gazpacho recipe is fairly simple. There might not be any of the serrano and Iberico ham that Andalucía is so famous for in her recipe, but there's plenty of the region's sherry, thanks to the inclusion of both sherry vinegar and oloroso sherry. She skips the bread, which keeps the soup light, and perfect for those dog days of summer. Cucumbers, green peppers, and plum tomatoes are the base of the soup, and they're joined by garlic, the sherries, and an ample quantity of Spanish extra virgin olive oil. The ingredients are blended together until smooth, and as the oil emulsifies with the vegetables and the mix is aerated, the soup turns a creamy orange color. As for a garnish, Andrés opts for a simple medley of chopped tomatoes, cucumbers, and green pepper, echoing the ingredients that are in the gazpacho.
Other types of cold Spanish soups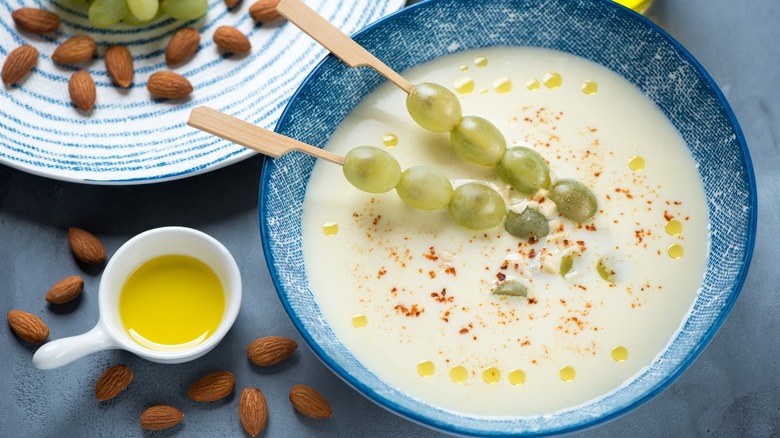 Nickola_Che/Shutterstock
Patricia Andrés' gazpacho is just one of the many cold soups that the Andalucía region, and Spain in general, are known for. There's also ajo blanco, also known as white gazpacho, which is made by blending peeled almonds with bread, garlic, water, oil, and vinegar, and topping it all off with green grapes. There's also salmorejo, which is a tomato, garlic, and bread soup that's like gazpacho, but thicker, and which is often garnished with hard-boiled eggs.
Then there are all of the variations on those three recipes. Professional chefs and home cooks alike have taken to putting their own spins on these traditional cold soups, from mango gazpacho made in the Axarquía region of Malaga in Spain to chunky tomato gazpacho made with V8 juice in the United States. That being said, only one was good enough to steal chef José Andrés' heart, so, if you're trying gazpacho for the first time (and you've got someone to impress), you might want to start with Patricia Andrés' simple recipe.