What Thanksgiving Dinner Looks Like In Puerto Rico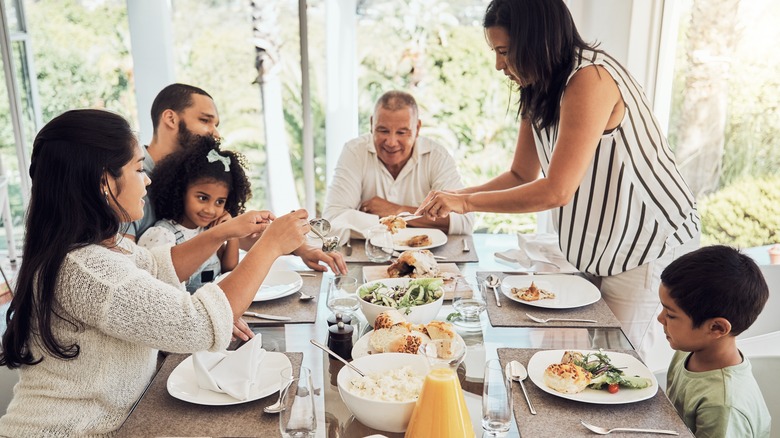 PeopleImages.com - Yuri A/Shutterstock
When the United States annexed the island of Puerto Rico in 1898, it kicked off a massive diaspora that continues to the present day. By 2018, nearly two-thirds of Puerto Ricans were living in the 50 states, with just 36% of Puerto Ricans remaining in their homeland, according to the UCLA Latin American Institute. Through the resulting exchange of cultures, Puerto Rico has adopted that most American of holidays: Thanksgiving. Known as "Día de Acción de Gracias" in Spanish, the day symbolizes the start of the holiday season. Celebrations revolve around a big family feast, but of course, there is a local twist on the fare.
The mainland classics of turkey, potatoes, cranberries, etc. aren't traditional Puerto Rican foods, but unique adaptations have emerged that marry the culinary legacies of both cultures in truly delectable style. Thanksgiving dinner in Puerto Rico features many of the island's most famous side dishes, heavily incorporating local ingredients such as rice, pigeon peas, and plantains. When it comes to the main course, however, things take a departure from the traditional, leading to one of the most inventive fusion dishes you'll ever hear of.
Pavochón is the ultimate holiday fusion food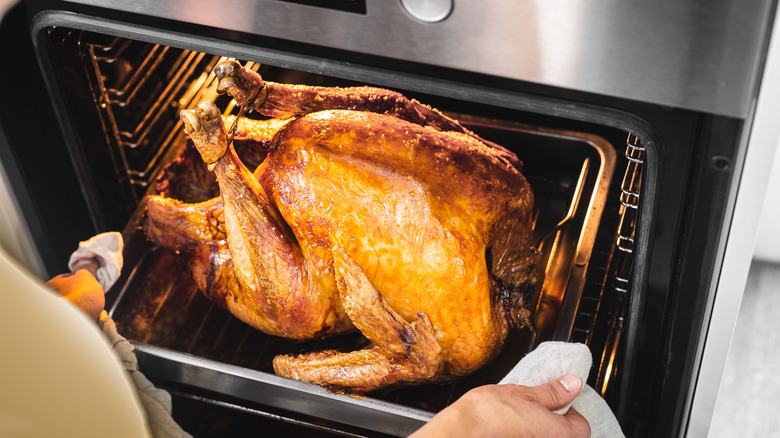 Alvarez/Getty Images
Puerto Rico adopted the tradition of serving turkey on Thanksgiving, along with cranberry sauce, stuffing, bread rolls, and the like. And while turkey can sometimes be a letdown on the holiday table, prone to being dry and bland, Puerto Ricans have tackled this problem by taking inspiration from one of the island's most beloved dishes, lechón: roasted suckling pig.
Lechón is heavily-seasoned with a paste of garlic and adobo (a spice mixture based primarily on cumin, oregano, and annatto). For Thanksgiving, Puerto Ricans apply the same seasoning blend to turkey, rubbing the paste on and under the bird's skin before roasting it. The result is known as "pavochón," a portmanteau of "pavo," the Spanish word for turkey, and "lechón." Aside from pavochón, the most popular Thanksgiving main course is pernil, a roasted pork shoulder that's also a popular Christmas dish.
Uniquely Puerto Rican side dishes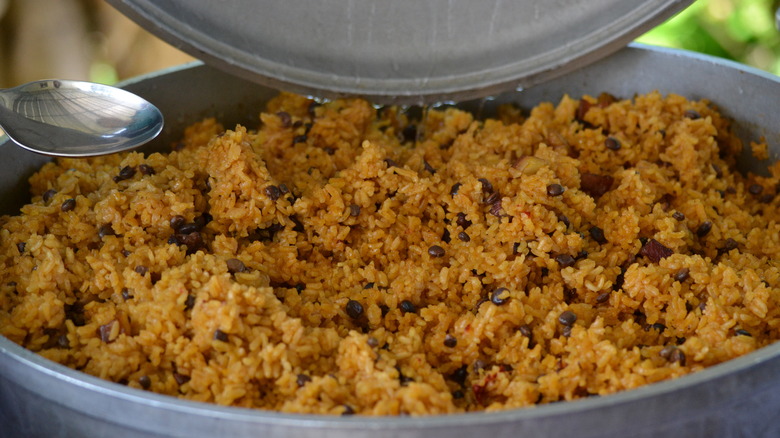 Damaris Zoe/Shutterstock
Side dishes and desserts are arguably the best part of Thanksgiving dinner. The classic choices in the states are pretty universal: mashed potatoes, stuffing, cranberry sauce, pumpkin pie — maybe throw in some mac and cheese and green bean casserole to round it out. While some of these dishes may appear on Puerto Rican tables come Thanksgiving time, the most popular sides and desserts are local staples, like arroz con gandules — rice with pigeon peas.
As is customary with a Thanksgiving turkey, pavochón is typically made with a stuffing. However, instead of the bread-based mixture used stateside, pavochón is often filled with mofongo — fried green plantain mash. Popular appetizers include empanadas and tostones — plantain fritters. Of course, you can't call an end to the night without dessert, and in Puerto Rico, custards and flans are the perennial favorites. A particularly popular option is tembleque, a type of coconut milk custard spiced with cinnamon. It may be 80 degrees Fahrenheit and sunny out, but that traditional winter spice is just too good to resist.