The Oldest Restaurant In The World Has Been Around Since 803 AD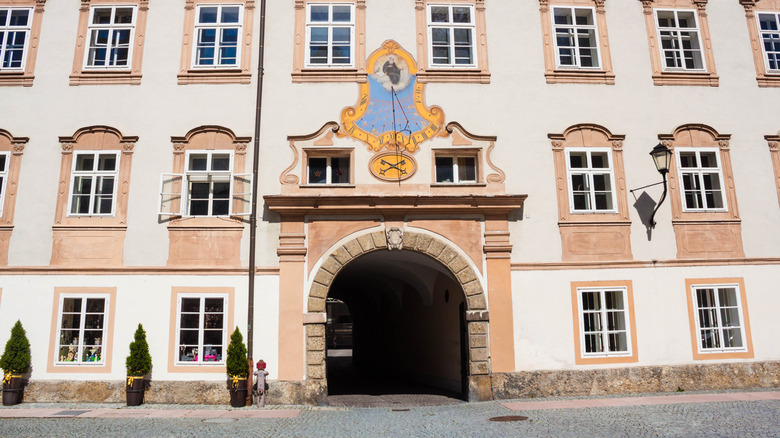 Anastasia Petrova/Shutterstock
It's time for your inner history buff to take your inner foodie on a date, and what better place to do so than at the oldest restaurant in the world? The Guinness Book of World Records has bestowed the title of world's oldest restaurant on Restaurante Botín, which opened in Madrid in 1725, and centuries later became a favorite restaurant of Ernest Hemingway. However, Guinness isn't quite correct in this assessment. Restaurante Botín is the oldest continuously operating restaurant in the world, but there are a number of establishments that long preceded it.
Some of the restaurants older than Botín include: Bianyifang, a Beijing eatery founded in 1416; Zum Franziskaner, a beer hall in Stockholm that was founded in 1421; and the White Horse Tavern of Newport, Rhode Island, which opened in 1673. These other restaurants don't get the same honor as Restaurante Botín because they have all closed for periods, changed locations, or switched business models at some point in history. But even taking that into account, none of these is the oldest restaurant in the world either. That honor rightfully belongs to St. Peter Stiftskulinarium, which opened in Salzburg, Austria over 1,200 years ago.
The long history of St. Peter Stiftskulinarium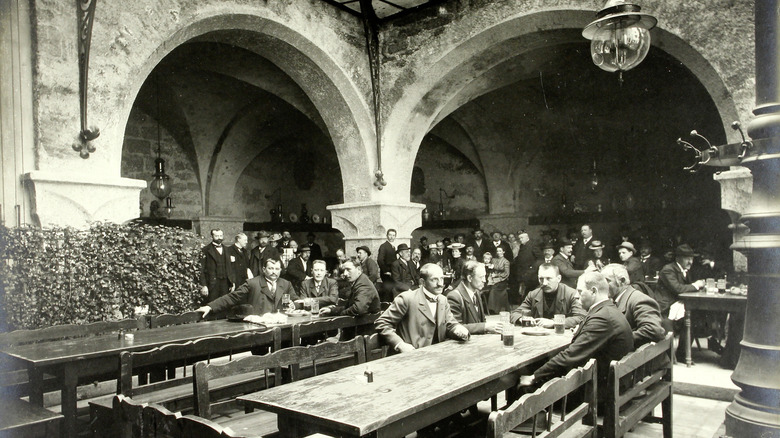 Brandstaetter Images/Getty Images
St. Peter Stiftskulinarium is located within St. Peter's Abbey. Founded in the late 7th century, the abbey is believed to be the oldest in the German-speaking world, and its unique design incorporates elements of Romanesque, Gothic, Renaissance, Baroque and Rococo architecture. Nobody is certain of when the abbey's restaurant opened, but it was first documented in 803 by Alcuin of York, an advisor to the Holy Roman Emperor Charlemagne.
This would make St. Peter Stiftskulinarium at least 1,220 years old as of the writing of this article. However, some have argued that the establishment didn't count as a restaurant initially because it didn't charge diners for their food. It was long customary for monasteries to provide free meals to religious travelers, such as Alcuin of York. It also loses the title of oldest continuously operating restaurant to Restaurante Botín due to multiple periods of closure. Most notably, St. Peter Stiftskulinarium was forced to close its doors to provide quarters for troops during the Napoleonic Wars.
Throughout its illustrious history, St. Peter Stiftskulinarium accumulated more than its fair share of famous patrons, including Salzburg's most famous son, Wolfgang Amadeus Mozart. Christopher Columbus and Johann Georg Faust are also said to have dined there, and for a period in the mid-1700s, Michael Haydn, the brother of composer Joseph Haydn and an accomplished composer in his own right, lived in a room above the restaurant. Their legacies still echo within the walls of the establishment.
What to expect from a meal at St. Peter Stiftskulinarium
While it wears its history as a badge of honor, St. Peter Stiftskulinarium is not stuck in the past by any means. It embraces the best of fine dining, both old and new through its menu of classic and contemporary Austrian cuisine. Prominently featured are two of the nation's most beloved dishes, wiener schnitzel (fried veal cutlet) and tafelspitz (boiled beef with apples and horseradish), alongside international favorites like burrata, tuna tartare, and a variety of homemade pastas.
You'd think that getting a reservation at the world's oldest restaurant would be next to impossible, but St. Peter Stiftskulinarium can seat 620 diners, ensuring there's almost always a place for you. The restaurant sprawls across 11 separate dining rooms, each with their own unique design. The oldest are carved right into the stone cliffs that abut the abbey, while newer offerings include an open-air patio and renovated wine cellar. The decor leans surprisingly modern, with contemporary art and lots of pink lighting courtesy of proprietors Claus Haslauer and wife Veronika Kirchmair, who took over the restaurant in the 1990s.
St. Peter Stiftskulinarium is famous for its nightly Mozart Dinner Concert, first held in 1996. Taking place in the restaurant's grand Baroque Hall, the meal features three courses of 17th and 18th-century Austrian cuisine, accompanied by a live performance of Mozart's work by members of the Salzburg Concert Society, dressed in opulent period attire.