Why You Should Think Twice Before Bringing Wine To A Dinner Party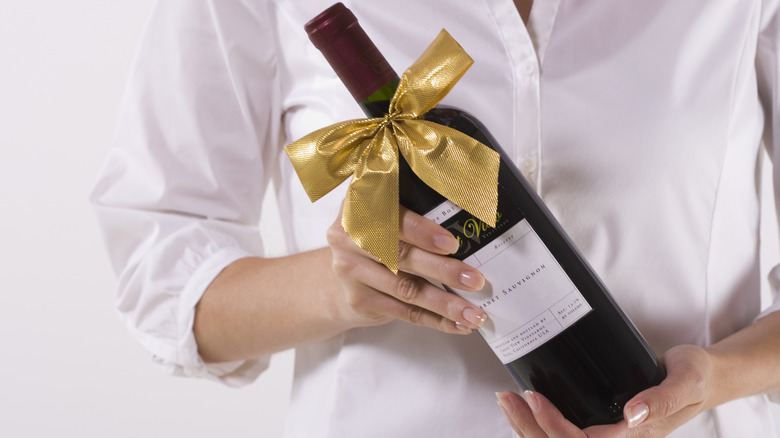 Jupiterimages/Getty Images
It's pretty standard practice that when invited to a dinner party, whether a formal event at the boss's house or a casual night with friends, one has to show up with something to share. One of our favorite things to share at dinner is a bottle of our favorite wine — or whichever wine happens to catch our eye at the store on the way to the party. It's a sophisticated token of appreciation and one you can't wait for the guests to sample with you, but perhaps it's not the best choice to bring to the gathering. 
That might come as a surprise since wine is such a classic gift to bring to a party, but the hosts of the dinner party have likely put in a fair amount of time and even stress in crafting the evening's menu, carefully selecting everything from the apps to the main course, sides, and dessert. No matter whether your hosts have cooked everything themselves or hired a caterer, a lot of planning has gone into the food and into the best wines and drinks to round out the event. Unfortunately, the wine you select to bring to the party may not pair well at all with the food that's being served. However, there is a way to bring wine and still be a thoughtful guest.
The best etiquette for bringing wine to a party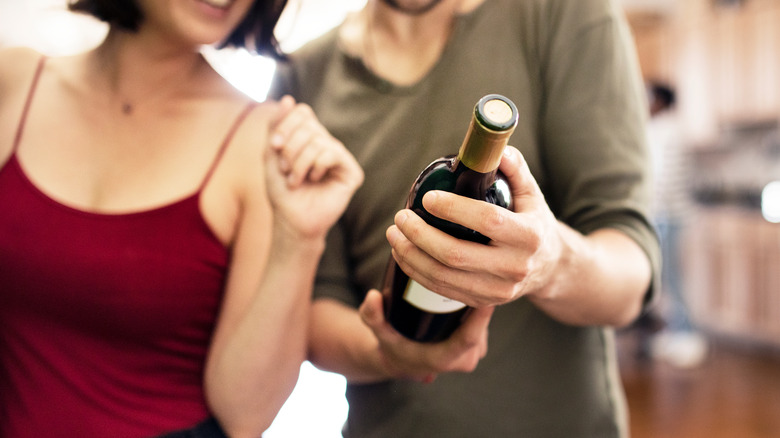 Rawpixel.com/Shutterstock
Instead of bringing wine to a dinner party with the expectation of having it opened there to share, treat it instead as a gift of thanks to the host for inviting you. Most importantly, make that point known as you present the wine that the gift should be enjoyed after the party so that there's no miscommunication; let the host know that they're not expected to open the bottle on the spot. 
If the wine is one of your favorite varieties, add a note to the bottle sharing why you love it and the foods you like to pair with it. You can even tuck the wine into a gift bag with a little candy or a bakery item to make it a complete gift. And for hosts receiving wine from guests as they arrive, make it clear from the get-go that you look forward to trying it sometime in the near future. That way, no one feels snubbed if their bottle isn't shared with everyone at the party.
The case for bringing no alcohol at all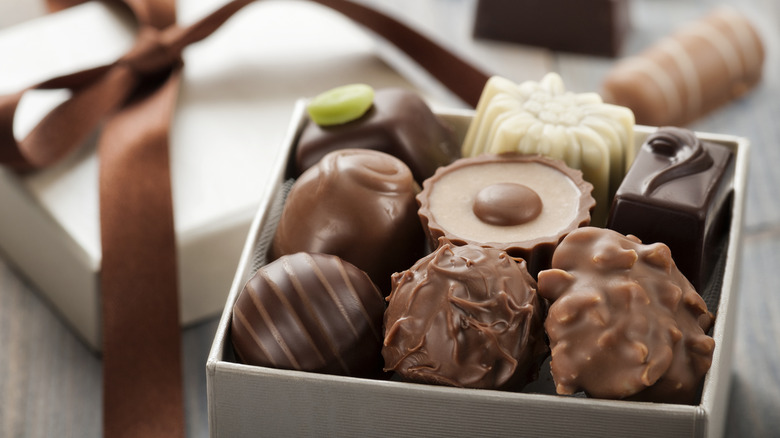 Limpido/Getty Images
One last thing to consider as you head to the store to pick up a gift for your dinner party host is to skip the wine or other alcoholic beverages altogether. More and more people are choosing not to drink, whether just to feel better or for more serious health and addiction concerns. Many choose to keep that decision and the reasons behind it private, which can lead to awkward moments when well-meaning guests offer gifts of alcohol. 
Think outside of the wine bottle-shaped box: a host or hostess gift can be almost anything. Instead of wine, why not pick up a small box of locally-made candies or cookies, a loaf of really good bread from that bakery you love, or a wedge of award-winning artisan cheese? A bouquet of flowers brings a smile to everyone's face and that is a gift that the host can easily set out for all at the party to enjoy. 
Other ideas include flavored oil in a gorgeous glass bottle, a pretty kitchen towel, candles, or a book you just know your host would love. There's no need to break the bank here, either. Just choose a small gift to show your appreciation for the invite, and to hopefully help secure a spot at the next dinner party, too!