Secrets About Trader Joe's You'll Wish You Knew Sooner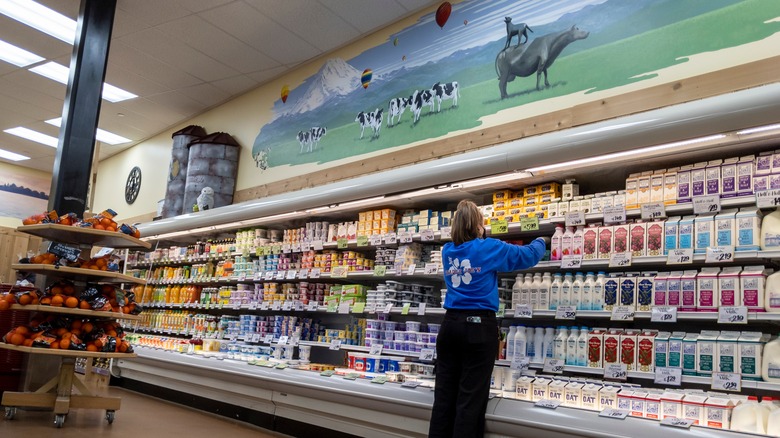 Colleen Michaels/Shutterstock
The first Trader Joe's opened in 1967. Today, there are more than 564 stores across the country. Part of the reason the chain has been so successful lies in the reputation they've built. One of the things that keeps customers coming back is the selection of both unique and delicious food options. Another thing loyal customers appreciate is that Trader Joe's keeps their prices reasonable, helping individuals shop on a budget.
While you probably already know all of this, there are likely a few secrets about Trader Joe's that you have yet to learn. And these secrets are likely to transform your shopping trips and make you love shopping in-store even more. Continue reading if you're ready to learn how to get a sample of any product you want before making a purchase, what the ringing bells in the store actually mean, why you might want to try more Trader Joe's branded products, and more.
You can taste test nearly any product you want
If you've shopped at Trader Joe's before, then you likely already know that they frequently offer samples. Trying these featured products is a great way to figure out whether you actually will like something before you buy it. This is no secret. However, what you may not have realized is that you don't have to limit yourself to only trying the products that are being offered.
Customers can ask to taste test nearly any product they would like in the store. Want to try a new bag of chips? Just ask. How about a specialty dessert? Yup, they'll let you taste those too. Basically, anything is fair game as long as it does not require cooking, such as raw meat or frozen items. Simply ask one of the crew members, and they'll give you a taste so that you can decide if you like the item enough to buy it. Taste testing before you make a purchase eliminates some of the unknown about whether something will actually be worth it and can make it feel like less of a gamble to experiment a bit.
Many of the store brands are made by name brand companies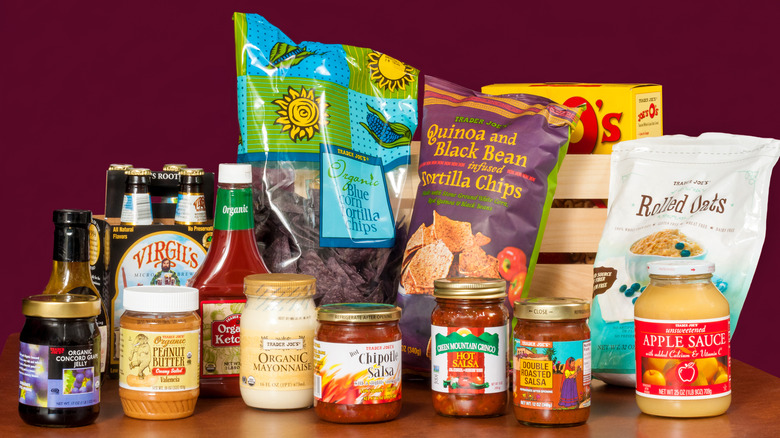 Kenneth Sponsler/Shutterstock
One of the main differences between Trader Joe's and other grocery stores that you're likely to notice is the product brands on the shelves. While Trader Joe's does carry a few of the brands you'll find at other grocery stores, much of what you see on the shelves is a Trader Joe's store brand.
Here's the secret: Many of these private-label store brands are actually made and packaged by leading national retailers. Trader Joe's doesn't disclose which companies make which of their products, but knowing that well-known companies make many should give you even more confidence in the quality of the items. The benefit of buying these products at Trader Joe's instead of at a different grocery store chain is that you'll often get a better deal. Who doesn't like spending less money on a product that they love?
The return policy is awesome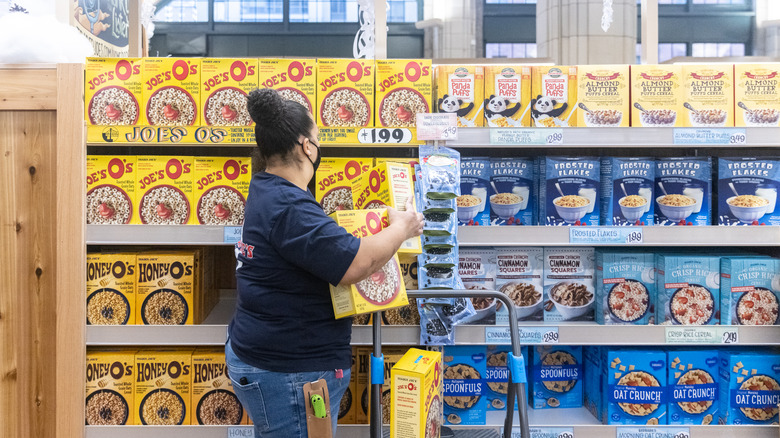 Bloomberg/Getty Images
You won't find anything better than the Trader Joe's return policy. The store accepts returns of nearly any product, whether or not you have a receipt. And that product you're returning can even be opened and partially eaten. Basically, Trader Joe's wants to ensure that you're completely satisfied with your purchases. If you're not happy, they want to do what they can to make it right by refunding your money.
To make a return, just bring the product back with you to the store and talk with a crew member or the manager. Explain that you tried it and didn't like it (or whatever reason you're returning it for), and ask for a refund. If you have your receipt, the money can be refunded to your original form of payment. If you don't have a receipt, you'll receive store credit to purchase something else. You can even return products purchased at one Trader Joe's to a different location (with the exception of alcohol purchased in another state).
You can keep your kids entertained by searching for the hidden stuffed animal
Here's something that's not a secret: Completing your grocery shopping can be exponentially more difficult if you have your child/children with you. However, there's a secret at Trader Joe's that can help make each shopping trip just a little less chaotic when you have your kids in tow: Many Trader Joe's locations have a stuffed animal hidden somewhere in the store. You can keep your kids busy while you shop by having them look for the animal. The stuffed animal is moved periodically, so it might even be in a different spot for your next trip to keep the kids on the hunt again.
If they find the stuffed animal, be sure to have them tell the crew member when you're checking out. They just might get a little reward, helping to keep them extra motivated to stay focused to find it on their next shopping trip, all while helping you check off every product on your grocery list.
You might be able to get an employee to set aside a product for you before it sells out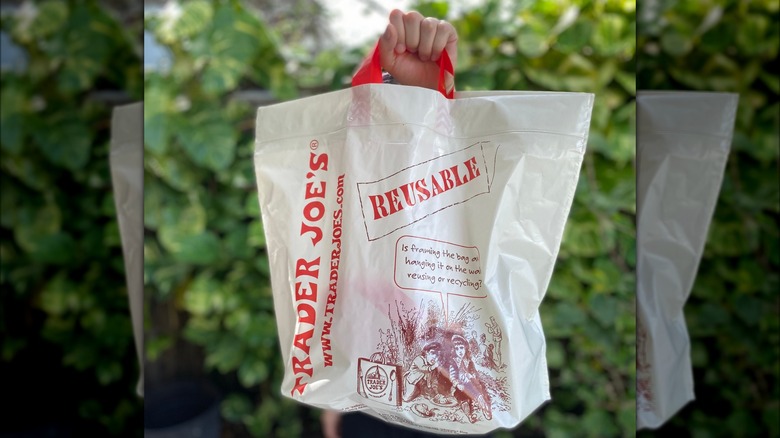 Blueee77/Shutterstock
Some Trader Joe's products — particularly seasonal ones — are very popular. They tend to fly off the shelves and may be gone before you get a chance to stop by the store. While you could gamble and hope that the product(s) you're looking for are available when you have the opportunity to visit your local store, there may be a better solution. If you call ahead and speak with a crew member, they might be willing to set aside a particular product for you to pick up in the near future.
Of course, this service may not be offered by all Trader Joe's stores and may not be available for certain products. However, you might decide that it is worth a few minutes of your time to secure a must-have product before it isn't available anymore. And, even if the person you speak with isn't able to set something aside for you, you could at least inquire about their current supply of the product to help you decide how quickly you should try to make it into the store.
You can find a wide selection of products for different dietary restrictions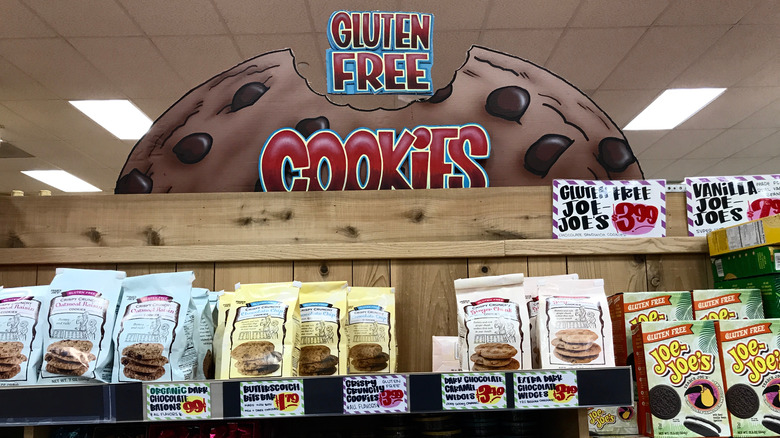 Jeff Bukowski/Shutterstock
If you're on a special diet, you know how difficult it can be to find food at the grocery store. What you may not realize, however, is that Trader Joe's can be an excellent source for finding delicious options that match your specific restrictions. The next time you visit, stroll down the aisle and look out for some of the various gluten-free, dairy-free, and vegan options — you'll likely find more options than you were expecting.
If you're looking for some inspiration to get you started, consider the dairy-free Mozzarella Style Shreds, the Cold Brew Coffee & Boba Coconut Non-Dairy Dessert, the gluten-free Pizza Crusts, the gluten-free Breaded Shrimp, the vegan Italian Bolognese Ravioli, the Vegan Buffalo Style Dip, or the Vegan Poke. As you can see just from this list, there is a wide range of product options, providing shoppers with something that matches their dietary needs and their personal flavor preferences.
The ringing bells are actually a form of communication
If you've ever been to a Trader Joe's before, chances are that you've heard the cashiers ring one of the bells. If you're like many other customers, then you likely have no idea what these ringing nautical bells mean. Believe it or not, the cashiers actually ring the bells in place of using a loudspeaker. Think about it: When you've been in Trader Joe's, have you ever heard any announcements made over the speaker as you would in most other grocery stores?
The crew members ring the bell a specific number of times to communicate various needs with the other employees. Ringing the bell one time alerts other crew members that another cashier is needed to help customers check out. Two rings signal the need for assistance, either for a customer, a mess that needs to be cleaned up, or something else, and three bells are a call for the manager to report to the front of the store.
Flowers can be ordered in bulk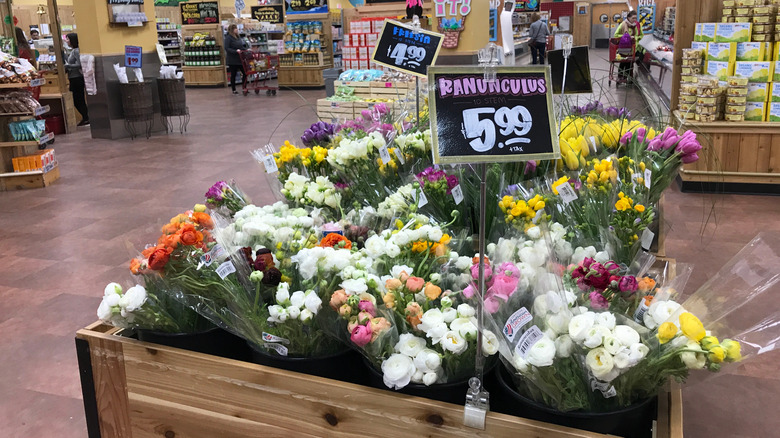 Jeff Bukowski/Shutterstock
Trader Joe's has a nice selection of flowers and other plants in store. And, even better, these items, like other products in the store, are reasonably priced. Picking up a small bouquet on each shopping trip can help bring a little cheer to your dining room table or kitchen island. But what if you want to get flowers from Trader Joe's to decorate for a larger event or even use them to make bouquets and wedding arrangements? Going in and hoping for the best may be a risky decision because you can't be confident in what flowers and arrangements will actually be available.
Fortunately, you can call ahead of time or speak with an associate in-store to place a bulk order ahead of time. Just note that you might not be able to be as specific about what you're looking for as you could be with a florist. The stores do get flower deliveries on a near-daily basis. However, the exact contents of those deliveries aren't always known. You could certainly put in a request for flowers of a specific color or give them your budget for each arrangement, however. This way, your order of flowers can be ready to go when you get to the store.
The employees can be extremely helpful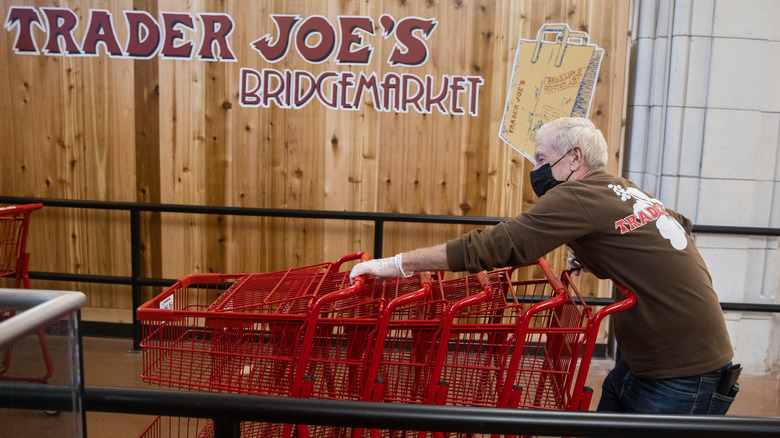 Bloomberg/Getty Images
If you're a regular at Trader Joe's, this next secret might not be much of a surprise to you. The crew members at the store can be extremely knowledgeable and helpful. Whether you can't find a product on the shelves, have questions about how something tastes, or are looking for the right side to pair with a meal you have planned, just ask. You'll find that the responses you get are kind, courteous, and very informative.
The reason for these quality responses isn't solely because the employees hired to work at Trader Joe's are just kind people — though most of them really seem to be. Rather, it is because the team members stay up to date on the latest products and sample things themselves. The stores regularly hold crew taste tests to give each staff member the opportunity to try the products so that they can really speak about them and give accurate information to customers.
Trader Joes believes in sustainability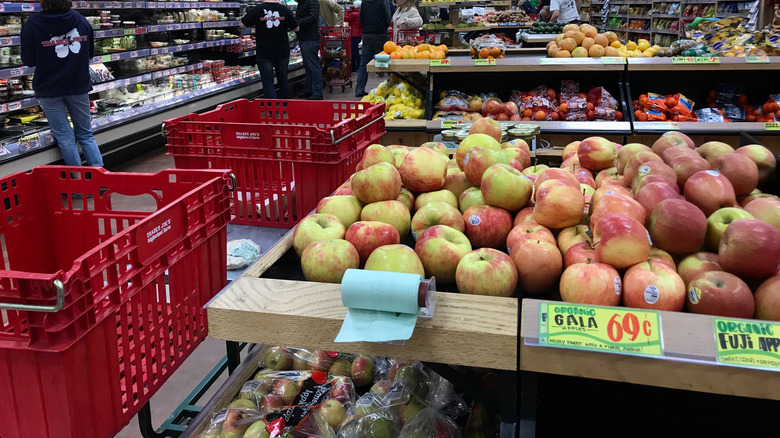 Jeff Bukowski/Shutterstock
Sustainability is important to Trader Joe's. The company takes actionable steps to reduce their environmental impact and improve their use of resources. They continue to work on improving their product packaging to reduce waste and make it as eco-friendly as possible. Some of the ways in which they are working towards this goal include using compostable trays rather than plastic ones in their frozen entrée packaging, using sealed fiber trays instead of clamshells for produce items, leaving produce items loose, rather than in packaging, and getting rid of the plastic sleeves from many of the potted plants in the floral department. The produce bags are also compostable, further reducing waste generated from shopping at Trader Joe's.
Sustainability is also at the forefront when designing new stores. The company chooses energy-efficient LED lights, opts for sustainably sourced cedar whenever possible, and does not use Volatile Organic Compound (VOC) paint. Trader Joe's has also been adding new warehouse distribution centers to minimize delivery distances to their stores to reduce pollutants. They also recently purchased 100 electric delivery trucks to use for deliveries in metropolitan cities.
Moreover, to reduce food waste and help community members in need, all of their warehouses and stores participate in the Neighborhood Shares Program. Through this program, food products that are no longer suitable for sale are donated to individuals who are in need.
There are no GMOs in any Trader Joe's brand products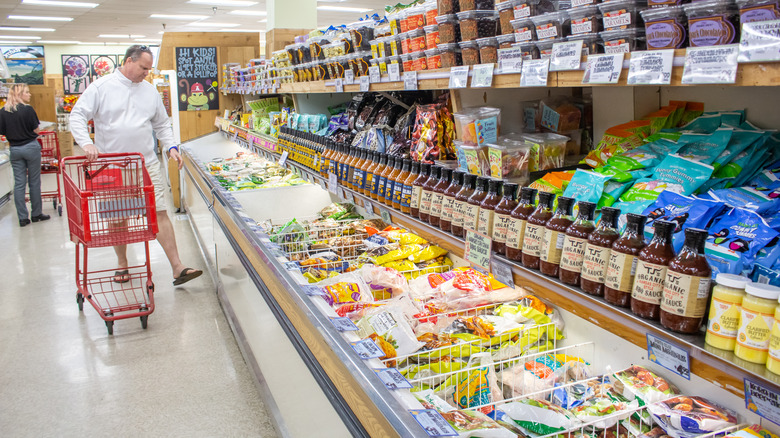 The Image Party/Shutterstock
GMOs, or genetically modified organisms, are precisely what they sound like components or ingredients that have been made by altering the genetic makeup of animal, virus, or bacterial genes. According to an article published in the Journal of Food Science and Technology, consuming genetically modified foods may have harmful effects, such as creating new diseases that may be resistant to antibiotics.
Fortunately, when you purchase any products with a Trader Joe's label, you can rest easy knowing that they are GMO-free. The company started taking a stand against GMOs in 2001 and quickly eliminated them from their product lines. They even have product suppliers present research proving that genetically modified ingredients are indeed free of any GMOs. To further instill confidence in their consumers that there are no GMOs in any Trader Joe's products, they also employ a third-party lab to conduct random audits of various items.
Their wine is really good — and a really good deal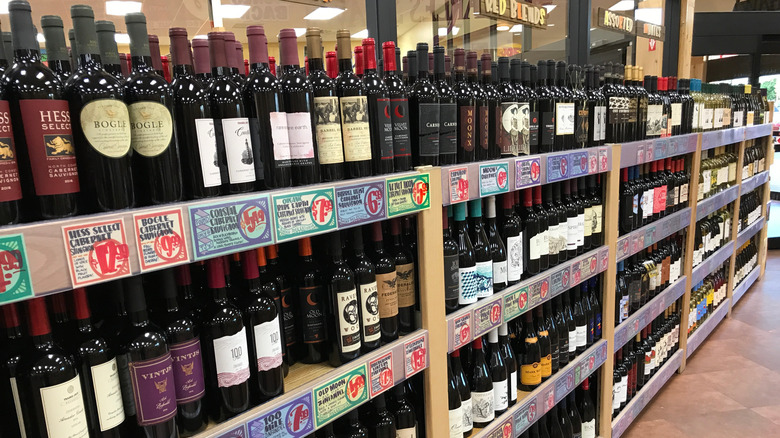 Jeff Bukowski/Shutterstock
If you haven't checked out Trader Joe's selection of wine, you might want to do so on your next trip. Many wine aficionados swear by the wine department — or sometimes an entirely separate wine shop — at Trader Joe's. You'll find a mix of brands from companies you've likely heard of before, along with several Trader Joe's branded whites and reds. Not only are you going to find something that you'll enjoy, but chances are that you'll get it for a great deal. One of the many reasons people love Trader Joe's wine is that it can be a lot cheaper than what you'll find at other grocery or beer and wine stores.
If you're not sure what to try, Trader Joe's can help you out there, too. The wines are typically organized by type and which country they're from. Need more help picking out the right bottle to try? Remember, the crew members at Trader Joe's are extremely knowledgeable and will likely be able to steer you in the right direction.
They don't run sales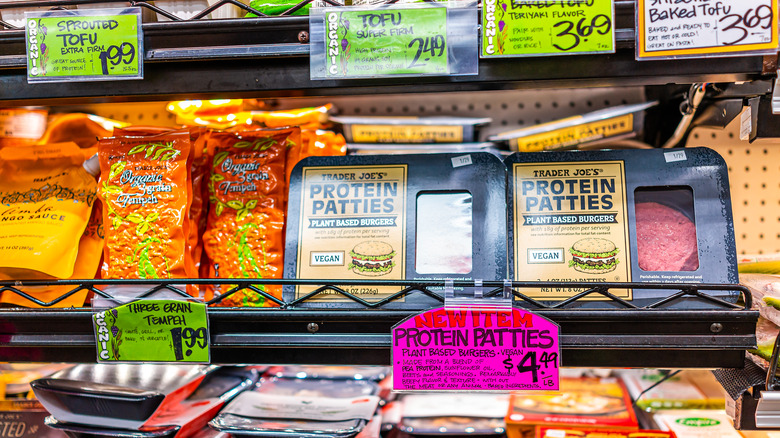 Kristi Blokhin/Shutterstock
If you're used to shopping in most other grocery stores, you may be waiting for some of your favorite products to go on sale. If this is the case, you should just stop waiting and go ahead and purchase what you love. Unlike many other grocers, Trader Joe's does not run sales. But before you get upset thinking that they aren't giving customers the chance to save money, slow down for a second. The reason the company does not run sales is that they keep their prices as low as possible every day. Trader Joe's strives to offer the best deal every day, not only on select weeks when they feel like it.
While Trader Joe's doesn't have a weekly ad because of their anti-sale policy, they do have the Fearless Flyer. It is more of a catalog and a newsletter highlighting some of the seasonal products you might want to try, sharing important information about the products sold by the store, and providing you with some inspiration when planning your meals.