Take An Almost-Empty Jar Of Peanut Butter And Make A Savory Sauce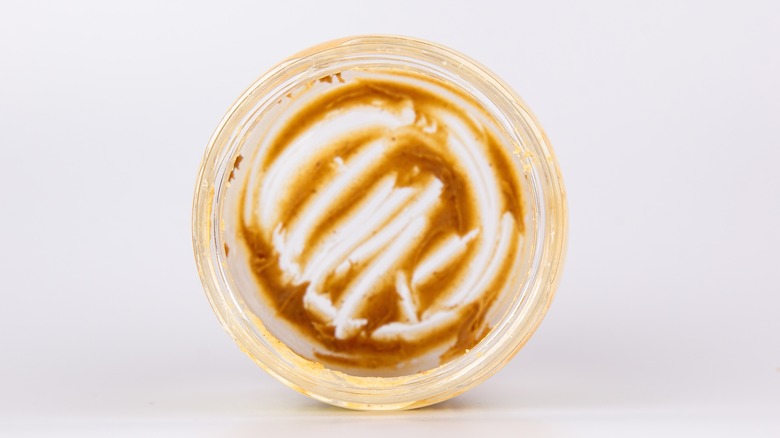 Yuliia Hurzhos/Shutterstock
You've tried scraping with a knife. You've fished around with a spoon. You've gone at it with a silicone spatula. Now you're just frustrated. Nothing quite gets that last bit of peanut butter out of a nearly empty jar, but it would be a shame to waste what's left. So what's a frugal foodie to do? 
One hack that's been making the rounds, involves a spin-the-bottle type technique that relies on centrifugal force to bring condiments to the top of their bottles as they twirl on your table. It's a fun idea, but it doesn't quite work once you're down to the dregs of sticky peanut butter. Here's a better idea: use that jar like a shaker bottle instead and shake your way to a delicious peanut sauce for dinner. Simply add a few flavorful ingredients straight to the jar, tighten the lid, and shake it all up. 
For a simple Thai peanut sauce, add soy sauce, rice vinegar, sesame oil, sriracha, garlic powder, salt, pepper, and water (to achieve your desired thickness) to your jar. Shake your jar vigorously until all the ingredients are well combined, and then you can drizzle this savory sauce over stir-fried tofu or chicken with veggies, add to a sandwich wrap, or toss it with hot or cold rice or zucchini noodles and shredded veggies. Just like that, you've got a zero-waste sauce without dirtying a pan and an empty jar nearly ready for recycling.
Shake it to make it -- the options are endless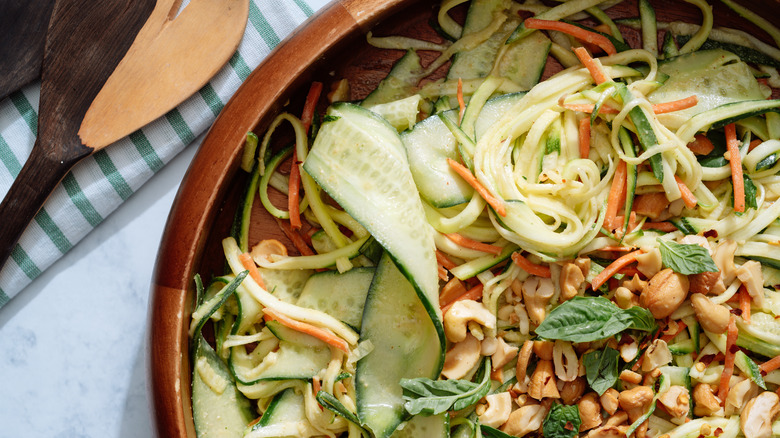 Jacob Blount/Shutterstock
If you're feeling more adventurous, there's a lot of latitude to go beyond the basics. This is a sauce that plays beautifully with other ingredients. Try a handful of fresh cilantro, basil, or mint for a little punch. 
Depending on the depth of your pantry, you might have all the ingredients to make a full-fledged satay. In addition to the basic ingredients for a peanut sauce, add fish sauce, brown sugar, ginger, lime, and a little coconut milk to your jar, and swap out the chili-garlic paste for sriracha. Shake it up and your satay sauce is ready to go. This thick peanut dipping sauce is named for the skewered, grilled chicken, beef, or pork it's most often served with, but you don't have to limit this deliciousness to meat. It also makes an amazing dip for sweet potato fries or their cousins, plantains.
For a Vietnamese-style sauce perfect for spring rolls, add hoisin and ginger-infused sesame oil, which you can DIY by grating ginger into oil and microwaving briefly. Add some curry powder instead, and you've got a piquant vegan curry sauce to toss with roasted sweet potato cubes and serve over rice.
Dessert in a jar – even for Fido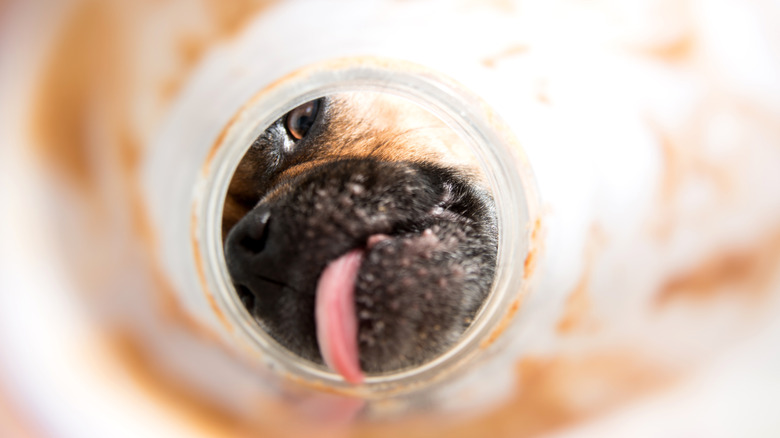 Anna Hoychuk/Shutterstock
A peanut sauce is far from the only treat you can whip up with a nearly empty jar of peanut butter. Add some microwave-warmed milk and instant hot chocolate mix and shake your way to peanut butter cocoa. Or set yourself up for a healthy breakfast by tossing in raw rolled oats, mashed banana, almond or dairy milk, and cinnamon. Leave it in the fridge overnight for a sweet morning meal. For another option, shake up some chocolate syrup, honey, protein powder, and yogurt, whir it in a blender with frozen fruit, and you've got a morning smoothie. Leave out the yogurt and protein powder, and it's a dessert topping. You can make this hack work for any recipe that calls for a modest amount of peanut butter, so the possibilities are practically endless.
Depending on the size of your dog's snout, even they can get in on the deliciousness. Place your almost-empty peanut butter jar in the freezer, and bring it out as a special treat that can easily keep dogs entertained for hours. Just make sure to check the ingredient list; some peanut butter is made with xylitol, an artificial sweetener that's toxic for dogs, according to the National Peanut Board. When you or your pup are done, you won't need any knives, spatulas, or long-handled spoons; just swish some hot water around in your now-empty jar and recycle it.