The Key To Impossibly Crisp Fish Is All In The Flour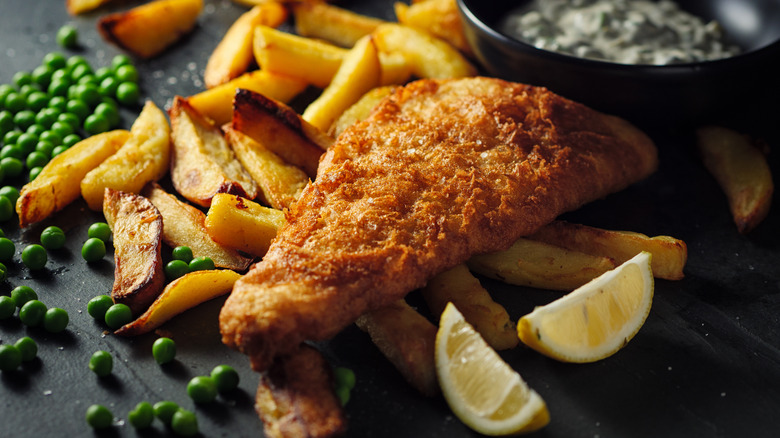 Haoliang/Getty Images
How do you like your fish? Golden-brown, perfectly crispy fish fillets that ooze flavor and give a satisfying crunch in every bite? Is that what's on your mind? Of course, fried fish with that delectable crispiness is something we all love, but it can be difficult to achieve at home. Why is it so hard to replicate restaurant-style fish at home? Well, the good news is that producing this culinary masterpiece is possible and easier than you might think, but the key to impossibly crisp fish lies in a simple but foundational ingredient: flour.
While many home cooks and professional chefs swear by various breading and frying techniques, this trick is all about using the right kind of flour — well, actually, a blend of flours. Instead of your usual batter, try a blend of tapioca flour (also called tapioca starch) and rice flour mixed in a 1-to-1 ratio. This winning combination will give you the perfectly crispy fish your palate demands and heart desires.
The power of tapioca starch and rice flour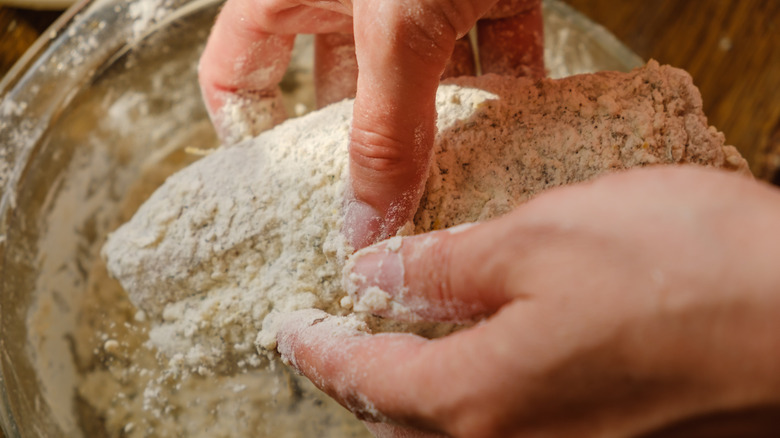 Colored emotions/Shutterstock
Tapioca starch is derived from the root of the cassava plant. When you mix tapioca starch with water, it forms a thin, delicate layer on the fish that puffs up during the frying process and turns crispy. Rice flour is another ingredient that makes batter light. Made from finely ground rice grains, rice flour helps fried items turn out crispy on the outside but tender on the inside. Combining the two creates an extra light and extra crispy crust on your fish. 
You can really see the difference rice flour and tapioca starch can make when you compare the fried items they produce with those that are coated in a batter made with wheat-based flour. All-purpose flour is commonly used to make batter for fried food like American-style fried chicken and produces fried items with a thick juicy coating on the outside. This is because the gluten in wheat-based flour absorbs moisture and fat. This is super delicious but can become too thick and chewy if you use too much flour in the batter. Tapioca starch and rice flour, on the other hand, are gluten-free so they both absorb less oil and produce a thin, crispy crust on fried items. Do you love the crackling crunch you get every time you bite into Japanese-style or Taiwanese-style fried chicken? Rice flour and starch are behind that magic!
Master the technique with these steps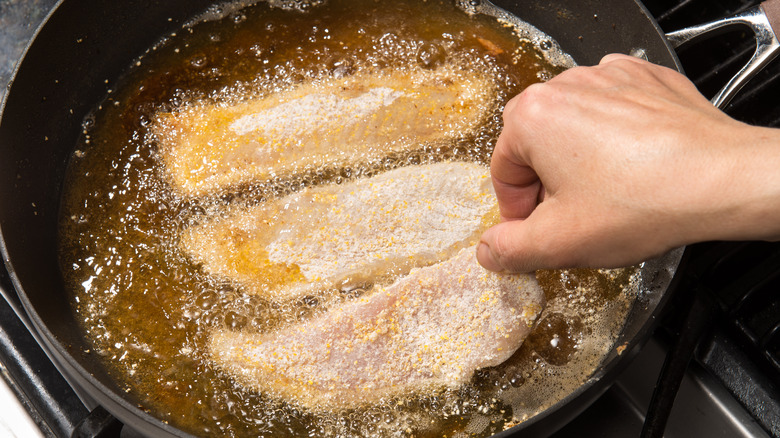 VIS Fine Art/Shutterstock
To get that desirable crisp fried fish, simply mix equal parts tapioca starch and rice flour in a bowl and dredge dry, well-seasoned fish fillets in the mixture. Then, coat each fillet evenly, shaking off any excess. Next, it's time to batter the fish. In the same flour mixture, add some water to get the right consistency for the batter. You can even use club soda instead of water to get that zing and acidity in your fish. Dip the fillets in the batter, then fry them in hot oil medium flame, flipping to ensure both sides are evenly cooked. Make sure not to overcrowd the frying pan; this helps to evenly cook all the fillets. Fry until the fish turns a beautiful golden brown hue and has a crispy outer layer. Remove it from the oil and let it drain on a paper towel-lined plate to remove any excess oil. Serve hot for the ultimate crispy experience.
The tapioca starch-rice flour trick works every time to give you the perfectly crisp fried fish. However, if you are feeling adventurous and want to experiment with its taste, there are a ton of exciting ways to flavor fried fish.