Cream Cheese Is The Mayo Swap That Will Get You Out Of A Sandwich Rut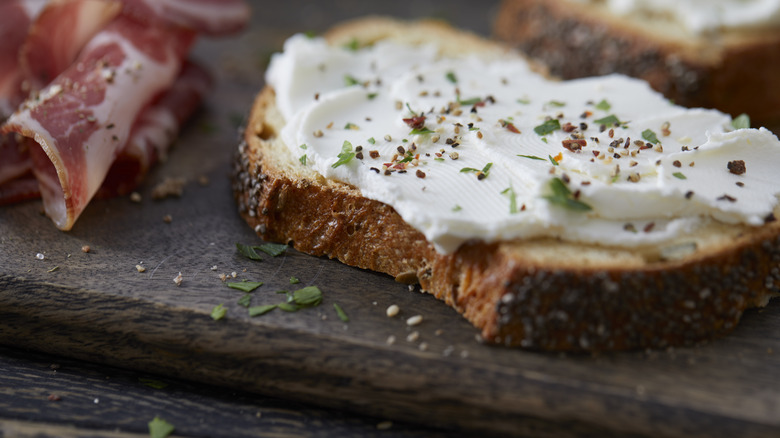 Marko Jan/Getty Images
Sandwiches are a staple in many a packed lunch. Easy, infinitely malleable, and always delicious, there is something classic about a good sandwich. But, frankly, that basic BLT or deli-cut turkey sandwich can get boring, and condiments like mayonnaise are often used as an afterthought. While mayonnaise is tangy and delicious, swapping it out for cream cheese can bring new life to your lunch plate.
Cream cheese is notoriously versatile, balancing between sweet and savory, and has a smooth texture that makes it the perfect spread for your sandwich. Additionally, its tangy taste makes a fantastic replacement for mayonnaise, which offers a similarly zesty flavor profile. However, cream cheese is, well, creamier than mayonnaise and may work well for diners who are put off by mayo's oily tendencies. Cream cheese is a mild cheese variety, and its flavor balances perfectly between salty and sweet, making it almost infinitely adjustable to different flavors. This versatility makes it the perfect sounding board for other ingredients and a surprise touch to classic recipes.
A classic American cheese spread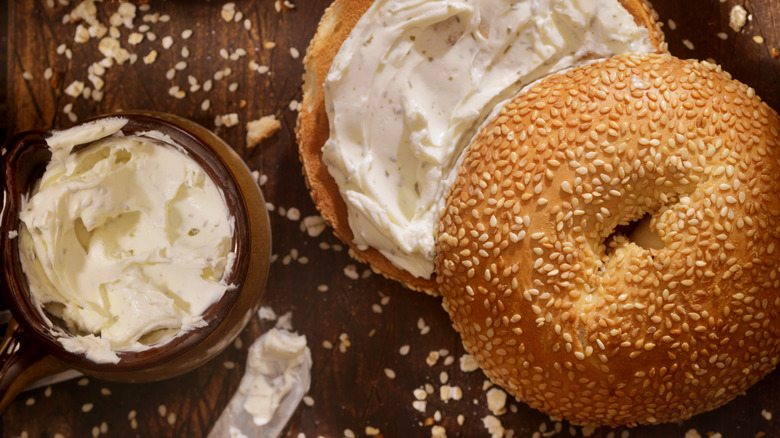 Lauripatterson/Getty Images
But what is cream cheese, exactly? Well, cream cheese as we know it is a soft and mild cheese variety made from unskimmed cow's milk. But cream cheese as we know it is a relatively new, and uniquely American, cheese variety. The cheese spread was first created in 1875 in Chester, New York by a dairy farmer named William Lawrence. He created the cheese in order to develop a richer variation of the Neufchâtel cheese, one of the oldest variations of French cheese.
In the early 1900s, cream cheese became a staple for Jewish and Eastern European immigrants in New York City. The cheese was combined with lox and bagels to create one of the most iconic New York foods. And its popularity didn't stop with breakfast sandwiches. By the middle of the 20th century, cream cheese became a kitchen staple for most Americans, thanks to its inclusion in many women's magazines and recipe books, which featured cream cheese as the basis of many creamy dips, cheese balls, and desserts.
However, it seems that cream cheese has hit a slump in its reputation in recent years. Cream cheese dips and spreads have become synonymous with ho-hum, middle-of-the-road food. Just try skimming Pinterest without coming across 10 versions of the same cream cheese Crock Pot recipe. But it might be worth reassessing that foil-wrapped cheese block, letting it shine past shredded chicken, hot sauce, and artichokes. Cream cheese can shine in its simplicity.
Finishing your sandwich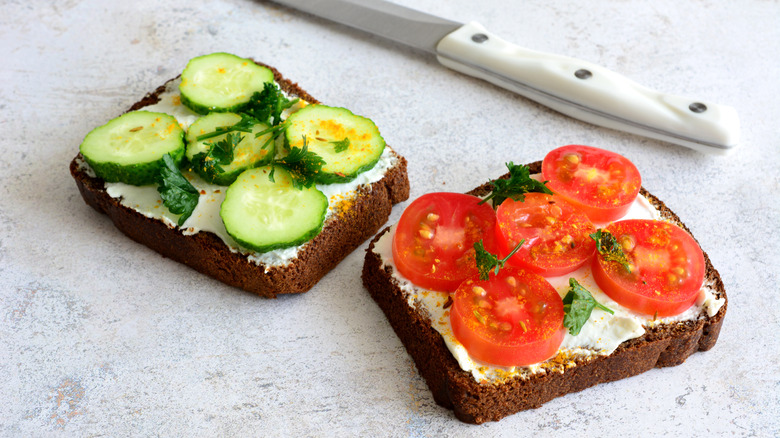 Irina Khabarova/Getty Images
For all of its popularity, cream cheese is really underappreciated. But it might help to showcase your cream cheese by adding it to otherwise well-trodden recipes. One sandwich that may benefit from this swap is the iconic tomato sandwich, a simple Southern staple made by combining vine-fresh tomatoes and a healthy slathering of mayonnaise, preferably Duke's mayonnaise, on white or sourdough bread. Switching the usual mayonnaise for cream cheese offers a milder flavor pairing for the tomato, allowing the sweetness and acidity of the fresh fruit to really shine. But cream cheese's sandwich-enhancing abilities don't end with the tomato sandwich. Adding cream cheese to classic Polish egg salad can put a unique spin on the sandwich filling.
Of course, the real genius of cream cheese lies in its chameleon-like property of highlighting contrasting flavors. The classic olive and cream cheese sandwich, for example, balances the sweetness of cream cheese with the briny intensity of olives to create a perfect bite. When it comes to cream cheese on sandwiches, there really are no limits to its capabilities.