Best College Towns For Foodies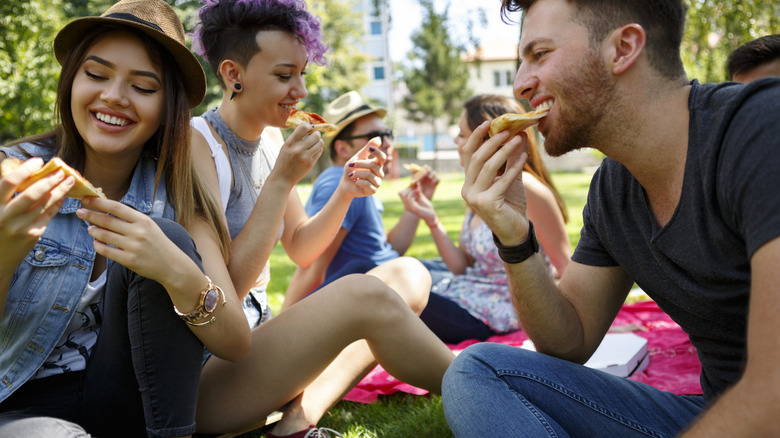 Damircudic/Getty Images
There are few periods in our lives as pivotal as the college experience. One moment you're wandering the halls of your local high school, and the world seems small, predictable, and familiar. Upon graduation, you're catapulted into the real world, and predictability is replaced by a journey of self-discovery and part of that journey will be a culinary one. And, in this guide, you'll discover college cities and towns that offer a wide variety of notable restaurants and diverse food options to choose from. Is there mouthwatering Mexican food in the Midwest? What fusion restaurants light up Silicon Valley? 
College towns provide a unique environment for foodies where taste buds are also on a journey of self-discovery. This guide offers a look at some famous college-town restaurants that helped shape the local and even global culinary scene, plus late-night comfort foods, fan favorites, and high-end eateries. So, if all the time spent cramming your nose in books is overwhelming, the best solution may be to open up a menu instead.
Berkeley, California (UC Berkeley)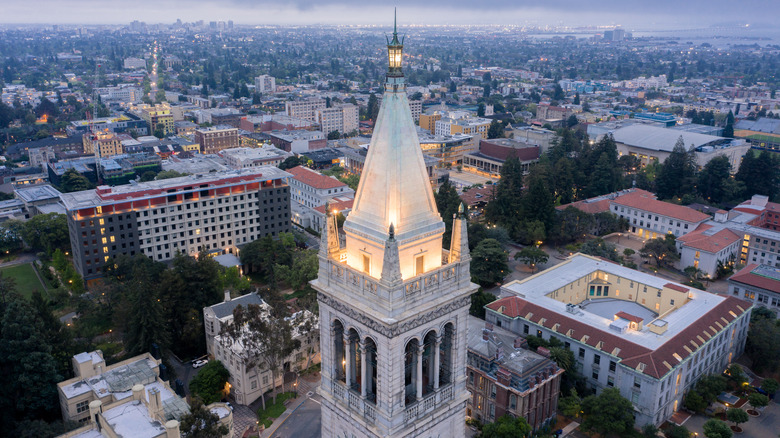 SnapASkyline/Shutterstock
The University of California at Berkeley, nestled in the vibrant city of Berkeley, California, is renowned for its academic excellence and cultural diversity. Beyond its distinguished reputation, the campus boasts a thriving food scene that mirrors the area's eclectic spirit. At the heart of this culinary tapestry is the Cheeseboard Collective, an iconic cooperative bakery and pizzeria. Known for its delectable array of vegetarian pizzas and artisanal bread, the Cheeseboard Collective has become a local institution, drawing both students and residents alike.
Another gem in Berkeley's gastronomic crown is Chez Panisse, a pioneering farm-to-table restaurant founded by Alice Waters. This establishment played a pivotal role in shaping California cuisine and emphasizing the importance of sourcing organic, locally-grown ingredients. With its emphasis on sustainable and seasonal offerings, Chez Panisse has left an indelible mark on the American (and global) culinary landscape. In essence, Berkeley not only nurtures academic minds but also provides a delectable journey for food enthusiasts through its rich and diverse culinary offerings.
Ann Arbor, Michigan (University of Michigan)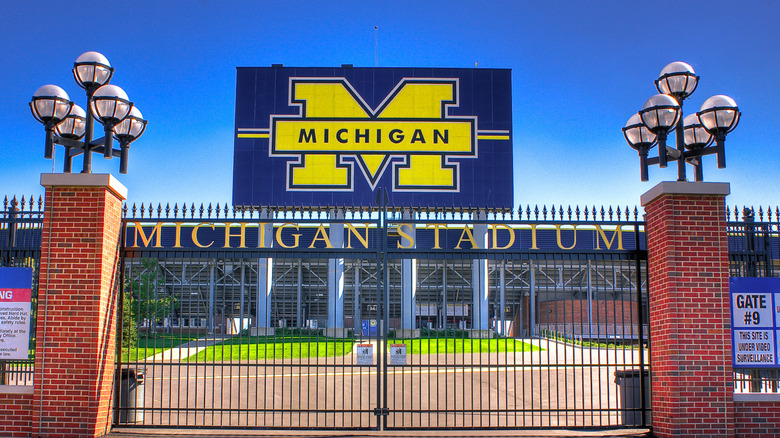 Wichai Cheva Photography/Shutterstock
Beyond college football, Ann Arbor, Michigan is home to a flourishing food scene, where culinary artistry intertwines with a rich history. Local favorites include The Earle Restaurant, an established French-Italian fusion eatery where the menu hasn't changed since the 1970s. If French-Italian cuisine misses the mark, you can always enjoy a Coney Island hot dog (an emblem of Detroit's culinary heritage) from Mark's Midtown Coney Island just south of the University of Michigan campus. These mouthwatering treats, adorned with a hearty medley of chili, onions, and mustard, provide a savory link to the past.
Ann Arbor's dining landscape also boasts diversity. Artisan cafes like Café Japon serve up impeccable brews, while farm-to-table eateries, like Taste Kitchen, craft dishes from locally sourced bounty. And, modern flair permeates the scene with food trucks dishing out inventive creations that resonate with the town's college vibe and dynamic flavors.
Austin, Texas (University of Texas)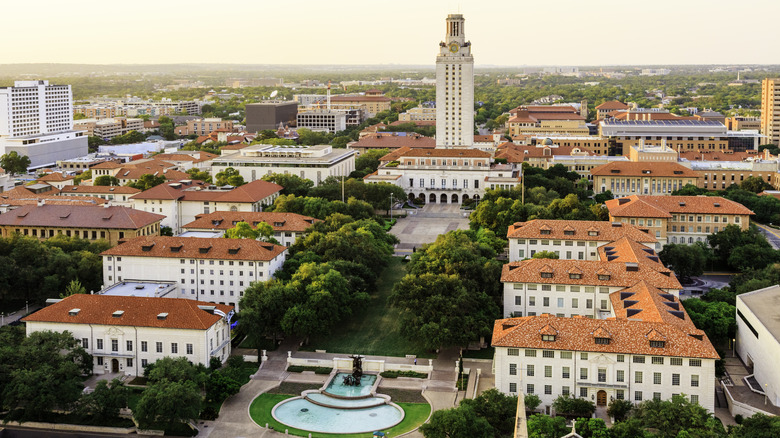 Dszc/Getty Images
Austin, Texas, is more than just a quirky college town or Texas' equivalent to San Francisco; it's a haven for BBQ enthusiasts. Rooted in a rich history of slow-cooked perfection, the city's BBQ scene is a true testament to the art of smoke and fire.
At the forefront stands the renowned Franklin Barbecue. With its mesmerizing aroma and melt-in-your-mouth brisket, Franklin has achieved a cult-like following. The catch? Legendary lines that stretch for hours are a testament to the devotion inspired by its mouthwatering creations. Patrons endure the wait for a taste of pitmaster Aaron Franklin's masterpieces, and their patience is always rewarded.
But, Franklin is just the beginning. Austin's BBQ tapestry is woven with diverse flavors, from smoky sausages to succulent ribs. Restaurants like Micklethwait Craft Meats and la Barbecue continue to redefine BBQ excellence. Here, innovation thrives alongside tradition, leading to tantalizing creations like la Barbecue's la Frito Loco — a mixture of pulled pork, brisket, slaw, and Fritos.
Palo Alto, California/Silicon Valley (Stanford)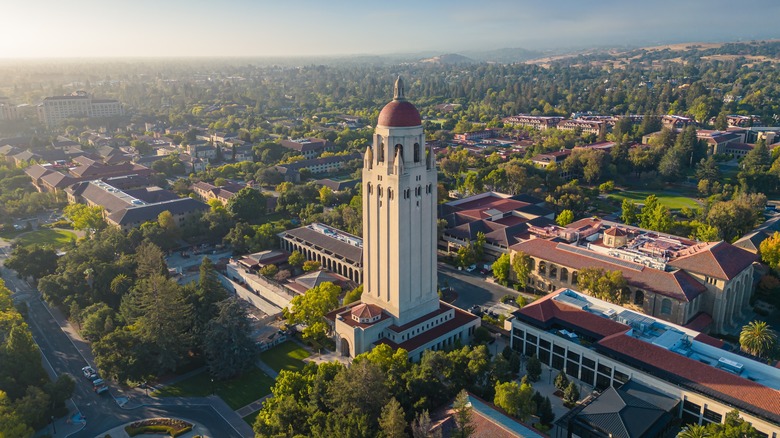 CravenA/Shutterstock
Nestled in the heart of Silicon Valley, Palo Alto not only houses technological giants but also boasts a diverse culinary scene that fuels some of the world's sharpest minds. Experimental gems like Ethel's Fancy shine as a standout. This Japanese-American fusion restaurant transcends boundaries with its creative dishes like hiramasa tartare, served with charred Jimmy Nardello pepper, shiso, and yakitori cracker. And, renowned figures like Gwyneth Paltrow have even dined there. 
Amidst the other high-profile eateries, local favorites like Three Brothers Tacos provide a humble, yet essential, element to Palo Alto's food culture. These unpretentious spots serve up comfort food that feeds the soul. Tasty tacos and burritos serve as a reminder of the importance of grounding in a fast-paced world of innovation. Palo Alto's culinary landscape is a testament to the city's dynamic spirit that nourishes not only the intellect but also the appetite for great food.
Cambridge Massachusetts (Harvard University)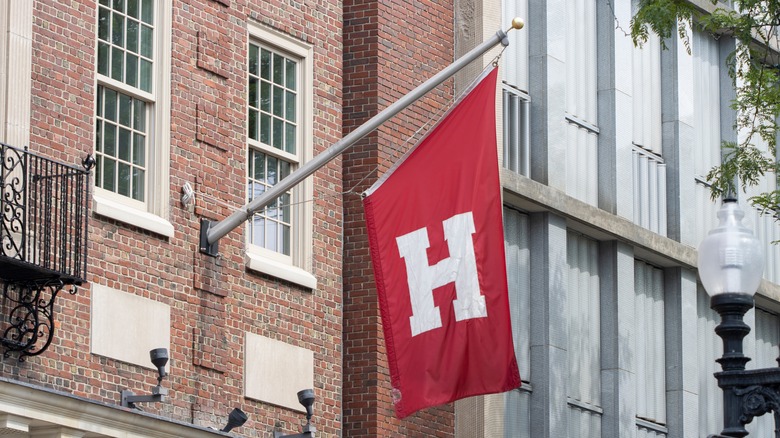 Tada Images/Shutterstock
Cambridge, MA is more than just the iconic home of Harvard University, America's oldest, and most esteemed college. Beyond its Ivy League legacy, Cambridge boasts a nationally renowned food scene, with Harvard Square as its epicenter. It's no surprise that this culinary haven offers an array of delectable choices, including the spicy lamb meatballs, and other Greek delights found at Saloniki, as well as timeless American classics like the R. House Burger, and New England cheese board at Russell House Tavern. 
With its historic charm and academic prominence, Cambridge stands as a captivating destination where intellectual pursuits intertwine seamlessly with gastronomic pleasures. Cambridge's close proximity to the Greater Boston Metropolitan Area provides the prestigious college town with a dense urban character and some of the best seafood in the world at highly regarded restaurants like Waypoint that offer a daily selection of clams, and delicious shrimp cocktails. 
New York City (NYU)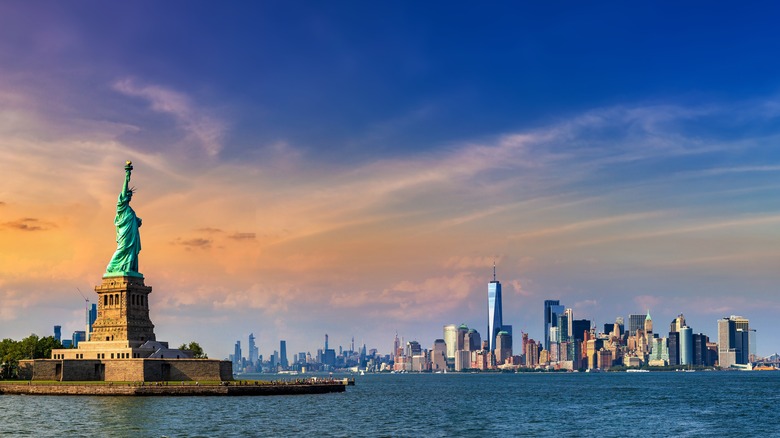 Sergii Figurnyi/Shutterstock
New York City is a foodie paradise with history like no other. From the aromatic streets of Chinatown to the upscale dining establishments of Manhattan, NYC offers an unmatched variety of culinary experiences that mirror its rich cultural mosaic. With world-renowned institutions like Columbia University, NYU, and The City College of New York, the city's intellectual energy is palpable. 
As we delve into NYC's culinary history, a few names stand out, one of which is the famous Katz's Delicatessen. An institution since 1888, Katz's Deli is a living legend, a symbol of the city's enduring food culture. Its pastrami sandwiches and vibrant atmosphere encapsulate the spirit of NYC, where tradition and modernity coexist seamlessly. 
But, no food is perhaps more symbolic of New York City than pizza. Manhattan has lots of great options, but for the best Italian food in the city, you have to cross the bridge into Brooklyn and head down to the historically Italian enclave of Bensonhurst for a slice of excellence at Da Vinci's Pizzeria. Try the Napoletana slice or the aptly named Sicilian slice for a mere $3.00.
Iowa City, Iowa (University of Iowa)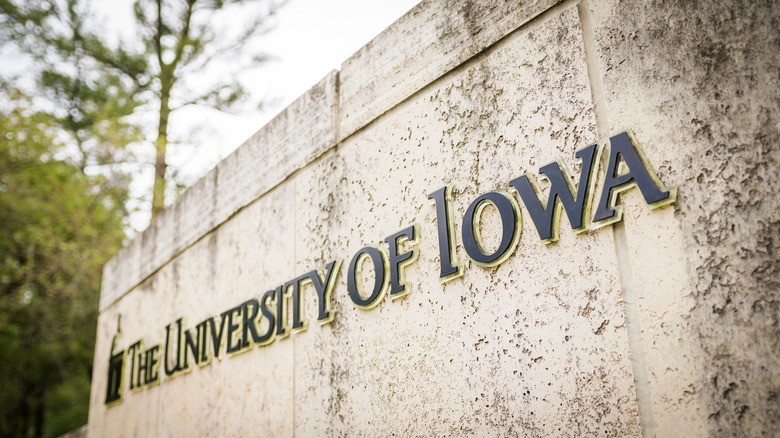 University of College/Shutterstock
While Iowa City is a renowned college town with a larger-than-life literary reputation thanks to the Iowa Writers' Workshop at the University of Iowa, Iowa City is often overlooked for its culinary contributions. That's a shame because the eateries in Iowa City are definitely worth writing home about. 
States like California or Texas usually come to mind when thinking of great Mexican cuisine, but Iowa City is home to mouthwatering spots like La Regia Taqueria, where you can find al pastor (marinated pork), tacos, and birria burritos at prices that won't break the bank. Great sushi is another delicacy that rarely enters the mind when thinking of middle America, but local favorites like Sushiya offer shrimp tempura rolls so delectable that they'll teleport your tastebud to Tokyo. Indeed, one Yelp reviewer asks, "How is it possible for a small place in IA to have this incredible sushi?"  
Arcata, California (Cal Poly Humboldt)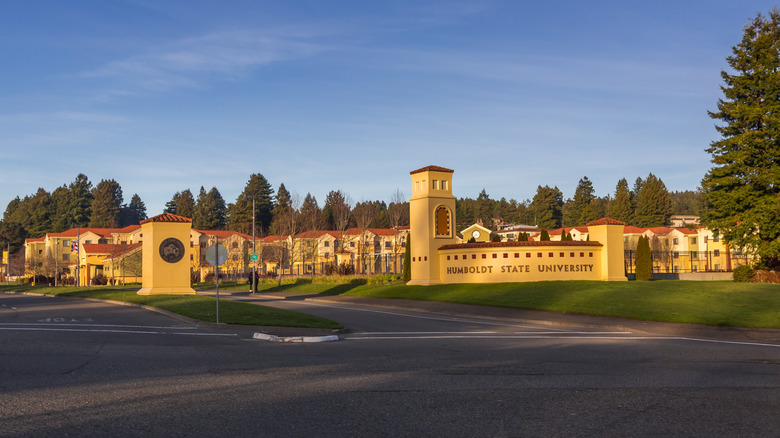 Strekoza2/Getty Images
The North Coast of California is locally known as the "Lost Coast," but that doesn't mean it's lost its flavor. Nestled in between the powerful currents of the Pacific Ocean, and towering redwood trees, is the town of Arcata in Humboldt County where Cal Poly Humboldt (formerly Humboldt State University) can be found. 
Just a short walk from the campus is the Arcata Plaza, a public square that feels like a time capsule to the "flower power" days of the 1960s. And, when hunger strikes as you tour the scenic campus, a great spot to check out is Plaza Grill, where you can feast on delicious calamari or a perfectly plated cajun fettuccine Alfredo.
If seafood isn't your cup of tea, French toast might be, and there's no better place for an early nosh while watching the fog burn off than The Big Blue Cafe. With breakfast served all day, you can enjoy a cheesy omelet or a saucy eggs benedict at the crack of dawn or the eve of dusk. 
New Orleans, Louisiana (University of New Orleans)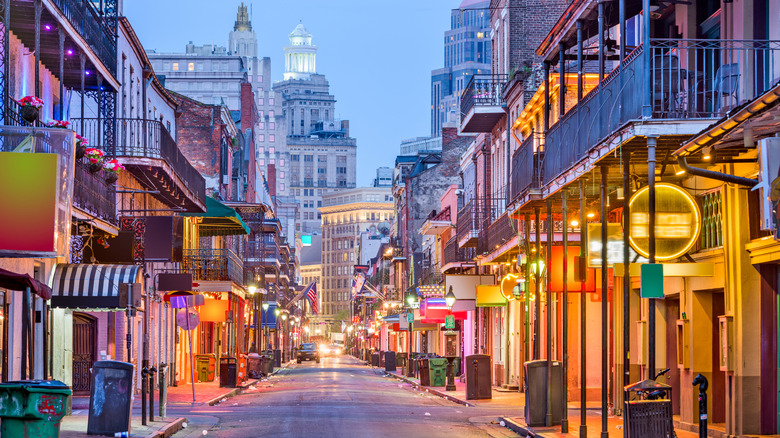 Sean Pavone/Shutterstock
Louisiana's cultural center and party capital is also a significant college town — home to multiple esteemed higher education institutions like the University of New Orleans, and Loyola University; just as many people come to the "Big Easy" to learn as they do for leisure. But, no matter what brings you to New Orleans, the food is world-famous for a reason. The New Orleans food scene is a vibrant, soulful culinary journey that encapsulates the rich history, diverse cultures, and unique flavors of Louisiana's largest city.
Antoine's Restaurant in the renowned French Quarter is a true Nola original. Owned and operated by the same family for over 180 years, few establishments in the South blend the rich flavors of French and Creole cuisine to perfection as they do at Antoine's. Try classics like the seafood gumbo or chicken Rochambeau for an authentic experience. If you're looking for something more casual, the Hard Rock Cafe on Bourbon Street offers an American diner-like experience in the city's heart. 
Portland, Oregon (Portland State University)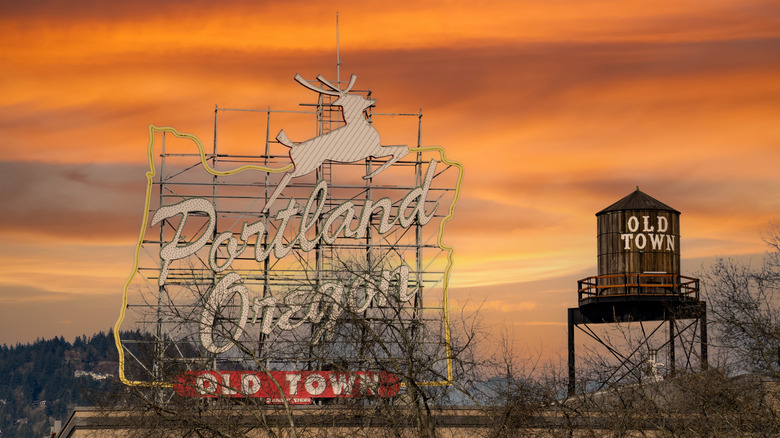 Bob Pool/Shutterstock
What's a better city to end this list than Portland, Oregon? The city that sits on the edge of the Columbia River has a reputation for self-expression, self-discovery, and a food scene that throws convention out the window in favor of culinary exploration. Portland is home to a number of colleges like the University of Portland, Portland State University, and Reed College. Some of the city's most famous spots for a bite to eat include Voodoo Doughnut where you can munch on originals like the Voodoo Doll or the Oh Captain, My Captain doughnut. 
If you've had your fill of sweets and you're looking for something a bit more savory, Portland's got you covered. My Father's Place is a locally loved late-night eatery that offers delicious diner favorites like the bacon mushroom cheeseburger or a buffalo chicken wrap in an environment that looks like a cross between a diner and a 19th-century Wild West tavern.