What Makes Starbucks Reserve Locations Unique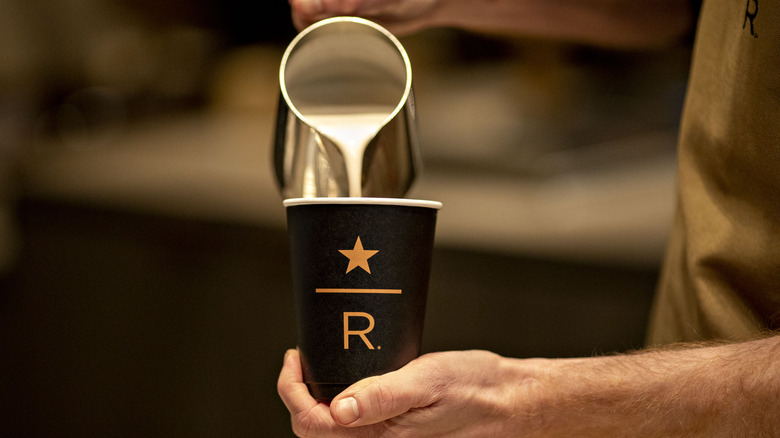 Bloomberg/Getty Images
For many people, Starbucks has become a part of their essential daily routine. Every day, people on the go grab a cup of coffee in Starbucks drive-throughs, airport stands, and even while checking off their grocery list on Target runs. It seems that, for its current cultural ubiquity, Starbucks has become less of a destination and more of a pit stop.
But what if Starbucks was, well, more than just your local purveyor of convenient coffee? That's where Starbucks Reserve comes in. Starbucks Reserve locations take your Starbucks experience to another level of luxury and indulgence. There are a variety of Starbucks Reserve locations from Starbucks Reserve roasteries and bars to retail stores, but ultimately each location is unique, offering something a little different from the rest. Starbucks Reserve locations offer a more specialized Starbucks experience, and each serves high-quality coffee that is a step above what is usually offered in their regular locations. Along with Reserve Starbucks coffee, Reserve locations offer elevated menu options, tasting experiences, and alcoholic beverages.
Starbucks Reserve Roasteries offer a truly unique experience
But what really sets Starbucks Reserve apart from regular Starbucks locations? Well, it starts with the type of Starbucks reserve you are visiting. Starbucks Reserve Roasteries are perhaps the most specialized of Starbucks Reserve locations. Reserve Roasteries actually serve as roasteries for Starbucks brand Reserve coffees, which are sold at many Starbucks locations worldwide.
There are currently only six Starbucks Reserve Roasteries around the world, located in Chicago, Milan, Tokyo, New York City, and Seattle. These locations roast, package, and ship coffee that adheres to strict quality standards that specify the environmental and economic background of the beans used. Often, coffee roasted at these locations is singe-origin and comes from places such as Kenya, Brazil, and Vietnam.
But beyond simply serving as roasteries, these Starbucks Reserve locations also serve as destinations in and of themselves. Starbucks Reserve Roasteries serve high-quality Reserve blend coffees to visitors along with several cocktails and specialty drinks. These locations also feature specialty Princi food menus from the Princi bakery. The menu was created as a collaboration with master Italian baker Rocco Princi and features some pretty luxurious Italian dishes. Starbucks Reserve Roasteries also offer several unique experiences for visitors including an Oleato tasting experience, a coffee lab, and an espresso martini class.
Unique coffee and one-of-a-kind experiences
But don't fret if you can't make it to one of the six existing Starbucks Reserve Roastery locations, Starbucks also has two other Reserve location types: Starbucks Reserve Bars, and Starbucks Reserve Stores. Starbucks Reserve Stores a retail format that allows you to pick up Starbucks Reserve products while also offering the same drinks, cocktails, and coffee, that you can find at other Starbucks Reserve locations. That means a menu featuringnot just espresso and coffee-based cocktails, but also various beers, wines, and cocktails.
If you want a more sit-down type of experience, on the other hand, you might want to check out a Starbucks Reserve Bar. These locations offer a slimmer selection of higher-end offerings and flavors. However, they also offer various cocktails that often play on Starbucks classics. Starbucks Reserve Bar locations also feature a bar setup that allows visitors to sit down and enjoy a more personalized experience without the trappings and bustle of a retail location or run-of-the-mill Starbucks. 
Starbucks Reserve Bar locations also feature special seasonal drinks. During the fall, for example, Starbucks Reserve Bars offer special pumpkin spice espresso martinis. These locations also offer regular Starbucks menu items such as Starbucks' iconic frappuccinos so popping into a Starbucks Reserve Bar is still a bit more casual than the rarified Starbucks Reserve Roastery locations. 
If you're interested in visiting a Starbucks Reserve Bar location, keep an eye out for Starbucks Reserve's signature 'R' logo. Although there are more of these locations than Starbucks Reserve Roasteries, these specialty locations are still rather limited. But, for true coffee lovers, it's still probably worth the effort to plan a visit to a Starbucks Reserve location.