French Onion Mashed Potatoes Are The Thanksgiving Side You Need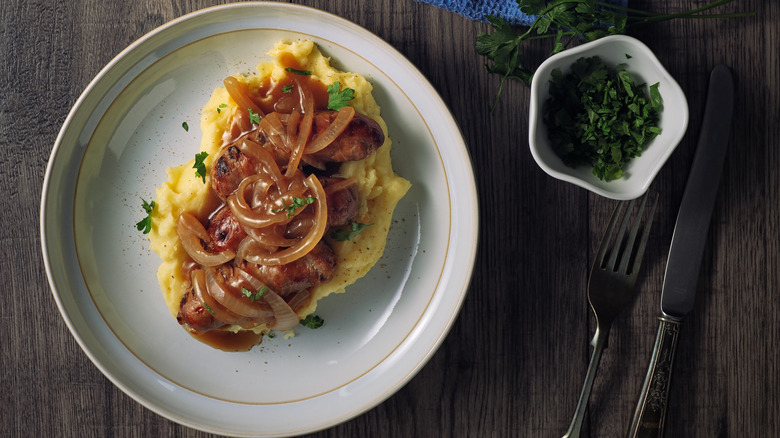 Haoliang/Getty Images
Mashed potatoes are, quite literally, the glue at any well-rounded Thanksgiving dinner. Creamy, savory, and buttery, a good scoop of mashed potatoes can provide the perfect base for a bite of turkey, stuffing, and cranberry sauce. Or, they can provide a reprieve from the herbaceous stuffing or super tart cranberry sauce. They are, frankly, a safe space. But that safety can sometimes prove limiting for the often-overlooked mashed potato. However, that doesn't have to be the case. In fact, the key to a more exciting bowl of mashed potatoes might be in your pantry right now in the form of French onion soup mix. Often used as a recipe mix for chicken, party dips, and soup, this spice blend might just add the perfect kick to mashed potatoes.
Instant French onion soup mix, made iconic by Lipton brand mix, was first introduced in the 1950s as a shortcut for home cooks. The soup mix has a unique and signature taste thanks to the fact that it contains no beef stock (usually essential in French onion soup), and instead incorporates dried onions and soy sauce which brings out a unique umami flavor. The soup mix has long been used as an essential addition to sour cream for an iconic chip and veggie dip.
However, French onion soup mix can also lend its signature oniony flavor to a creamy bowl of mashed potatoes. If you want to go a step further, add sour cream to your potatoes along with the spice blend for an exciting bowl of French onion dip mashed potatoes. Really, the possibilities for mashed potatoes are endless.
More than just soup mix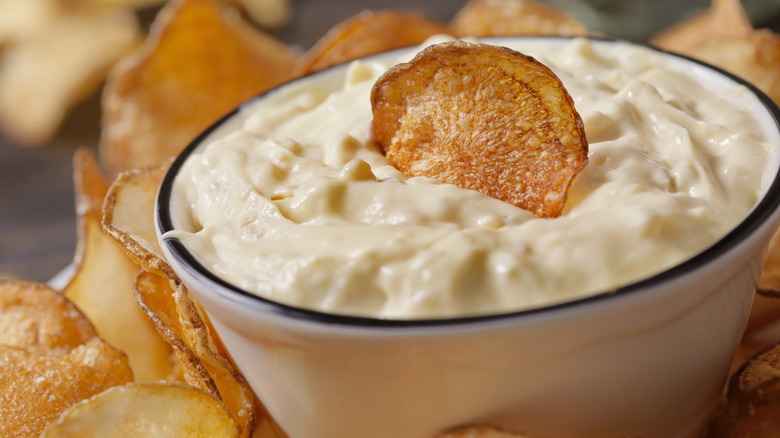 Lauripatterson/Getty Images
When Lipton first introduced their onion soup mix in the 1950s, the company could not possibly have predicted what an impact it would make on American cuisine. The mix was originally introduced to be a shortcut soup mix for home cooks. However, home cooks soon found that the soup mix had possibilities beyond the broth. Perhaps the most iconic off-label usage of the mix was in California dip, otherwise known as French onion dip. The dip was invented and popularized in the mid-1950s, first created by a still unknown Los Angeles home cook. Eventually, the recipe was printed in a California newspaper, which cemented the dip as a staple on party menus.
California dip is not the only way of mixing up your envelope of French onion soup mix, however. Lipton took note of this trend towards off-label uses for their mixes in the 1990s when they introduced a line, including French onion mix, under the "Recipe Secrets" label, and shared recipes about how to use them for non-soup purposes. The French onion mix has been used for a number of these recipes from pot roast and brisket to noodles and beef stroganoff.
The French onion soup mix's unique, umami flavor makes it the perfect add-in for a whole world of dishes, and mashed potatoes are the perfect, starchy base for flavor infusion — it's a culinary match made in home cooking heaven. However, there are other ways that you can jazz up your bowl of potatoes if French onion soup just isn't your thing.
Making your mashed potatoes shine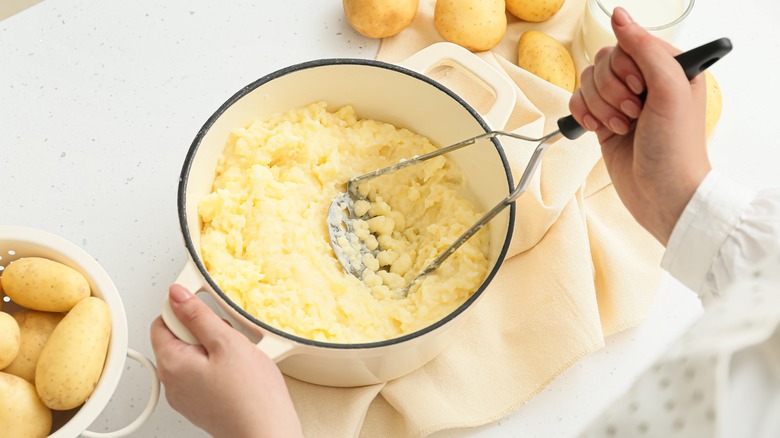 Pixel-Shot/Shutterstock
This year, mashed potatoes can rise above their status as the true and tired workhorse of Thanksgiving sides. French onion mashed potatoes can be a great place to start for those in need of a tuber-refresher, but you can go beyond the powder mix. There is really a whole world of enhancements for the humble side dish.
Adding herbs to your mashed potatoes can add a level of complexity to your dish that transcends starch and butter. Rosemary in particular can make your potatoes feel more like Thanksgiving, borrowing from stuffing' signature rosemary-rich taste. Or, if you want to highlight the creaminess of the dish, adding a dollop of mayonnaise to your mashed potatoes can give your dish a zing without overpowering the warm and comforting potato flavor of the dish. Or, if you really want to flex your home cook muscles, you can add a French onion soup twist from scratch, by incorporating freshly cooked caramelized onions into your mashed potatoes, giving the dish a luxurious, slightly sweet flavor profile, perfectly complementing your onion-rich stuffing or crispy onion-topped green been casserole.