10 Non-Cake Uses For Boxed Cake Mix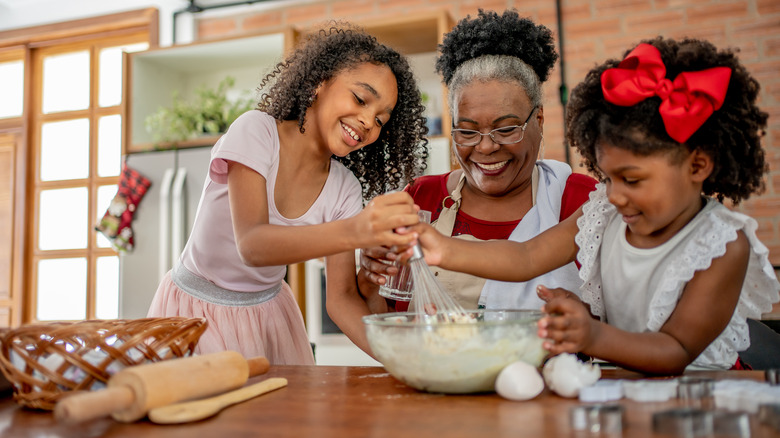 Drs Producoes/Getty Images
Boxed cake mixes offer a quick and easy way to make delicious cakes and cupcakes. Rather than measuring out flour, sugar, cocoa powder, and tons of other ingredients, all you typically need to add is some water, oil, and eggs. After a little while in the oven, you'll have a moist cake ready and waiting for you. While making a cake with the mixes is easy, you may grow tired of always preparing the same thing. Well, there is no need to worry about that anymore.
Boxed cake mix can be the base for several other types of recipes from cookies, pretzels, pancakes, and even fudge. And, better yet, most of these ideas are also really easy to make and won't require too many ingredients. Read on to explore some of the most creative uses for that box (or those boxes) of cake mix sitting in your pantry. Which will you try first?
1. Pretzels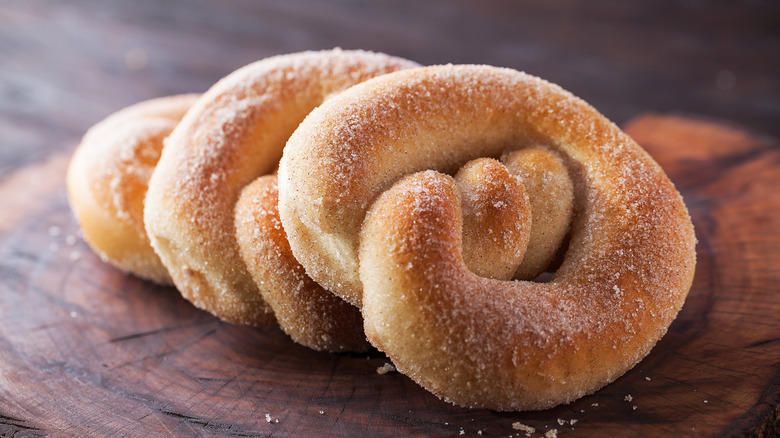 tmalucelli/Shutterstock
The next time you're craving a warm and soft pretzel, why not try making your own? That's right, a box of cake mix can serve as a perfect starter for some delectable homemade dessert pretzels. And, you can experiment with different flavored pretzels by starting with different types of cake mix. Maybe one day you'll make chocolate pretzels or soft and chewy red velvet ones, while the next you can try colorful Funfetti pretzels.
Because the pretzel dough will need to rise, you'll need to add a little yeast to the cake mix before mixing it with warm water and salt. Then, knead in some regular flour and let the dough rise. Portion the dough into 10 to 12 balls, and roll each one out into a long rope. Twist the rope into the shape of a pretzel and boil each one for a few minutes until they float in the pot. Then, bake them and add some salt, sprinkles, or sweet icing before serving.
2. Pie crusts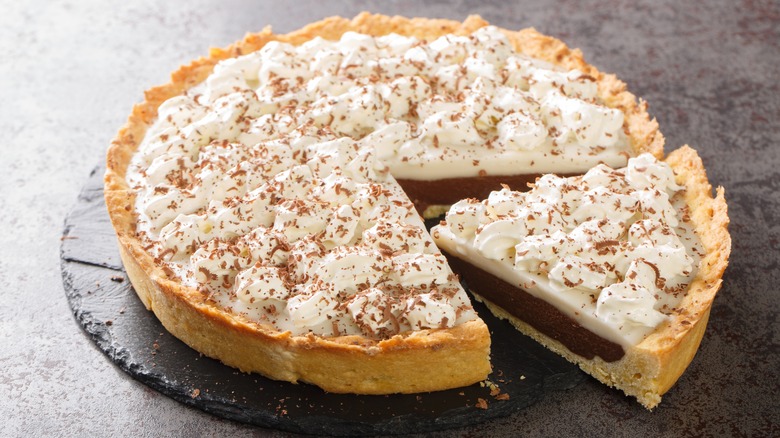 AS Foodstudio/Shutterstock
Whether you don't enjoy the pastry crust base of most pies or are just looking for something a little different, starting with a box of cake mix offers an ideal solution. With all the different flavor options, you'll be able to craft some truly unique and absolutely incredible pies. Why not try a chocolate crust with cherry filling? How about a yellow cake crust for a scrumptious pumpkin pie? Or, red velvet crust paired with a no-bake cheesecake? Trust us, once you see how easy it is to turn a cake mix into a pie crust, you're going to want to try all of these combinations and more.
Just combine the cake mix with a few eggs and a little softened butter. Once combined, roll the dough out and bake it for a few minutes on a cookie sheet to help it set. Then, you can cut it into a circle and use it to line the pie pan. Depending on the type of pie you're making, you can either bake the dough until crisp and then fill it, or you can fill it first and bake the whole pie together.
3. Cookies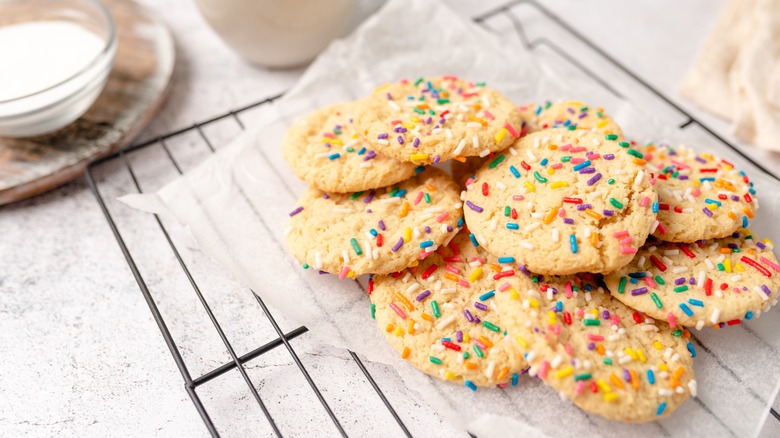 Tanya Consaul Photography/Shutterstock
Making cookies from scratch can take some time. And, let's be honest, sometimes we just don't have the time or energy to mix a full batch. Enter the convenience of using boxed cake mix for this task. It saves you so much time since you don't have to measure out all of the ingredients that you would when starting from scratch. Plus, you can make a smaller batch for times when you just want a quick treat and don't want to spend hours switching trays in and out of the oven.
Start with any flavor of cake mix that sounds good to you (or that is available in your pantry). You'll just want to add in a few eggs, a little oil, and enough water to get the consistency right. Then, mix in chocolate chips, nuts, chopped candies, pretzel pieces, or anything else that sounds good to you before dropping the dough, in roughly tablespoon-sized dollops, onto a cookie sheet and baking them in the oven.
4. Brownies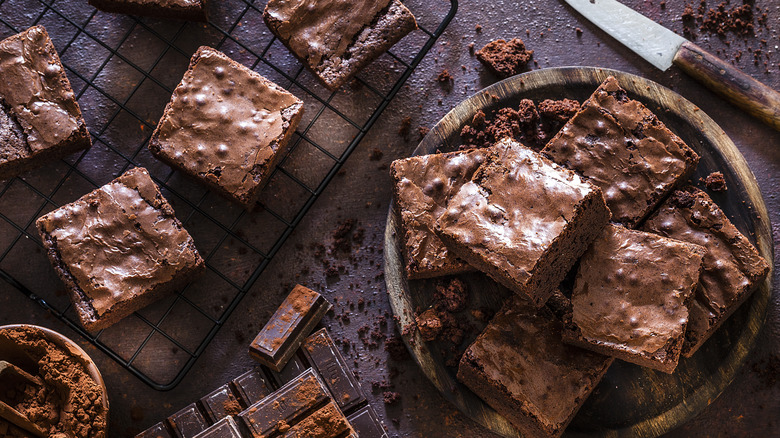 Fcafotodigital/Getty Images
Craving brownies, but don't have any brownie mix in your pantry? No problem. Did you know that you can also turn a box of cake mix into gooey brownies in no time? The main distinction between cake batter and brownie batter is the texture. If you've made both of these baked goods, then you know that cake batter is rather runny, whereas brownie batter is much thicker. So, when you're using cake mix to make your brownie batter, you'll want to keep that end goal in mind and add less liquid to the mixing bowl.
Start by adding about the same amount of oil (or a touch less) that the box calls for, and one fewer egg than what is directed but don't add the water that the recipe calls for. This should give you that thicker batter that you're after. But, keep in mind that because you're adding less liquid, you're going to have less brownie batter than you would cake batter. This means you'll want to use a smaller pan (a square 8 x 8 is probably perfect) instead of the 9 x 13 size called for by the cake recipe.
5. Cinnamon rolls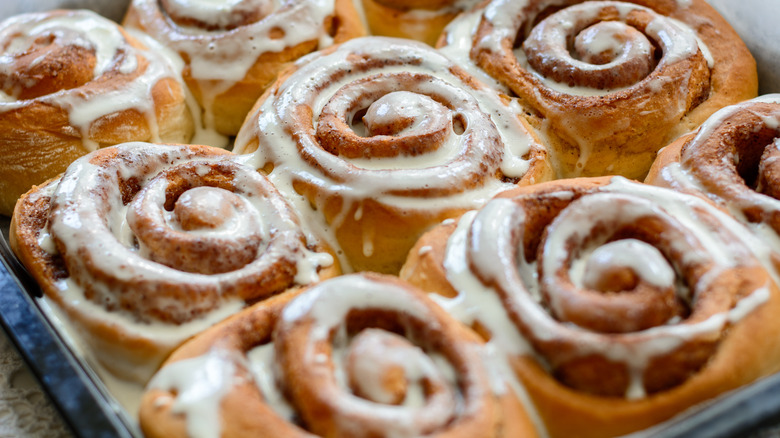 roman tohtohunov/Shutterstock
Who says you can't use a boxed cake mix to make breakfast? You most certainly can when you turn it into warm and scrumptious cinnamon rolls. Homemade cinnamon rolls are probably something you only make for special occasions — or have been too scared to try because of how time-consuming the process can be. However, when you use this cake mix hack, you'll cut down on some of the prep time, getting these treats ready to enjoy more quickly.
To start, you'll want to combine the cake mix with some flour and a mixture of yeast and warm water that has sat for about 5 minutes. Allow your dough to rise and double in size (in a warm location) for about 1 hour before balling it up. Then you're ready to roll out the dough, add some melted butter, and sprinkle it all with cinnamon sugar. Roll up the sheet of dough into a log of cinnamon goodness and cut it into rolls before giving them an additional half an hour to rise before baking. All that's left to do is whip up your favorite icing recipe and enjoy your amazing creations.
6. Pancakes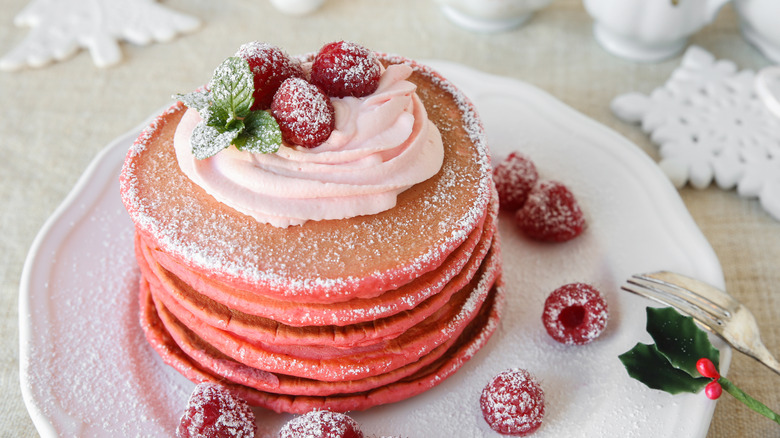 Sewcreamstudio/Getty Images
Pancakes offer another opportunity to use a box of cake mix to make an incredible breakfast. Whether you didn't realize you ran out of pancake mix or want to make something a little sweeter for a special occasion, you'll be amazed at how easy cake mix pancakes are to make. They're really no more involved than preparing boxed pancake mix; all you need to add is some milk (or water) or eggs. Then, just be sure to butter (or oil) your griddle as you would when making other pancake recipes.
Be sure to try different types of cake mix when preparing pancakes. If you're a chocoholic, then devil's food may be the perfect mix to try. Does someone have a birthday coming up? Why not serve them a colorful stack of Funfetti pancakes in celebration of their special day? The possibilities really are endless, leaving you lots of opportunities to experiment.
7. Cake pops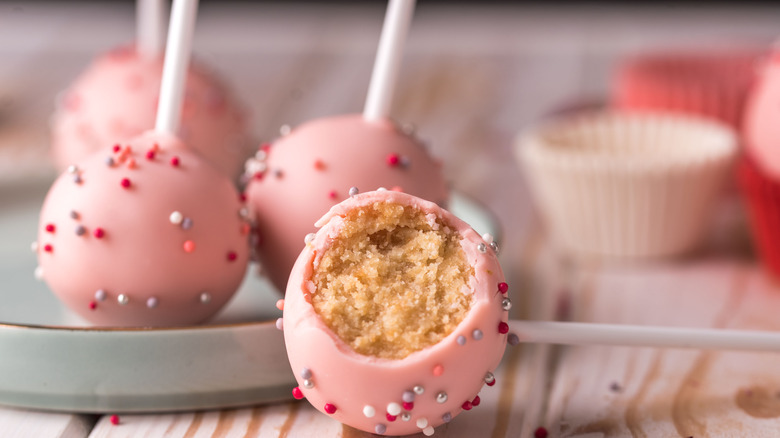 EugeniaSh/Shutterstock
Why make a boring cake when you can make fun cake pops using the same boxed mix? These fun little balls of cake are a great choice for parties and other events. And, you don't need to worry about slicing a cake or even having plates and utensils available for guests to enjoy. Like lollipops, cake pops are served on a stick and are easy to eat in a few bites. Plus, with their delicious icing-like coating and soft, cakey inside, they're utterly delectable.
Use any flavor cake mix that you'd like for your cake pops, and bake it according to the directions on the package. Then, remove the cake from the pan, let it cool, and crumble it up before mixing the pieces with a little frosting (again, any flavor will work) to help them stay together and form a nice ball. Once formed, refrigerate the cake balls for 30 minutes to 1 hour to let them set. Then, insert a treat stick into each ball before heating up some candy melts. Dip each cake pop into the liquid candy and place them up in a cake pop stand to set (you can also lay them flat on parchment paper). If desired, add sprinkles, mini chocolate chips, or other decorations before the outside hardens.
8. Donuts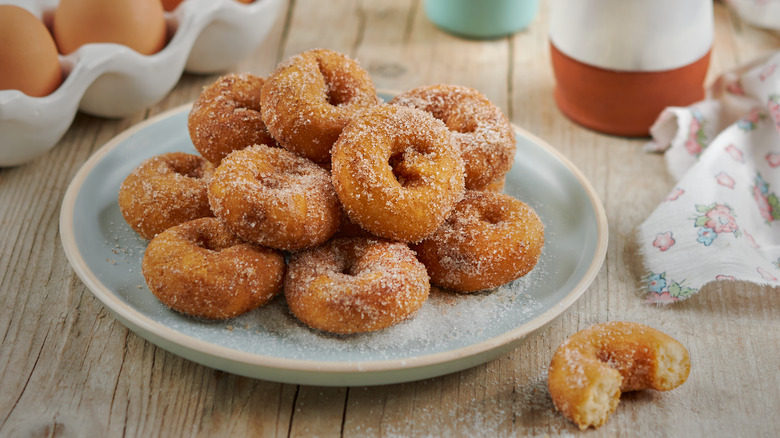 Mila Bond/Getty Images
Did you know that you don't have to make a special run out to purchase donuts? You can make them right in your own home, starting with a box of regular cake mix (you'll just need a set of donut-baking pans). Then, combine the cake mix with some milk, vanilla extract, an egg, and oil, then pipe it into the donut wells. After baking, let the donuts cool completely before adding any glaze or frosting to them.
One of the best things about making donuts at home is that you get to customize the flavor of the donut itself as well as the frosting or glaze that is added to it. Just think of all the different combinations: yellow cake donuts with chocolate icing, chocolate donuts with a creamy strawberry frosting, pumpkin donuts with a cream cheese glaze. Is your mouth watering yet? You can even add festive sprinkles related to a specific holiday, such as mini heart sprinkles for Valentine's Day or red, white, and blue sprinkles for the Fourth of July.
9. Whoopie pies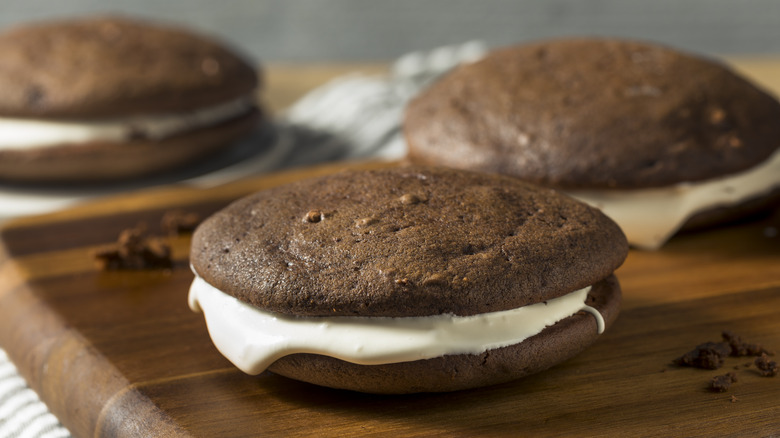 Bhofack2/Getty Images
If you've never had a whoopie pie, then you've been missing out. Despite their name, whoopie pies are more of a mini chocolate cake sandwich-like treat filled with fluffy cream. Lucky for you, you can make your own whoopie pies at home whenever you want to enjoy these sweet treats. And, even better, you only need a few ingredients to make them. The most important ingredient for these will be a box of devil's food cake mix which will help you create rich and flavorful rounds for the top and the bottom. Add a box of instant chocolate pudding mix, a few eggs, water, and vegetable oil to the cake mix, and mix everything together using your hand mixer.
Once the batter is prepared, drop 1 ½ to 2 tablespoons at a time onto a cookie sheet and bake the mini cakes in the oven. Remove and let the rounds cool completely before adding a layer of whipped white frosting (or even a homemade buttercream frosting) into the middle of two cookies.
10. Fudge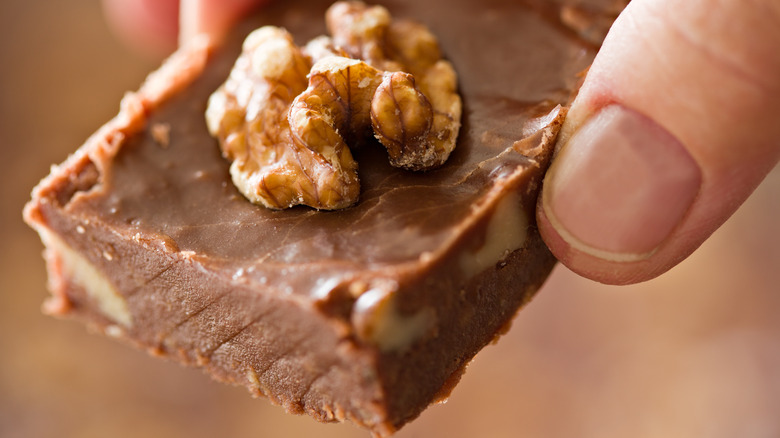 Debbismirnoff/Getty Images
Who would have thought that a box of cake mix could be transformed into creamy and delicious fudge? Possibly even better than the fact that you can make fudge using cake mix is how easy this recipe is to combine. Plus, you don't even have to bake it in the oven or on the stovetop before serving. That's right, no fussing with a candy thermometer or worrying about scorching your chocolate in a hot pan on the stovetop.
To make this incredibly easy and delicious recipe, add a few cups of powdered sugar to the boxed cake mix in a microwave-safe bowl. Cut up a stick of butter into the bowl and add a few splashes of milk and a tablespoon of vanilla extract. Then, microwave everything on high for about 2 minutes (or until the butter is all melted). Stir in chocolate chips, nuts, crushed pretzels, or other ingredients if desired, and spread the creamy chocolate mixture into a greased pan. Refrigerate for at least 2 hours before serving, and prepare to be amazed.