Skyline Chili Is A Spicy And Sweet Ode To Cincinnati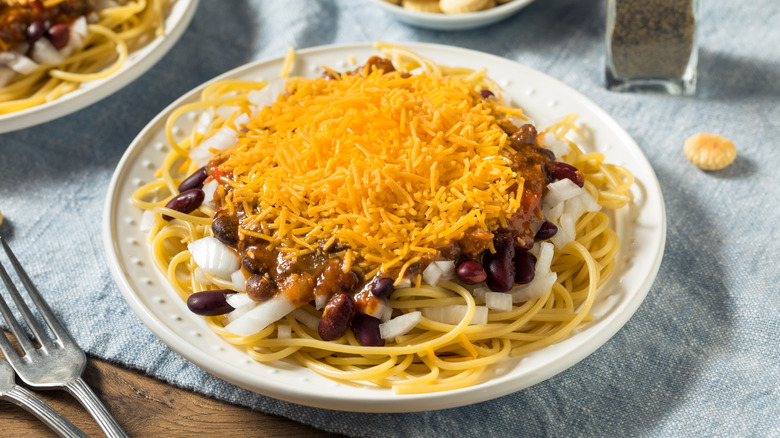 Bhofack2/Getty Images
Love it or hate it, and many, many people love to hate it, Cincinnati's (in)famous Skyline chili, also known as Cincinnati chili, is an icon of American culinary invention. It is both sweet and a bit spicy, and a true Midwestern comfort food. Combining the classic American chili with the complex and sweet flavor profile of Greek food, the dish is the perfect emblem for the often underrated American city.
To understand the origins of the Cincinnati treat, however, we must first travel to the Mediterranean from where the brothers Tom and John Kiradjieff hail. The brothers immigrated to Cincinnati from a region of Macedonia which is now a part of Greece in 1922.  In 1922, they began selling a unique Mediterranean-spiced meat sauce served over spaghetti, originating the signature Cincinnati dish simply named "chili spaghetti." Soon dozens of chili parlors helmed by Mediterranean immigrants popped up around the city, and although the Kiradjieff brothers started it all, another restaurant took the dish to a new, Skyline level.
The creator of what is now known as Skyline chili, Nicholas Lambrinides immigrated to Cincinnati from Greece in 1912, bringing his mother's traditional recipes along with him. In 1949, Lambrinides opened Skyline Chili, a small kitchen parlor serving dishes that fused the flavors of his childhood in Greece with his adopted home country. His chili was infused with cinnamon, clove, and allspice, flavors common in savory Greek dishes but are more often associated with desserts in America. Skyline chili quickly became a Cincinnati staple and synonymous with Cincinnati chili and chili spaghetti. Since then Skyline has blossomed into more than 150 franchises and has served its signature chili on top plates of spaghetti, a perfect tribute to an eclectic and often overlooked city.
How to pile your plate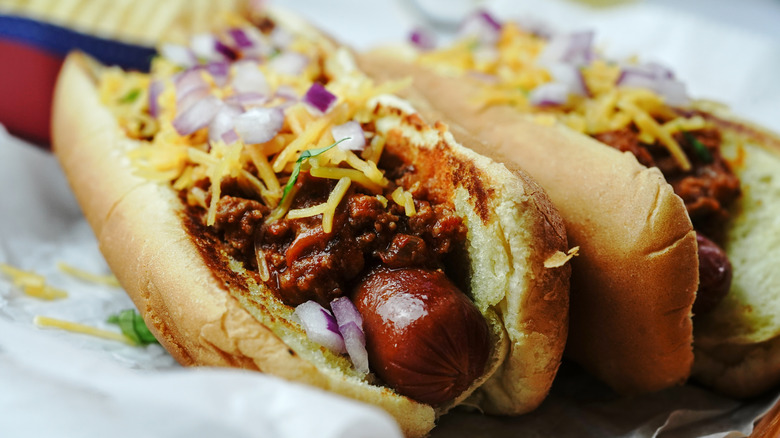 vm2002/Shutterstock
There are many ways to enjoy the iconic Skyline chili. The chili is often served on hot dogs, or in a bowl. But the food is most often, and ironically, served on spaghetti. But you will want to take care when ordering the sweet and spicy chili; there is a very specific language used when describing exactly your chili preferences.
In terms of enjoying chili as a main, there are a few 'ways' of ordering your chili, a system that was established by the Kiradjieff brothers, according to Cincinnati radio station WVXU. A 3-way is the version that has become iconic and entails spaghetti, chili, and a healthy topping of shredded cheese. A 4-way takes things a step further by adding onions or beans to the mix and a 5-way includes both onions and beans. Using these naming conventions, presumably, a simple bowl of chili without toppings or adornments would be a 1-way, and chili spaghetti would be a 2-way, but WVXU explains that these wouldn't usually be ordered this way. The Kiradjieff brothers' restaurant Empress Chili acknowledges a 2-way, but Skyline Chili doesn't mention either on its menu. 
A chili dog featuring Skyline chili also has its own, well, unique language associated with it. A coney, for example, is a regular old chili dog with a bit of mustard. Meanwhile, an alligator, or lizard, is a chili dog served with a pickle spear.
Sweet but no cinnamon roll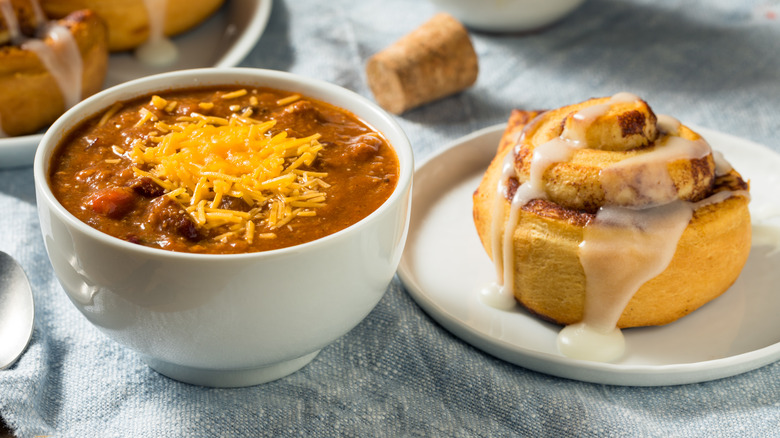 Brent Hofacker/Shutterstock
Now, sweet chili may seem like an odd move. However, that's what makes it unique to Cincinnati, and also to the Midwest. A sweet, cinnamon chili meal is not limited to Skyline chili. Another Midwestern dish is similarly unique, and that's chili and cinnamon rolls. Yes, this dish, like Skyline chili, brings sweetness to the meaty world of chili. Unlike Skyline chili, however, the origins of this pairing are a bit fuzzy. But the popularity of the combo, along with Skyline chili's sweet flavor profile, proves that though confusing, sweet and savory can, in fact, get along.
In fact, many lovers of Skyline chili have embraced the dish for its sweetness, with many enthusiasts believing that chocolate is a key component of the recipe. And though The Cincinnati Enquirer found that this popular belief is just a myth, it does key into the fact that its sweetness is part of what makes the food so popular. Perhaps that comes as no surprise as dishes such as the Mexican chocolate-based sauce Mole have been popular for centuries, combining the sweet and complex flavors of cacao with chili peppers and tomatoes. The cinnamon, allspice, and other spices in Skyline chili bring a similar spicy sweetness to the dish.
So, though it may be easy to disregard Skyline chili as a hyper-regional quirk in the culinary landscape, it is really so much more than that. Skyline chili melds together flavors from many distinct and often seemingly conflicting culinary landscapes to create something entirely its own. And you might want to try a bowl before you pass judgment.