The Reason Your Favorite Trader Joe's Items Are Always Sold Out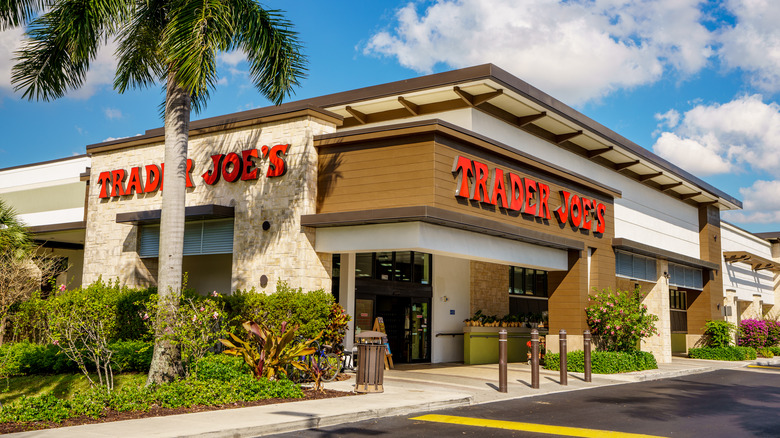 Felixmizioznikov/Getty Images
Trader Joe's is more than a grocery store. Any Everything but the Bagel-seasoned fan of the chain can tell you that. The store, which features unique snacks at low prices has become somewhat of a cultural icon. However, with that popularity comes some complications. Though Trader Joe's offers many unique items, you might be hard-pressed to actually find them in the store. In fact, it sometimes feels like a trip to Trader Joe's is more akin to a game of roulette, as many items fly off the shelves just as soon as they're restocked.
While part of this high turnover comes from enthusiastic customers, there is another reason your favorite products are always sold out. It seems that online resellers have made their way to the aisles of Trader Joe's. And they're making bank on sites like Amazon and eBay.
The business model for Trader Joe's resellers is quite simple. They buy up large quantities of merchandise and resell it at a marked-up cost online. Resellers often cater to those who live far away from Trader Joe's locations, or those who want a discontinued or highly sought-after item. Trader Joe's uber-popular Everything but the Bagel seasoning, for example, has retailed online for over $20.00. That's quite the markup for a spice blend that costs $1.99 in stores. Many resellers make a pretty penny off of their reselling gigs. Of course, this comes at the cost of Trader Joe's enthusiasts who simply want to enjoy their snacks at a low cost. 
Small parking lots, big followings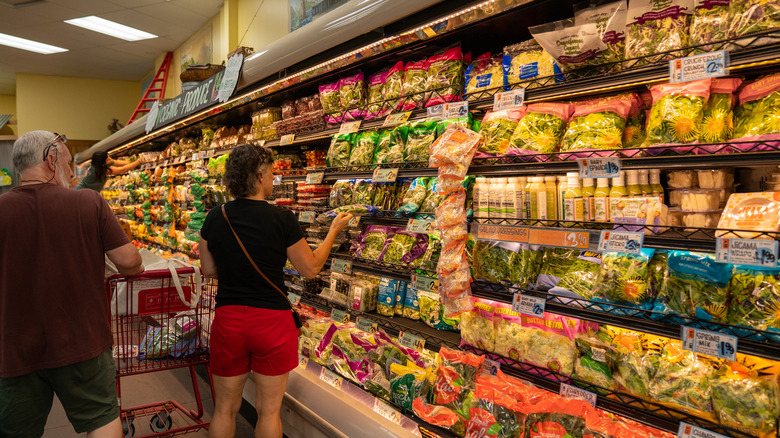 Robert Nickelsberg/Getty Images
Trader Joe's resellers are nothing new. In fact, in 2012, one man made a whole "pirate operation" out of the legal, but frowned upon, practice of reselling Trader Joe's items. The man, Mike Hallatt, opened an actual retail location in Vancouver that sold Trader Joe's items he had purchased in the United States and brought across the border to Canada. However, he was sued by Trader Joe's several times, and in 2017 he shut down his business for good. In his place popped up countless resellers on online platforms, now a thriving gray-market of sorts for Trader Joe's products.
This ravenous appetite for Trader Joe's may seem a bit extreme, and that's because it probably is. The grocery store chain has become a bit of a cultural phenomenon in recent years, especially with influencers on social media. Accounts such as Trader Joe's Obsessed on Instagram, which has garnered over 600,000 followers, center almost entirely on Trader Joe's-related content, introducing their audiences to the latest Trader Joe's products.
Other accounts, such as Trader Joe's 5 Items or Less on Instagram, which has nearly 400,000 followers, center their content on creating quick and simple meals out of various Trader Joe's items. These accounts have proven to be vital in spreading the word about the best Trader Joe's items, and have been at the core of the brand's growing popularity, which goes beyond what is usually expected from a grocery store brand.
Not your average grocery store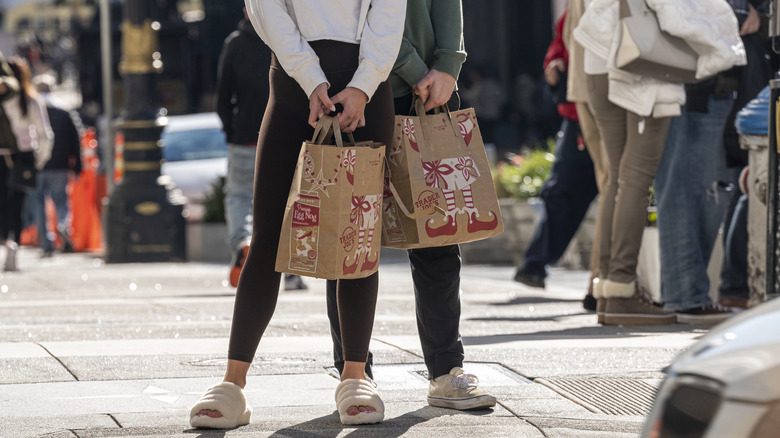 Bloomberg/Getty Images
But what separates Trader Joe's from other grocery stores? Well, if you've ever been inside the tiki-themed store, you'll notice that it's quite different from any other grocery store. You'd be hard-pressed, for example, to find a pack of Oreos or a 12-pack of Pepsi. And that's because most products sold by Trader Joe's come from its own label, which allows the brand to sell items for a lower price point. However, Trader Joe's products are not seen as less desirable knock-offs like some grocery store brands are. In fact, many Trader Joe's enthusiasts intentionally seek out Trader Joe's products, such as the Oreo-impersonating Joe-Joe's, for their low price point and fantastic taste.
Additionally, and counterintuitive to its strong social media influence through fan pages, Trader Joe's has a scant online presence when it comes to marketing. In fact, the store seems to have a "less is more" attitude toward advertising. Instead, the hype surrounding the store and its products revolves around word of mouth, making each popular product a viral sensation. Trader Joe's has also resisted the pull of online shopping, instead focusing on brick-and-mortar shops. And that might just be why so many customers seem so eager to shell out above retail price to order their favorite Trader Joe's snacks. 
But rather than ordering from resellers, pop by your closest Trader Joe's, instead. You might be surprised by what you find, beyond the viral.