The Oldest Restaurants In The World To Add To Your Travel Bucket List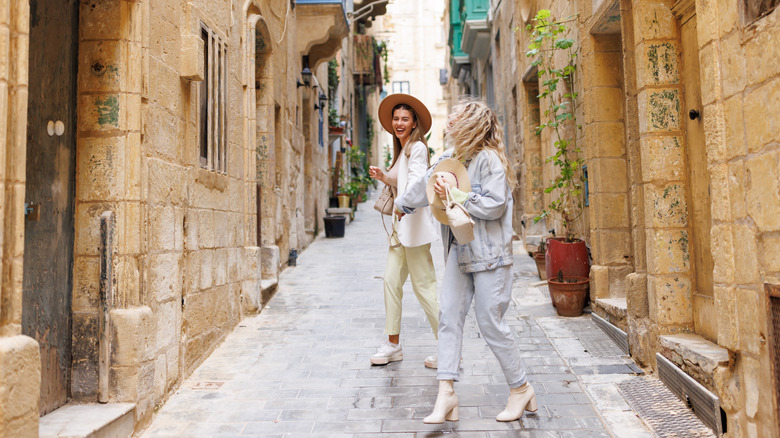 Bojanstory/Getty Images
From centuries-old trattorias serving age-old Italian recipes perfected during the Roman Empire to fast-casual NYC delis serving trendy rainbow bagels and Caesar wraps, the pulse of the restaurant world is ever-changing. It's safe to say that a plethora of new restaurants enter the food scene every day and that the history of food is still in the making. However, these new establishments stand on the shoulders of giants so it's important to pay homage to the founding fathers of the restaurant as we know it across the globe. 
Whether you're a history buff, a foodie, or both, this list of the oldest restaurants in the world will surely inspire your next travel-foodie venture. Whether your next trip (or your appetite) aligns more with authentic soba in Japan, or perhaps a hearty bowl of good ole clam chowder, this list is a surefire way to add zest to your travel itinerary while also satiating your hunger.
St. Peter Stiftskeller in Salzburg, Austria
St. Peter Stiftskeller is located in the heart of Salzburg, Austria's old town, and claims that it is the oldest known restaurant in Europe as it was first documented in 803 A.D. by a scholar of Charlemagne. The ancient Austrian eatery, which evolved from a simple cellar to a hotel that remains open to guests today, was said to have been visited by the likes of Wolfgang Amadeus Mozart and Christopher Columbus themselves. In fact, the restaurant pays homage to the renowned Austrian composer with its Mozart Dinner Concert, where diners can enjoy a candlelit, three-course dinner inspired by recipes from Mozart's time, set to the ambiance of live performances of Mozart's compositions in a baroque-themed dining hall
Despite refreshing its name and menu offerings to Peter, a purveyor of modern Austrian cuisine, in 2020, the restaurant remains in its original state within St. Peter's Abbey and continues to offer traditional Austrian fare. So yes, you still have the opportunity to try historical dishes like Salzburg boiled beef paired with Austrian wine while sitting beneath the 1200-year-old stone walls of the monastery's cellar just as Mozart once did. 
Honke Owariya in Kyoto, Japan
Allow your travel bucket list to take you east to Honke Owariya, a 550-year-old soba hotspot located in Kyoto, Japan. Honke Owariya was originally founded in the Owari Province in 1465 as a confectionery shop before it moved to Kyoto and expanded its offerings to include soba, a Japanese buckwheat noodle, in 1702. Located south of the Imperial Palace, the eatery quickly became a favorite of the Royal Court and Zen temple priests who sourced soba from the humble confectionery shop. 
In addition to serving soba noodles in various ways (by itself, with toppings, or in a hot broth), Honke Owariya pays homage to its roots as a sweet shop with soba mochi, a buckwheat flour rice cake filled with red bean paste and topped with black sesame seeds. Tourists and locals alike continue to flock to the unassuming wooden building, flanked by an old magnolia tree and Buddhist sutra, to taste the various soba creations perfected over the past five centuries.
White Horse Tavern in Rhode Island, USA
The White Horse Tavern, located in Newport, Rhode Island, is an accessible option that U.S.-based historical foodie buffs can check off their bucket list, and it's as equally delicious as it is historical. Having been founded in 1673 by a Newport pirate named William Mayes, the Tavern boasts the title of "oldest operating restaurant in the U.S.," (per White Horse Newport) and offers farm-to-table American cuisine within its jaunty, red-paneled facade. 
The White Horse Tavern was once the meeting place for a host of local political groups in the 17th century, including the City Council, and its history is retained in the bones of the restaurant today, from the architecture to the menu, and ambiance. So, while you wash down an expertly prepared catch of the day with a light lager, let the sound of a crackling fire and the happy voices of patrons transport you back to colonial Newport. 
Sobrino de Botín in Madrid, Spain
Madrid may already be on your travel bucket list for reasons like the Prado Museum or Parque del Retiro. But, there's one more underrated reason to visit the capital city of Spain, and that's Sobrino de Botín, the oldest restaurant in the world, according to the Guinness Book of World Records. Sobrino de Botín serves traditional Spanish cuisine in the heart of Madrid and has served numerous celebrated literary figures, including Ernest Hemingway, Benito Pérez Galdós, Graham Greene, and María Dueñas. 
Casa Botín is known for its suckling pig and lamb, which are slow-cooked in an old, oak-fired oven and infused with the flavors of lard, white wine, bay leaf, onion, and garlic. And, while the sumptuous meats are fresh, imported weekly from Sepúlveda-Aranda-Riaza, the bones of the building tell a different story, as the first record of the brick-studded building dates back to 1590. In addition to the meat-focused stars of the show, patrons can also indulge in other typical Spanish dishes, like Botín-style clams, and gazpacho, which pair wonderfully with the restaurant's curated selection of Spanish wines.
Bianyifang in Beijing, China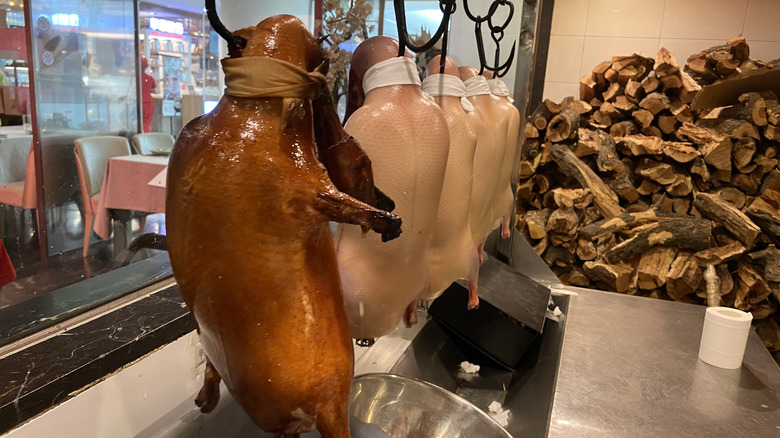 Zhao Liu/Getty Images
Peking duck is a staple of Beijing cuisine, so what better place is there to cross off your travel bucket list than Bianyifang, the oldest Peking duck restaurant in the city? What started off as a purveyor of roasted chicken and duck in 1416 during the Ming Dynasty evolved into the restaurant that it is today, which has a number of branches around Beijing. At Bianyifang, crispy, juicy duck is achieved by a method of roasting where the bird is heated in a closed oven rather than an open oven, which many other Peking duck spots utilize.
Bianyifang's trademark closed-oven roast duck is offered in a multitude of flavors perfected over the centuries, including the flower scent, the garlic scent, and the vegetable scent. And, if roast Peking duck isn't enough, Bianyifang also offers other duck-adjacent menu items including salty duck liver, crystal duck tongue, duck feet with mustard Sauce, and drunken duck heart with rice wine. Plus, did we mention that a whole duck, including condiments, is only 188 yuan, or around $25?
Fraunces Tavern in New York City, USA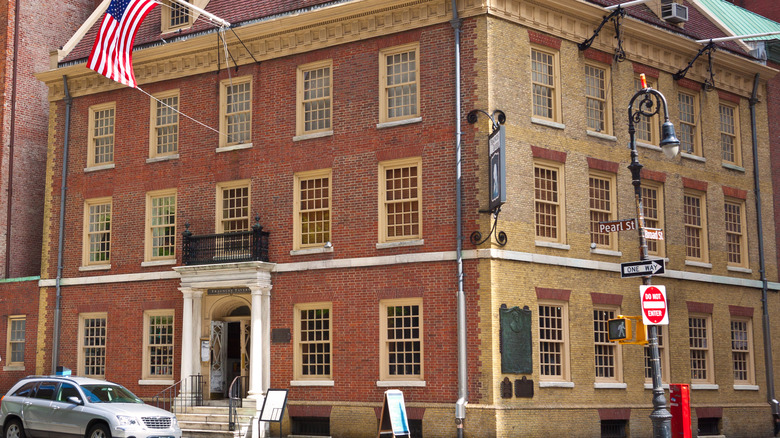 Olegalbinsky/Getty Images
In a city where there's a bar (or three) on every corner, the ability to boast the title of "oldest and most historic bar in the city" (per Fraunces Tavern) is no small feat. The Tavern, located in Tribeca, has a host of menus, from brunch to dinner, featuring cozy American dishes. With its red brick walls and dark wood interior the tavern has all of the elements of traditional Tribeca architecture, which one of the oldest neighborhoods in New York City. 
Whether you want to eat classics like New England clam chowder and fish and chips in the Independence Bar, or modern small bites like lobster mac & cheese and braised short rib sliders in the cozy Tallmadge Room, Fraunces Tavern has got you covered. Fraunces Tavern also boasts a multitude of beers, cocktails, whiskeys, and spirits to pair with its many dishes, including limited-release craft beers like the Ever Grain — Eternal Vigilance, a Double IPA with notes of citrus, cotton candy, and tangerine gummies. Plus, who wouldn't want the chance to say they ate at the same bar as George Washington and the Founding Fathers?
La Campana in Rome, Italy
A pasta pilgrimage, or even a travel food bucket list, isn't complete without a visit to the home of pasta: Italy. More specifically, La Campana in Rome, Italy is a must-visit restaurant to cross off your travel bucket list. La Campana was first mentioned in census records dating back to 1526, making it Rome's oldest restaurant. The home-style Italian restaurant doles out traditional Roman dishes like pan-braised artichokes, carbonara, cacio e pepe, fried zucchini blossoms, and for dessert, the apple torta. 
The trattoria is tucked into a quaint cobblestoned street that the restaurant is named after, Vicolo della Campana. From the intricate history of the business, which is still run today by siblings Paolo and Marina Trancassini, descendants of the family who managed it for over a century, to the Roman culinary staples it offers, there's plenty to pique your interest when it comes to La Campana. Plus, in its over 500 years of history, La Campana has accumulated many fans, from Roman locals to celebrities including Caravaggio and Goethe. 
La Couronne in Rouen, France
La Couronne is known for being the oldest inn and restaurant in France. Founded in 1345, the restaurant is located in the northern Normandy region. Centuries of perfecting their repertoire of French dishes yielded something that some may say is better than a Guinness title: the approval of Julia Child who claimed that her first bite of French food eaten at La Couronne catalyzed her French culinary journey. 
Paying homage to the famed chef, La Couronne offers a Julia Child-inspired menu in addition to its two tasting menus, a la carte and Autumn. For 65 euros, the Julia Child Menu includes six oysters from Saint-Vaast, Dover sole, green salad, a fruit and cheese course, and petit fours. On the other hand, the Le Prestige de la Couronne menu offers seven courses for 83 euros and includes lobster cooked in champagne and Normandy-style souffle. As for the interior of the restaurant, La Couronne features six rooms and lounges decorated with dark wood beamed ceilings and wood-paneled walls covered in photos of past famous restaurant-goers.
Rules in London, UK
If there's something that London's food scene has, it's range. From world-renowned Indian restaurants to traditional fish and chips shacks to markets where you can get all of the above, London has it all. Every foodie city has to get its start somewhere, and when it comes to London, that start was Rules, the oldest restaurant in London that should be added to your travel bucket list immediately. If its stable growth since it opened in 1798 isn't enough to convince you to dine at Rules, let the endorsements of famous literary heroes like Charles Dickens, William Makepeace Thackeray, John Galsworthy, and H. G. Wells be a factor in your choice. 
The London-based eatery calls itself a heritage restaurant for good reasons: It serves traditional British fare like oysters, steak and kidney pie, roast, and sticky toffee pudding. But, the dining room isn't where the party ends at Rules. Upstairs is the restaurant's bar that once served as the meeting point for Edward VII and his mistress, and is now one of the best places to sip on inventive cocktails in London. Enjoy perfected classics like The Martini or Hemingway in the plush velvet chairs that line the inside of the bar. During the holiday season, patrons can indulge in pre-dinner drinks at The Winter Garden Cocktail Bar, an outdoor extension of Upstairs filled with natural light, plants, and more plush chairs.
Wurstkuchl in Regensburg, Germany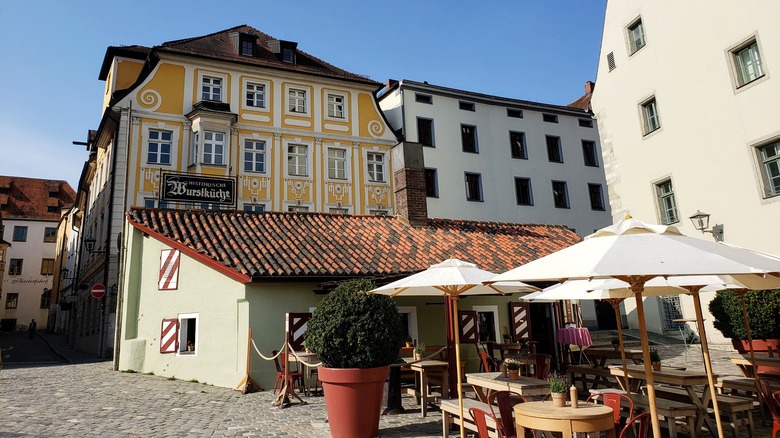 Kate Fiedler/Shutterstock
Translating literally to "sausage kitchen" in English, Wurstkuchl is the oldest restaurant in Germany that has served, you guessed it, homemade pork sausages since 1146. The centuries-old sausage purveyor cooks its sausages in an open charcoal grill just as it did 500 years ago. And, if a plain sausage seems a bit boring, don't worry, because Wurstkuchl also serves up sauerkraut that's fermented in-house. 
Wurstkuchl sits next to the stone bridge near the river, where stonemasons and dock workers would eat lunch and refreshments after a busy day in the Middle Ages. Whether you're more eager to try the famed Weißwürstl with homemade mustard or homemade potato soup, there are plenty of home-style Bavarian dishes to suit everyone's tastes. The Bavarian restaurant has three options for seating: the historic parlor, which seats 25, outdoor seating on the Danube beach, which seats 84, and the tavern, which seats 60.
La Puerta Falsa in Bogota, Colombia
While Europe and the U.S. are home to many of the oldest restaurants on this list, that's not to negate the rich culinary history that can be found on the other side of the world in South America. La Puerta Falsa is considered the oldest restaurant in Colombia, dating back to 1816. Located in Bogota's historic La Candelaria District, the unassuming exterior is often flanked by a long line of customers hoping to try the signature dishes that wowed Anthony Bourdain himself. 
Highlights of La Puerta Falsa's menu include tamales, which consist of a plantain leaf filled with rice, vegetables, corn dough, and melt-in-your-mouth slow-cooked meat, as well as ajiaco, a creamy soup made of potatoes, chicken, and capers. And, don't forget to try La Puerta Falsa's twist on hot chocolate, which features a mixture of rich hot chocolate served with bread and cheese on the side.
La Tour d'Argent in Paris, France
Tifonimages/Getty Images
As one of the culinary capitals of the world, it's no surprise that two of the restaurants on this list are located in France. Founded in 1582, La Tour d'Argent is a Michelin-starred French restaurant in the heart of Paris. Foodies flock to this spot to eat its specialty dish, pressed duck, with a view of the Seine and Notre Dame for the ultimate Parisian experience. Coming off of its renovation in early 2023, La Tour d'Argent features a new look that's equally as magnificent as the menu curated by Chef Yannick Franques. 
From the rectangular black and white tiled floors to dishes like The Mystery of the Egg, which features an egg yolk topped with brioche crumbles, rosemary sautéed chanterelles, and grated white truffle, every aspect of the restaurant screams Michelin. Apart from the many culinary delights offered at La Tour d'Argent, the highlight of the restaurant is the panoramic 6th-floor dining room, which features floor-to-ceiling windows looking out at the city. Here, patrons can sip on a bottle of French wine from the restaurant's vast wine cellar, which features almost 300,000 bottles of wine, just as Queen Elizabeth II and Orson Welles may have when they visited the restaurant themselves.